Mitsubishi Motors Named "Telematics OEM of the Year"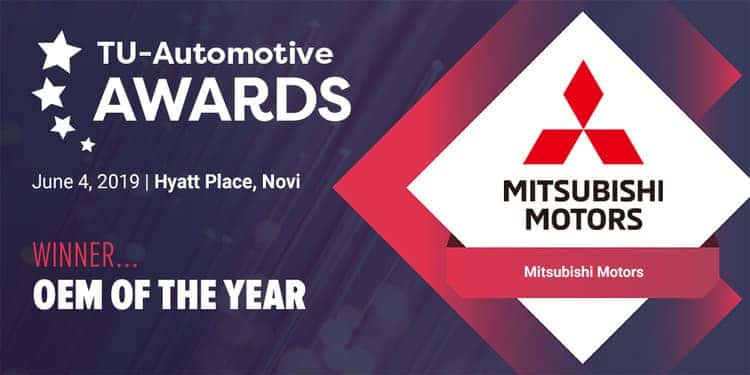 This month, Mitsubishi Motors is continuing to win awards. After recently receiving multiple performance awards from the Automotive Science Group, Mitsubishi continues to surprise. Having recently started upgrading their vehicles in the safety department, Mitsubishi Motors vehicle are becoming safer to drive. During this year's TU-Automotive Detroit, the world's largest automotive technology conference and exhibition. Finally, Mitsubishi Motors gets some recognition for their forward-thinking methods of keeping drivers safe and was named "Telematics OEM of the Year".
"Telematics OEM of the Year"
The "Telematics OEM of the Year" award recognizes original equipment manufacturers (OEM) that are developing new and advanced technologies and innovations for the connected-vehicle space. Known as one of the most prestigious and sought after awards in the connected car industry, receiving this puts Mitsubishi Motors on another playing field. Moreover, Mitsubishi received this award for the manufacturer's innovative Road Assist+ smartphone application.
"We're extremely honored to be recognized as OEM of the year by TU-Automotive for Road Assist+ and our work in the telematics space…Today's drivers increasingly expect intelligent services that link to their car to provide a convenient and connected driving experience. Mitsubishi Road Assist+ is a seamless way to offer that while providing cost-savings opportunities for consumers through participating UBI insurance carriers." Bryan Arnett, senior manager, product planning, MMNA.
A new development, Mitsubishi Road Assist+ was built in association with LexisNexis Risk Solutions, a company that collects global data and uses advanced analytics to provide data and technology solutions, analytics, predictive insights, and fraud prevention for businesses and governmental entities across a wide range of industries. The first hardware-free smartphone-based application, Mitsubishi Road Assist+ informs owners about the cost savings of usage-based insurance (UBI) without having to own a modern or "connected car" with built-in telematics capabilities or aftermarket-installed telematics hardware. Now that should sound familiar – the Mitsubishi Eclipse Cross was the first Mitsubishi vehicle to support a Telematics System.
So how does it work? Similar to other devices out there, the Mitsubishi Road Assist+ app uses advanced analytics to collect driving behavior data through telematics technology. Then, it provides feedback to help drivers improve their driving and avoid risky behaviors like speeding, hard braking, and fast acceleration. The app also applies geospatial context to driving events, such as weather and road conditions, to collect information and learn how drivers respond in different situations. Okay, now we see where they're going with this.
Some time ago, Mitsubishi Motors discussed putting artificial intelligence into future vehicles, and Mitsubishi Electric debuted the self-driving Emirai4 with an artificially intelligent (AI) virtual coach that would help drivers on the road during different driving conditions. Road Assist+ could be the testing grounds for this, maybe the foundational hardware. It could also just be Mitsubishi Motors catching up with the rest of the auto industry.
In addition to these features, Mitsubishi Road Assist+ can also provide 24-hour emergency roadside assistance. Loaded with technology (GPS and Driving Signature), the app also gives drivers access to exclusive Mitsubishi offers. As always, Mitsubishi continues to work on products that support their goal to enhance driver peace of mind, safety, and connectivity on the open road.
Mitsubishi Road Assist+ is available now for both Android and iOS devices on the Google Play Store and Apple App Store. Want to stay up-to-date on all things Mitsubishi? Follow us on University Mitsubishi social media.
Photo Source/Copyright: Mitsubishi Media