Mitsubishi Mirage and Mirage G4 Named for Pre-Owned Value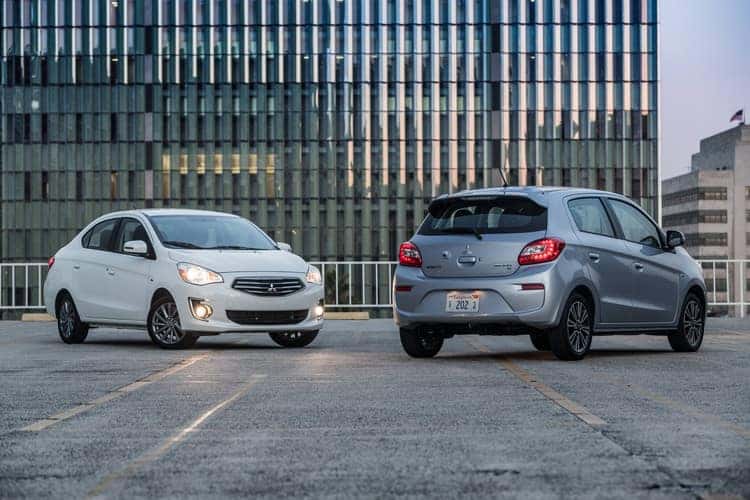 December and all of 2019 are coming to an end. Even with such a short time left, organizations and publications involved in the auto industry are finalizing their choices for "Top Ten's", "Best of's", and who gets an award. Every year, Mitsubishi Motors is one automaker that gets to shine during the year's end with win-after-win. At the end of November 2019, the Mitsubishi Outlander PHEV won the Family Green Car of the Year award held by the Green Car Journal, and Mitsubishi Motors was recently named a Hive 50 Innovator for the technology built into the Dendo Drive House. Now, a name we haven't heard from in quite a bit but with over a decade working in America, Vincentric has recently honored Mitsubishi Motors once again by certifying the Mitsubishi Mirage and Mirage G4 with 2020 Pre-Owned value.
Vincentric Pre-Owned Value Awards
A little refresh, Vincentric is one of the many trusted companies that reviews and analyzes data about the auto industry to provide consumer insight. Unbiased, Vincentric measures the value of an automobile on the market and examines how well it will hold up in the following years. A provider of knowledge pertaining to ownership and cost data, Vincentric holds the Best CPO Value in America™ awards to recognize the vehicles that will offer the best value in their respective segment over the next five model years.
The 2020 Vincentric Best CPO Value in America awards were recently held for model years 2015-2019. Statistical data compiled using the total cost-of-ownership of a vehicle and the current market price for that vehicle were compared when choosing winners, but several factors also came into play. These included finance rates, residual values, and the maintenance schedules of each make and model. Lastly, Vincentric factors in the overall performance of the vehicle in terms of its costs: (1) Purchase price, (2) Retained value, (3) Fixed and operating costs during the lifespan of the vehicle, and (4) Maintenance and repair.
This year, the Mitsubishi Mirage and Mitsubishi Mirage G4 received top honors for their respective vehicle segments by Vincentric among the many major automotive manufacturers also reviewed for the awards. The win is a testament to Mitsubishi Motors excelling combination of not only an attractive purchase price, but over a vehicle's lifespan, both the Mirage or Mirage G4 have a low overall cost of operation and ownership. Plus, even for vehicles with a low starting MSRP, both provide high value to consumers with many standard safety and convenience features.
The 2020 Mitsubishi Mirage starts at the budget-friendly price of $13,995 (plus destination fee), whereas the 2020 Mitsubishi Mirage G4 starts at $14,995 (plus destination fee). With either vehicle starting at less than $15k and known for their high fuel economy numbers, that's quite the deal. In fact, the 2020 Mitsubishi Mirage has been named the most efficient gasoline-powered non-hybrid vehicle available in the U.S., powered by a 1.3-liter three-cylinder engine, and achieving the fantastic fuel economy of up to 37/43/39 mpg city/highway/combined*. It's cousin, the Mirage G4, also saves money, offering a fuel economy of up to 35/41/37 mpg city/highway/combined*.
Don't forget, Mitsubishi Motors also has the most comprehensive warranties industry leading auto warranties on the market with a fully transferable 5-year/60,000-mile new vehicle limited warranty; 10-year/100,000-mile powertrain limited warranty; and a 7-year/100,000-mile anti-corrosion perforation limited warranty. Mitsubishi also throws in a 5-year/unlimited miles of roadside assistance plan. Come to University Mitsubishi today and get a great deal on the 2020 Mitsubishi Mirage or Mitsubishi Mirage G4.
*when equipped with the optional continuously variable automatic transmission
Photo Source/Copyright: Mitsubishi