Mitsubishi Electric Shows New Mobile Products at 2022 CES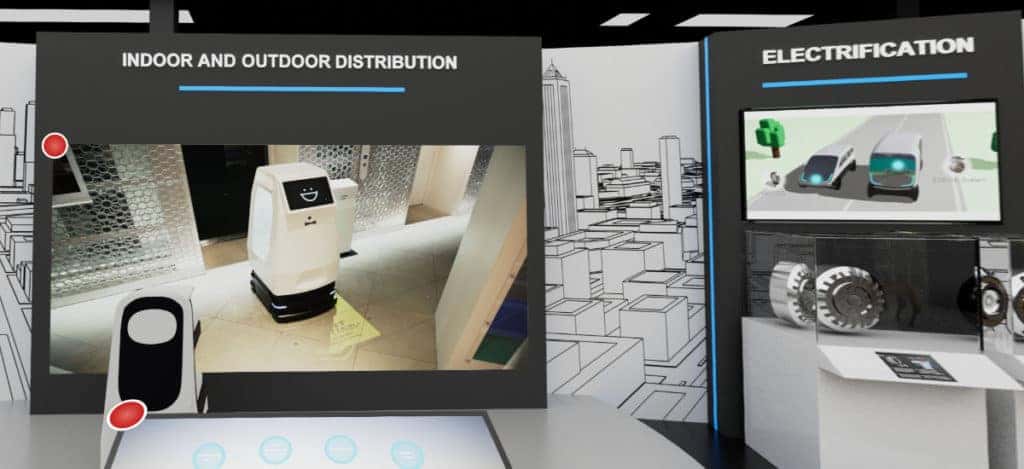 Remember back in 2020, just before quarantine and shut downs started, there was the 2020 Consumer Electronics Show (CES). Although a hotspot to learn about the hottest consumer products coming to the market, automakers also tend to show up and set up an exhibit for concepts and upcoming features in future models. In 2020, several automakers had a central theme between them all – mobility. Amongst them was Mitsubishi Electric, working with MaaS Global in an endeavor to create an ecosystem of personal mobility. The theme this year is interoperability, or the ability for products and systems to work together. With all of the interconnectivity automakers are working on to connect consumer to smartphone to smart speaker to eventually smart car, Mitsubishi Electric does it again with a fresh look at what the near future could look like.
Electrification
We already know Mitsubishi Motors is heavily focused on the future of its electric vehicle (EV) development. Even when we all thought a sports car would finally return, the automaker let everyone know in a press release that Mitsubishi it still putting many of its resources into EVs. Regardless, electrification did show up at the 2022 CES in the Mitsubishi Electric exhibit to highlight two devices the company uses two work towards a carbon-neutral society with its vehicles. The first is 48V ISG, used on smaller vehicles, for compact, high-efficiency power. The EDRIVE system integrates motor and inverter into a smaller design and is made for larger vehicles. Mitsubishi Electric is working on high-efficiency power semiconductor devices to lower power consumption.
Infrastructure-based Autonomous Driving
Does this sound familiar? In early 2020, Mitsubishi Electric revealed its improved Mobile Mapping System with a new LiDAR setup shortly after 2020 CES. This new autonomous driving system used the city infrastructure to build a better map of the vehicle's surroundings and created a 3D map. We saw examples of this in the xAUTO concept. In the near future, Mitsubishi Electric won't just put those into vehicles but also robotic companions that can alert other vehicles of pedestrians unseen, such as joggers around a corner, or approaching bicyclists.
On-demand Transport System
Just like ride-hailing apps today, Mitsubishi Electric is working with Maas Global Oy to make all kinds of transportation available via an app. No waiting on the bus, especially when they can be unreliable. Instead, use an app to connect to an autonomous shuttle that will set up a time and origin point for multiple people at once. For consumers that may have challenges with mobility, such as the handicapped, when using the app, the shuttle automatically registers to extend a wheelchair ramp and reserves a space on the bus once booked.
Deliveries
Another concept Mitsubishi Electric is working on involves robotic helpers that can go to a destination, pick up items, and then deliver them to the consumer. For instance, Smart Click & Collect is a feature a driver can use while on the road to pick groceries. Like many services today where someone does the shopping for the consumer on the other end of the app, once complete, a robot will pick up the items and complete the delivery. This isn't limited to groceries either. The robots can even go to shopping malls and buy items, and of course delivery services like Amazon will benefit from autonomous package transport.
Artificial Intelligence and Autonomous Driving
These robot companions and services don't need to just be for personal use. A robot linked with building equipment, such as a hospital, can be used as a guide to navigate a patient through the hospital and back out where they can board a shuttle. These same robots can be switched to a helper mode that transports equipment throughout the hospital.
Going beyond small robots, artificial intelligence is finding its way into other industries, like the truck industry. Commercial trucks are already becoming self-driving machines, but what about the drivers still clocking the hours? Eventually they need to rest, and in the near future, there may be rest areas where the truck can park itself, have robots load and unload items, and then drive back to meet the driver.
Smart cars are slowly on the rise for the new future of the auto industry. These smart cars come with Occupant Monitoring Systems that may suggest or make changes to air conditioning and sunshades based on whether or not there are occupants in the rear seats. This same system can also check on the vitals and health of its occupants to ensure comfort and safety. Speaking of safety, autonomous self-driving smart cars will also be aware of curved roads that require ADAS Lighting positioning and can check for road hazards ahead. We saw some of this road hazard tech by Mitsubishi Electric in 2019.
Mobile Living Space
At the end of the day, like many automakers, Mitsubishi Electric is fueling Mitsubishi Motors auto tech and in the near future, wants to design and produce smart cars that can turn into mobile living spaces. With the press of a button, the interior cabin goes from a center console in control of a vehicle to a spacious lounge. With all the interconnectivity, consumers can bring their digital lives with them into the vehicle, and with robotics and other smart devices, life might finally get comfortable again sooner than we think.
Interested in all this upcoming car tech? So are we. Join the conversation on University Mitsubishi social media.
Photo Source/Copyright: Mitsubishi Electric