Highlights of the All-New 2022 Mitsubishi Outlander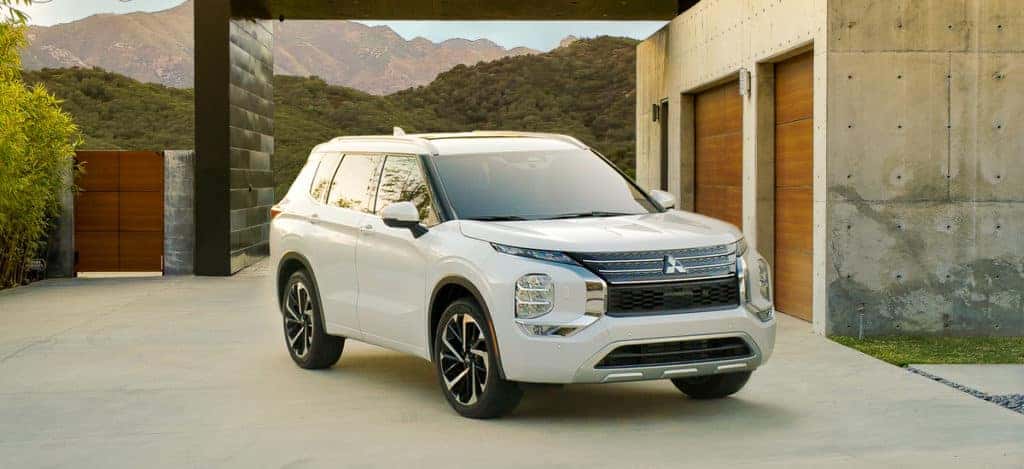 It's been a long-time coming, but the next generation of the Mitsubishi Outlander is finally being revealed. Skipping 2021 and launching into 2022, Mitsubishi Motors has changed the SUV from the wheels up, and recently revealed the all-new Outlander during the first ever vehicle to debut on Amazon Live. The pandemic sure has changed a lot of things, but live streaming has been around for a long time. It seems every automaker has a new virtual or digital reveal, but for how long? For now, let's look at what's new for the 2022 Mitsubishi Outlander.
Always the ever-affordable, Mitsubishi Motors doesn't have plans to burn your pocketbook. Starting at $25,795 (plus destination fee), the all-new 2022 Mitsubishi Outlander offers a new level of quality and value. The number of trims has yet to be revealed, but we're betting on five for a nice middle ground somewhere between the ES and GT trims on previous model years. As noted above, everything has changed for the new Outlander, introducing the automaker's next generation Dynamic Shield front face and design, presenting a more muscular and bolder look while still seeming at peace.
"Based on the product concept 'I-Fu-Do-Do,' which means authentic and majestic in Japanese, the all-new OUTLANDER has been crafted into a reliable SUV with significantly upgraded styling, road performance, and a high-quality feel to satisfy the needs of customers who want to expand their horizons and take on challenges of every kind…With the launch of the all-new OUTLANDER, we will first expand our sales in the North American market and then aim for global growth." – Takao Kato, chief executive officer of MMC.
Riding on 20-inch wheels available, we're already looking at something good with new fenders and an eloquent stance. With quality in mind, class-above materials were used throughout the cabin, able to seat seven passengers. Make a note – the Outlander is the only SUV in the segment to come with a third-row standard. Most automakers have it available mid-way through the list of trims, or as an available option. New tech is available, including a 12.3-inch digital instrument cluster and 9-inch center screen, integrated navigation using what3words technology, a windshield-display 10.8-inch full-color Head-Up Display (HUD), Mitsubishi's industry-leading Mitsubishi Connect smart-car system, and a 10-speaker BOSE® audio system. It even comes available with wireless smartphone charging capability with Android Auto and wireless Apple CarPlay! Now that's the kind of technology Mitsubishi Motors needs to get up to speed.
Speaking of technology, safety measures have also been increased for the all-new 2022 Mitsubishi Outlander SUV. It all depends on the trim level of course, but along with the available large-diameter 20-inch wheels, Mitsubishi Motors Super All-Wheel Control system is also available for keeping things under control, even in unsavory road conditions. Plus, the all-new 2022 Outlander can offer Mitsubishi's MI-PILOT Assist driver assistance system with adaptive cruise control and lane-keep assist. Hmm, we haven't heard of the PILOT Assist before. Could this be part of the virtual coach system mentioned in other concepts? We'll just have to wait and see what else Mitsubishi Motors reveals about the 2022 Outlander.
For now, full pricing and packaging details are yet to be made available, but look for the specs on the 2022 Mitsubishi Outlander soon on University Mitsubishi.
Photo Source/Copyright: Mitsubishi Media