Tips and Technology for Distracted Driving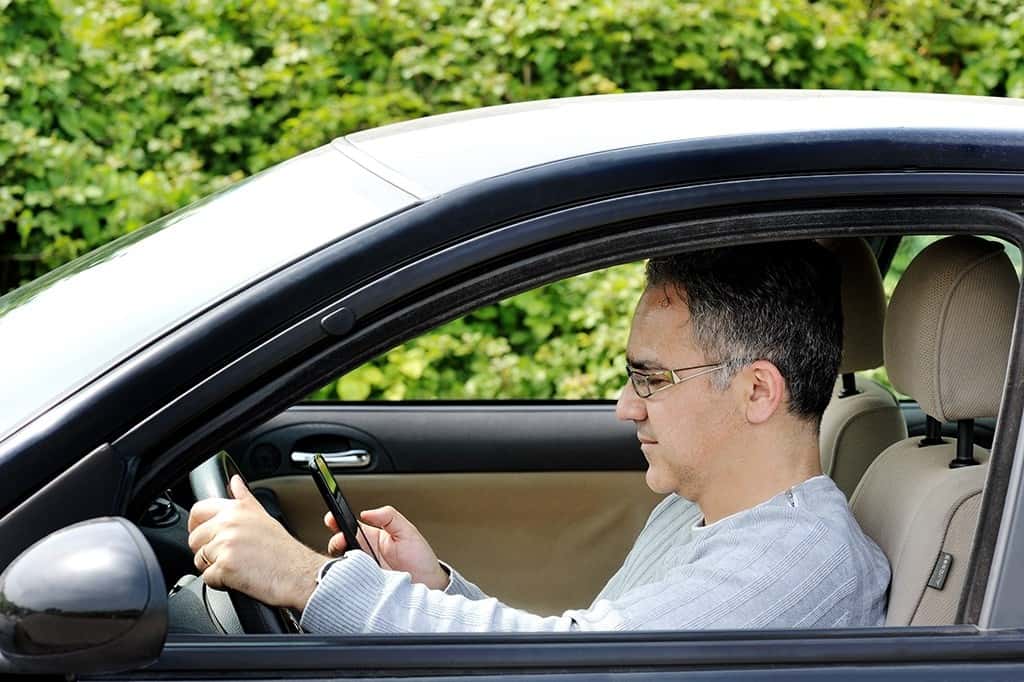 Distracted driving is dangerous. Anyone on the road has seen a billboard about texting and driving. It's actually a little laughable, because those billboards take one's eyes off the road, but the point is, mostly everyone who drives finds themselves distracted at some point whether it's changing the radio, texting, or dealing with passengers who can't contain themselves on the road. There are many tips for people who get distracted while driving, and now there are even apps that can help with distracted driving.
Tips for Distracted Driving
We've all heard them, but we'll do a little recap. Turn off your phone while in the car. Yeah, we know it stings, but if you can't keep your hands off of your phone while behind the wheel, then you shouldn't have it on. Simple as that.
Prepare the car for the trip ahead is another good one. Before driving put everything in the car where it needs to be before switching from "park" to "reverse." It just makes things easier and it's better than multitasking while on the road, too.
If you have passengers that can be a little rambunctious, maybe have rules for the car. Some people like to call "driving time is quiet time." That might work for children, but you can't control everyone. Plus, playing music can sometimes keep people focused and alert.
That's another one. Don't drive drowsy. Driving while sleepy can be almost as bad as driving drunk. Reflexes are slow, focus is poor, and the more tired someone is the more likely the driver is bound to pass out. Take a 15 minute cat nap in the parking lot or ask someone else to drive before attempting to drive drowsy.
Make use of convenient features to avoid distractions. Modern vehicles have many convenient features to make driving an easier task for the driver. Check out all the car has to offer. Steering wheel mounted controls, automatic a/c temperature control, and an auto-dimming rearview mirror can be found in many modern vehicles, and keeps hands away from fidgeting with the center console while on the road.
Apps and Technology
There are also many apps out there that can help with distracted driving. Some of these smartphone apps can lock the phone when in the car or minimize its functions, kind of like "Cine Mode" for going to the movies. However, since having your hands on the phone is what we're trying to avoid, think about the helpful technology in cars today.
Most vehicles come with Bluetooth voice-command these days. Making use of that for phone calls and texting makes it easy to keep one's eyes on the road and hands on the wheel. Just save the important conversations for another time, because even with Bluetooth, a heated conversation can take one's focus off of driving easily.
Bluetooth is just one example of how technology can help. Did you know Mitsubishi has a distracted driving system? It's pretty advanced. The system can cover a range of changes in driving habits to detect whether a driver is alert, absent-minded, or even drowsy. This comes from a combination of recorded data of the driver's driving habits compared to how they're driving at the time, and by comparing the two, the system can detect if the driver is driving "normally", and alert them if they are not to curve potentially dangerous driving behavior.
The Mitsubishi Outlander, and many modern vehicles today, also come with automatic safety features. Not to replace the responsibility of the driver, but blind spot detection, forward collision warning, lane departure warning, and other similar features can help keep the driver in check in case they do get distracted for a moment.
Are there any tips or apps for distracted driving you would like to share? Let us know on social media.
Photo Source/Copyright: Shutterstock.com; TL_Studio