Nissan-Renault-Mitsubishi Alliance Begins an Expensive Venture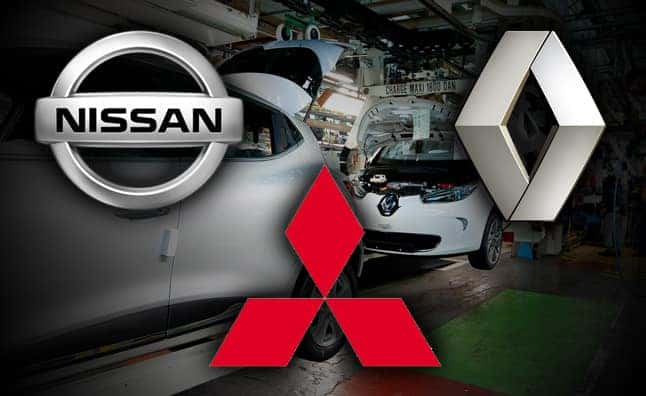 Did you know Mitsubishi isn't just the name of an automotive brand? Back when discussing the evolution of the Mitsubishi Logo, we learned before it had wheels, the brand had sea legs. We also know Mitsubishi brands extend far beyond automobiles. Now with their inclusion in the Nissan-Renault Alliance, Mitsubishi is expanding further around the world and into different markets. The alliance as a whole is set to bring a lineup of alternative fuel vehicles and artificial intelligent technology to the forefront over the next few years.
It's not uncommon for a company to throw their hat into many rings, in case one were to fall through. Now with three brands working together, Mitsubishi, Nissan, and Renault, the Alliance is starting a new funding campaign called "Alliance Ventures" to invest $1 billion in order to support open innovation, start-ups, and entrepreneurs in technology. Their focus is on autonomous systems, electric vehicles (EVs), connectivity, and artificial intelligence. The fund will last five years, and to start off with a bang, $200 million has already been allocated for the first year's budget.
"Our open innovation approach will allow us to invest and collaborate with start-up companies and technology entrepreneurs, who will benefit from the global scale of the Alliance. This new fund reflects the collaborative spirit and entrepreneurial mind-set at the heart of the Alliance." – Carlos Ghosn, Chairman and Chief Executive Officer of Renault-Nissan-Mitsubishi.
We can already see some of this funding go to use. Around the same time the Mitsubishi-Renault-Nissan Alliance announced the Alliance Ventures fund, they discussed getting involved with Robotaxis. A Robotaxi would be a lot like the ride hailing services we have now, i.e. Uber or Lyft. Except, instead of a driver, it's just a car that pulls up and drives people around. Pretty futuristic when you think about it.
All three companies in the Alliance have begun to pull their weight in this new venture too. For example, Nissan in conjunction with mobile-games editor DeNA will be testing autonomous vehicles in Yokohama next year. Renault has teamed up with the French transportation-services provider Transdev to develop new self-driving autonomous vehicle fleets. Mitsubishi debuted two autonomous vehicles at the Tokyo Auto Show, and the Alliance as a whole signed a deal with Microsoft to develop a back-end cloud technology service that sounds a whole lot like an AI (artificial intelligence) cloud.
Mitsubishi Motors alone has plans for hybrid SUVs and eleven new models with the Mitsubishi badge. The entire Alliance plans to develop fifteen models with autonomous features by 2022. So where else will this new Alliance Ventures fund go?
Following Robotaxi partnerships, the Alliance needs to focus on its own promises. Having spent a total of $8.3 billion on research and development last year, the Renault, Nissan, and Mitsubishi Alliance struck a deal with Ionic Materials. Ionic is a U.S.-based company that is developing solid-state cobalt-free battery materials for research and development corporations. With the already successful Mitsubishi Outlander PHEV, this deal may set the stage for the lineup of alternative fuel vehicles.
With automotive companies spending so much money on these new technologies, it's become clear that the automarket is hitting a new plateau. Automakers are racing to be the first successful brand with a vehicle to match all the new demands for greener, smarter vehicles. Names like Hyundai and Kia Motors already have a hydrogen fuel cell vehicle headed for testing on public roads, Google Waymo is making the final rounds with its testing fleet, and Chevrolet is inching closer to licensing its self-driving autonomous Chevrolet Bolt EV for public transportation. Needless to say, the competition is heating up.
For the Alliance, the aim is to have the Alliance Ventures fund match up closely with their Alliance 2022 contract. The aim for Alliance 2022 was to strengthen cooperation and to double the annualized synergies of Mitsubishi Motors, Renault and Nissan. Now with all three companies bleeding chips into the pool, Renault and Nissan contributing 40 percent each and Mitsubishi Motors contributing 20 percent, the stakes are high for everyone.
One billion dollars and already two-hundred million invested. The Nissan-Renault-Mitsubishi Alliance is set to change the auto market. Share your thoughts at the University Mitsubishi Facebook page.
Photo Source/Copyright: AutoGuide.com