Mitsubishi Motors Releases 2022 Mitsubishi Outlander Black Edition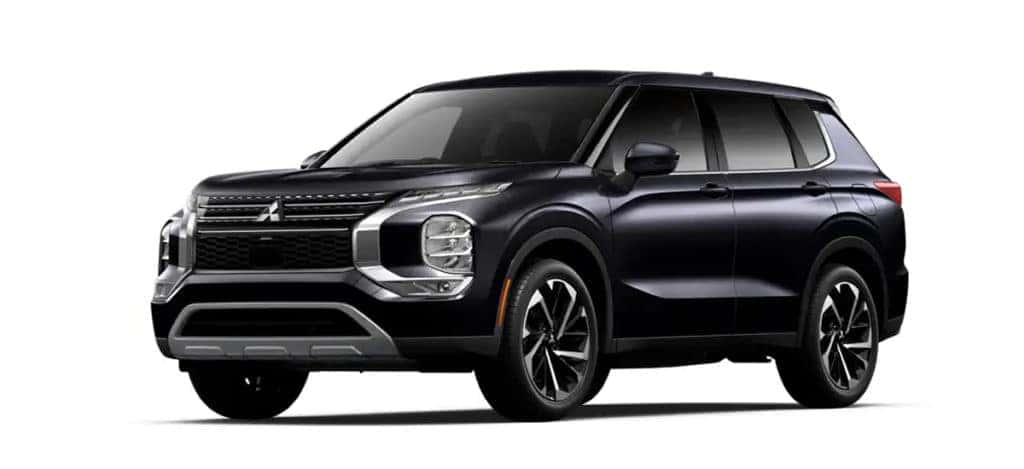 Mitsubishi Motors sure is making a small fortune thanks to the success of its next-generation 2022 Mitsubishi Outlander SUV. The best-selling Outlander yet, the automaker is seeing greater profits, and thus, is releasing next-generation vehicles for other models in the lineup, such as the next-generation of the Outlander PHEV, Eclipse Cross, with the next generation of the Outlander Sport the most recent announcement during a digital conference. Next to it was a mystery vehicle by Mitsubishi Motors, and we're hoping it's a little better than the Ralliart concept teased during the 2021 Tokyo Auto Salon. With the Renault-Nissan-Mitsubishi Alliance sharing its new business strategy, Alliance 2030, we're bound to see a lot of new things from the automaker. Before that though, Mitsubishi continues to push the Outlander with a new trim level.
Available as its own trim in the 2022 Outlander lineup, Mitsubishi added the Outlander Black Edition to give the SUV more of an edge and a darker demeanor. Although a new trim level, the Black Edition seems to be more of an appearance package that could have been sold as an add-on. After all, the Black Edition is based off of the Outlander SE trim, and comes with all the same equipment offered with the SE-trim level, including a 181HP 2.5-liter inline four-cylinder engine, and Mitsubishi's rally-derived Super All-wheel Control (S-AWC) all-wheel drive system. Well, there are two huge pluses to the Black Edition – standard dual-zone climate control and a power panoramic sunroof.
Other than that, the Black Edition is basically a blacked-out appearance package, complete with a black front and rear bumper garnish, black door handle trim, black side mirrors, black headliner and pillars, and 20-inch black alloy wheels…but no black paint job as seen above. The dark look will surely match the inside of the Outlander, an elegant cabin pushing towards luxury over the years with 33.5 cubic inches of cargo space for busy drivers always on-the-go, or just with an assortment of kids and their after-school extracurricular activities. Colleges look for a well-rounded out student, after all. The Outlander SE and Black Edition also offer advanced 10-speaker Bose sound system with digital subwoofers and Mitsubishi's advanced driver-assist system, MI-Pilot Assist. Packed with a suite of advanced safety features, MI-Pilot Assist comes with active blind spot assist, rear automatic emergency braking, forward collision mitigation, a tire pressure monitoring system, and a 360-degree multi-view camera.
The Black Edition isn't the only seemingly appearance-only package – or trim level – released for the Outlander since its release. As mentioned above, during the 2022 Tokyo Auto Salon, Mitsubishi Motors teased a new concept vehicle, the new Mitsubishi Vision Ralliart, as well as appearance packages available to the Mitsubishi Outlander and Mitsubishi Eclipse Cross. When Ralliart was first revived, a lot of hopes for the return of the Lancer Evolution came with it. Ralliart is the group responsible for the beloved sports car, but Mitsubishi Motors is focusing on electric vehicles (EVs) instead.
Regardless, the Ralliart group will be more of an aftermarket group consumers can go through to add performance and personalized styling to their vehicle. Mitsubishi Motors showed some concepts of this with the Mitsubishi Outlander and Mitsubishi Eclipse Cross in Ralliart Style, equipped with new red accents and parts, and new white and black stickers and badges. Not much, but the Outlander Wild Adventure Style based off of the Outlander PHEV showed us more of that after-market performance, equipped with an assortment of accessories for drivers who also like to camp out in the woods. The mysterious Vision Ralliart teased came with large brake rotors and six-piston brake calipers, 22-inch wheels with bigger tires, unique front and rear bumpers, wider fenders in the front and rear, a new front grille, and a large rear diffuser. Sounds like a sports car, but it's probably not.
Looking forward to what Mitsubishi Motors releases next? Follow along with us University Mitsubishi social media. You can also check out the 2022 Mitsubishi Outlander and the new Black Edition, being made available at dealerships nationwide.
Photo Source/Copyright: Mitsubishi Motors