Mitsubishi Motors Has a Special Vehicle Projects Division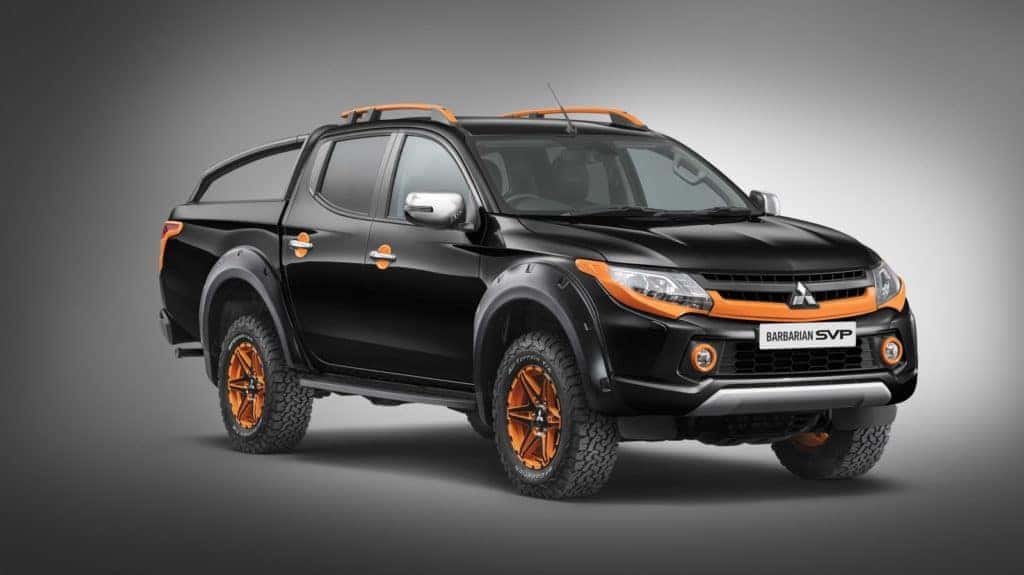 When it comes to customizing a vehicle, many consumers will usually purchase and install their own aftermarket accessories. For the rest, Mitsubishi Motors now has a Special Vehicle Projects (SVP) division that will be responsible for designing and producing a variety of custom Mitsubishi vehicles. In the future, this unit may possibly provide services for individual personalization. The first customized Mitsubishi model to come from the Special Vehicle Projects division is a modded Mitsubishi L200 truck, code named "Barbarian."
The aesthetic appeal of the custom L200 Barbarian II is really the highlight of this custom Mitsubishi truck. With a two-paint finish of either Pearlescent Diamond Black or Metallic Atlantic Grey paint (seen above) with accentuating orange trim here and there, the paint job makes the Barbarian unmistakable and pretty flashy anywhere it goes. In addition, like Mopar, the Special Vehicle Projects division added some additional equipment onto the truck's standard setup for a pickup that's stylish and capable. A new SVP grille and roof rails shares the pickup's body scheme of two-tone paint with an orange trim, and for capability, new fog lamp rings have been installed, along with front and rear light bezels, door handle recess covers, puddle lamps, and a tailgate handle surround – all in orange. If that's not enough color, then enjoy those black and orange 17-inch wheels. Outfitted with BF Goodrich all-terrain tires, this custom Mitsubishi L200 truck can handle on and off-road trails.
Like many color scheme packages, the L200 Barbarian II two-tone color scheme with orange accents continues in the interior of the vehicle. The cabin upholstery is made up of leather, and, accentuated with orange trim lines, the Special Vehicle Projects division badge has been stitched into the seats. So far, this seems like a great truck for Halloween.
Mitsubishi's Special Vehicle Projects division didn't go without making sure there's plenty of modern tech in the custom L200 pickup truck either. Standard in the vehicle, the Mitsubishi L200 Barbarian II comes with a Mitsubishi Smartphone Link Display Audio (SDA) system, rain and dusk sensors, keyless go, Bluetooth wireless connectivity, bi-xenon headlights with integrated LED day running lights, cruise control, and a rearview camera. Also standard is the 2.4-liter all-aluminum turbodiesel engine, able to generate over 300 lb-ft of torque, and paired to a six-speed manual or five-speed automatic transmission.
If you haven't guessed by now, the custom Mitsubishi L200 Barbarian II truck is only available in the UK market at the moment. All this flashy style won't be seeing its way to the North American market maybe ever. The good news is that this is a promising creation from Mitsubishi's Special Vehicle Projects unit that spells the beginnings of a new future for the automaker.
Other Special and Limited Editions
More good news. Don't forget that there are special and limited editions of Mitsubishi vehicles available here in the U.S. The 2018 Mitsubishi Outlander Sport, 2018 Mitsubishi Outlander, and 2018 Mitsubishi Eclipse Cross have all been released with special editions for the current model year.
On the Outlander Sport LE, consumers will find LED running lights, HID headlights, fog lights, a "Limited Edition" badge, and for entertainment, a 6.5-inch touchscreen with smartphone link, Apple CarPlay, Google Android Auto, and Bluetooth technology. In contrast, the Outlander LE gets a 7-inch touchscreen with Apple CarPlay and Android Auto capabilities, a power glass sunroof for enjoying the open air, and automatic advanced safety features – blind spot warning, lane change assist, and rear cross traffic alert. Having only been released as of late 2017, the Mitsubishi Eclipse Cross also gets small aesthetic changes – a unique black front grille and side view mirrors. All three limited edition models ride on exclusive 18-inch black alloy wheels.
What do you think? Would you like to see Mitsubishi Special Vehicle Projects make its way to the North American market? What other special edition vehicles would you like to see pop up for the lineup? Let us know on University Mitsubishi social media.
Photo Source/Copyright: TopSpeed.com