Mitsubishi Motors Adds Garage Opener to Mitsubishi Connect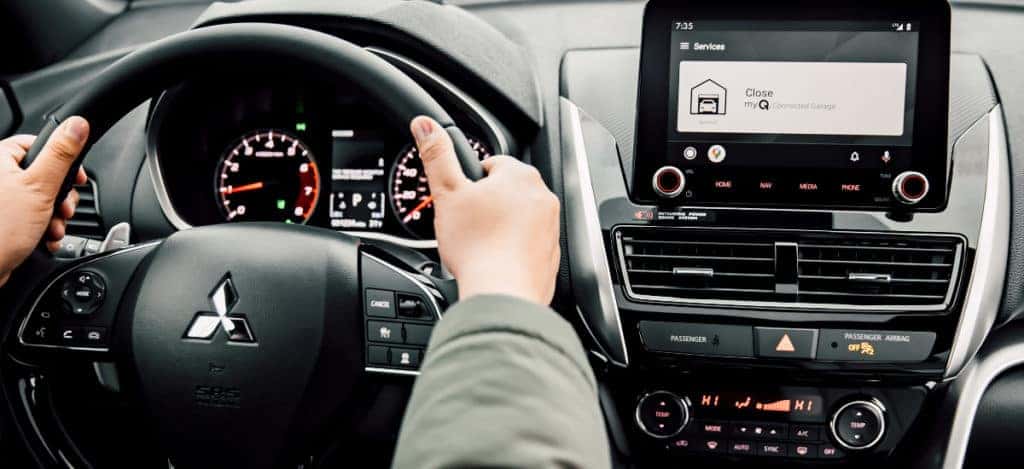 You're driving home, groceries or luggage in the car, and you just want to pull up and unload. Except, you need to get out of the car and open the garage or maneuver things through the front door if no garage. Well, this one is for the consumers who do have a garage and don't like to get out and punch in a code. Garage door openers, especially those in vehicles, are nothing new. They are, however, unreliable, and auto manufacturers have been slowly developing or buying their own for incorporation into their vehicles today. Mitsubishi Motors North America (MMNA) is partnering up with The Chamberlain Group, Inc. (CGI) to make use of their myQ connected technology and is the first automaker to install their own myQ-powered garage door opener. Now available, consumers can find it in the all-new 2022 Mitsubishi Outlander and 2022 Eclipse Cross vehicles, as well as select 2018 and newer Eclipse Cross vehicles.
"We are excited to be the first to offer our drivers the ability to open or close their garage door directly from their in-dash touchscreen…Providing in-dash touchscreen control for the garage enables a more convenient and seamless driving experience. Now, not only will they be able to check to see if they left their garage door open, but they will also be able to close the garage door from anywhere." – Bryan Arnett, Director of Digital Product Strategy for Mitsubishi Motors Research and Development Americas
Mitsubishi Outlander and Eclipse Cross owners will be able to activate the myQ connected garage door opener available through Android Auto™ and the My Mitsubishi Connect app. With either, consumers can control their garage door from within their vehicle using the touchscreen. Not only is that more user friendly and intuitive, with touchscreens always on and drivers always aware of what's on the display, the range of the myQ Connected Garage is unlike any other. The driver doesn't need to be within the line of sight of the door anymore. myQ Connected Garage can open or close the garage from anywhere, able to let in family members or friends, or even the delivery man to drop off a secure package.
This technology also gives peace of mind. If you ever came home, only to find the garage door open, and that awkward moment of "I thought I closed that", raise your hand. Whether or not you live in a nice neighborhood, you may be fine, but some of us are not so lucky. Well, with the myQ Connected Garage, drivers will know whether or not the garage door is open or closed via the onscreen app. This is another addition to the growth of the My Mitsubishi Connect app, with MMNA adding more ways for consumers to stay connected to their car. The MITSUBISHI CONNECT MY mobile app makes it easier for Mitsubishi owners to schedule car maintenance appointments and reminders, receive aid in the event of an incident with Mitsubishi Assist (available 24 hours), read up on recent Mitsubishi Motors-related news and promos, or if in immediate need, a Sales & Service Locator feature.
As Mitsubishi Motors continues to expand its technology and car connected features, expect to see more human-machine interfaces in the coming years. You can stay up to date with all the cool Mitsubishi tech when you follow University Mitsubishi on social media.
Photo Source/Copyright:  prnewswire.com