Mitsubishi Lancer EVO Tommi Makinen Edition Sets Auction Record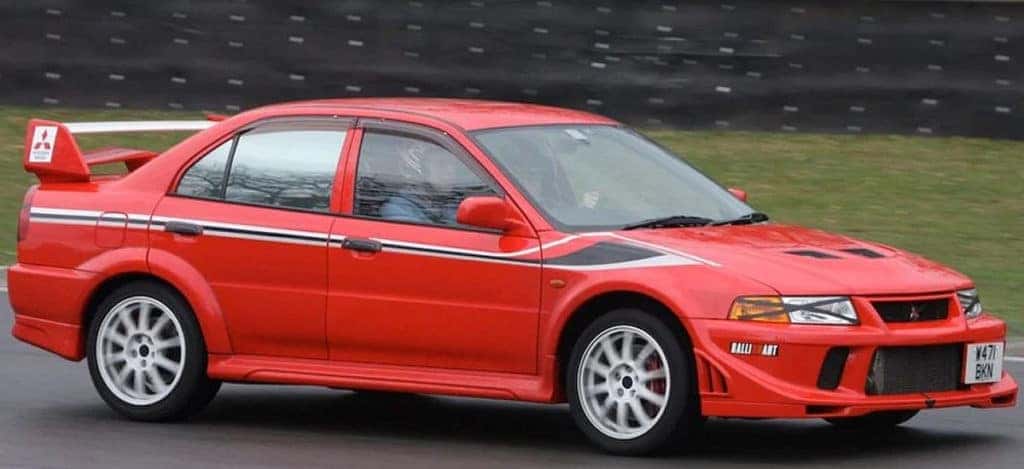 On Sept. 15, 2016, the last Mitsubishi Lancer Evolution Final Edition sold for $76,400 at the end of an auction held by eBay and Mitsubishi Motors. With Mitsubishi having stopped selling the Mitsubishi Lancer and Lancer Evolution in the states, getting the last unit ever made was a huge deal for racing fans. One of the most easily modifiable sedans in the industry, the Mitsubishi Lancer Evolution series was a legend. Now, the model has made history. Mitsubishi Motors recently announced its departure from the UK market, and with it, held an auction on some of its most iconic cars. A Mitsubishi Lancer Evolution VI Tommi Makinen Edition sold for £100,100.
That's a whole lot of moola to spend on an automobile, but it makes the Lancer Evolution VI Tommi Makinen Edition the most expensive Lancer ever sold at an auction. For us Americans, £100,100 is a little less than $121,000. Why would someone spend so much on a sports sedan of years past? To answer that, let's go back to 2018 when Mitsubishi Motors was discussing the possibility or bringing back the Lancer as a crossover, much like the automaker did to the Mitsubishi Eclipse, reengineered as the Eclipse Cross.
At the time, Mitsubishi was touting the idea of a high-performance electric SUV. Years ago, it may have been laughable, but many vehicles by luxury and sporty automotive brands are starting to release electrified versions of their most popular models, if not all-new electric vehicle (EV) models. The Mitsubishi Lancer was a blast from the past, and the Evolution series is one for the record books. There were many generations of the Lancer Evolution, many of which were short-lived, but the Mitsubishi Lancer EVO-8 among them was one of the most powerful, able to accelerate from 0-60 mph in 3.5 seconds, with a top speed of 175 mph and grip asphalt at even the sharpest of turns.
Even so, before this legendary car, the Evo VI, or sixth generation, gave rise to the Mitsubishi Lancer Evolution Tommi Makinen Edition (TME). When an automaker adds a name or "edition" at the end of one of its models, that usually means that model is special, and winning the World Rally Championship (WRC) four years in a row is pretty special. What many people may not know is that Mitsubishi Motors began its roots in the U.S. as a rally car brand. In 1962, the automaker entered an international motorsports event with the Mitsubishi 500 Super Deluxe and instantly set a track record. Fun fact, at one point Dodge bought a vehicle from Mitsubishi and sold it under the Dodge name for more than 20 years – the Dodge Colt.
So, back to the Lancer EVO TME. Rally ace Tommi Makinen joined the Mitsubishi Ralliart Team in 1995 and then won the WRC Driver's Championship from 1996 – 1999. To celebrate this feat, a new model of the Lancer Evolution was released and the Evo VI TME was unveiled in December 1999, sold in January 2000, with a limited run of 2500 units built to commemorate the feat. The Lancer Evo VI TME featured a titanium turbocharger, free-flow exhaust, a quick-ratio steering rack, and when originally sold, a rally styling package offered WRC stripe, Ralliart bumper decals, Mitsubishi decals, white spoiler wing, rear panel garnish, amongst other graphics and flair.
Pulling out of the UK market is a big move for Mitsubishi Motors. We wonder how this plays into the new business strategy for the Renault-Nissan-Mitsubishi Alliance. Stay up to date with all Mitsubishi Motors-related news when you follow us on University Mitsubishi social media.
Photo Source/Copyright: HotCarsImages.com