Mitsubishi Fuso Electric Truck in Production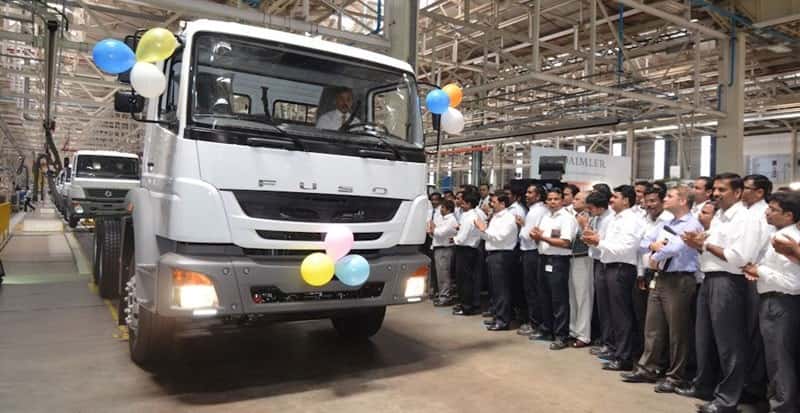 Mitsubishi has its hands in lots of pockets and works in various industries. One of its lesser known factions, Mitsubishi Fuso Truck and Bus Corp, is jumping on the bandwagon of moving forward like Mitsubishi Motors and turning towards electric motors to power their vehicles. Starting with the Mitsubishi eCanter, an electric version of the already widely used Canter, Mitsubishi Fuso has finally begun to put the plan into action to create an electric truck model line.
We discussed the Mitsubishi Fuso electric truck back in March when the news first arrived about it. Following in the footsteps of their i-Miev, the first highway capable electric vehicle, the eCanter will of course be used on highways for all those deliveries large trucks and semis are known for. With the new drivetrain, not only will it become a class 4 truck, with a GVWR of 15,995 pounds, but it will also have an estimated electric range of 100 miles and payload capacity of 9,380 pounds!
Now, Mitsubishi Fuso is entering a small-scale series production of the medium-duty electric truck, the Fuso eCanter. Consumers that may want to test it out before committing to an electric truck will be able to enter a 2-year lease period to try it out before trading up to the next-generation. Moreover, the eCanter will offer flexible battery options for consumers that need more payload capacity and don't have a need for a 100-mile driving range. Currently, construction and production is taking place in a plan overseas in Tramagal, Portugal.
"With today's start of production of the eCanter, we become the first global manufacturer to produce an all-electric truck in series … Our Portuguese plant not only produces the trucks for Europe and the U.S., but has also benefited from a close cooperation with the authorities in Portugal and Lisbon, having tested the trucks there since 2014." – Marc Llistosella, president and CEO of Mitsubishi Fuso Truck and Bus Corp. and head of Daimler Trucks Asia.
For now, the small-scale series is a way for not only consumers to try out the new eCanter, but also gives Mitsubishi a chance to gain experience and feedback from the customers for what the small production line should improve upon for the Fuso eCanter large-scale production that will follow. Within the next month, the states may be seeing Fuso vehicles on the streets. Keep up with us on social media as we learn more about this new venture for Mitsubishi.
Photo Source/Copyright: Automotive World