Mitsubishi Electric Emirai4 at CES 2018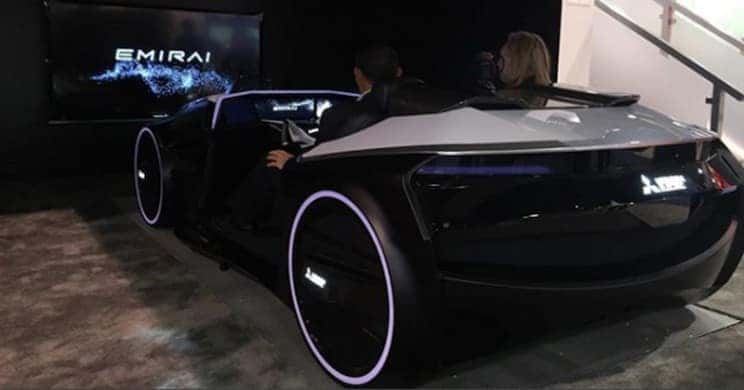 The autonomous race has been heating up a lot lately. Many automakers are trying to be the first to release a self driving vehicle. Chevrolet is already making statements that their self-driving Chevy Bolt EV may be certified to drive on South Korean roads, and Google Waymo has a fleet of 500 vehicles that are getting smarter with every test. Having recently garnered publicity is Mitsubishi, the motor company and the Nissan-Renault-Mitsubishi Alliance, as well as Mitsubishi Electric, having debuted the self-driving vehicle, Mitsubishi Emirai4, at the 2017 Tokyo Motor Show and CES 2018.
Consumer Electronics Show 2018
The Consumer Electronics Show (CES) is an annual convention where people from all over the world gather to share and learn about new consumer technologies. Such technologies can range from video games and computer software to, most recently, robot strippers. In short, the gamut is very diversified, and when it comes to the auto industry, there is a lot to be seen. This year, a faction of Mitsubishi, Mitsubishi Electric, joined the automakers in debuting their own autonomous technology to the world.
Mitsubishi Goes Autonomous
This isn't the first time Mitsubishi has released autonomous technology, nor is it the first time Mitsubishi has presented self-driving vehicle technology. Like many other automakers, autonomous self-driving cars are in development and have been for years. Not many companies have debuted technology and prototypes in such quick succession though.
Back in March 2017, Mitsubishi unveiled their autonomous driving technology to the world. They called it a Mobile Mapping System (MMS) that would develop and interact with a 3D map of the driver's surroundings in real-time. Made up of traffic signals, surrounding vehicles, and an artificially intelligent system in the car, this was not just the debut of their autonomous self-driving technology. This was also the inkling of their artificially intelligent voice assistants development.
During the biennial 2017 Tokyo Motor Show, Mitsubishi Motors debuted the Mitsubishi e-Evolution concept. This vehicle is positioned to be the revival of the "evolution" nameplate following the discontinued Mitsubishi Lancer Evolution. Designed as a performance SUV, the e-Evolution had a futuristic look to it inside and out. Oddly enough, although claimed to be a "performance vehicle," the e-Evolution was also set to be an ell-electric vehicle. Riding on a four-wheel drivetrain and a battery mounted in the middle of the car for a strong center of gravity could be what all the hype is about.
An artificially intelligent (AI) system Mitsubishi is also working on a debuted system in the e-Evolution, a sort of virtual coach that would help drivers on the road during different driving conditions. Depending on driver behavior, the vehicle may even take over completely. Sadly, there has been no news since its debut at the Tokyo Motor Show in October 2017.
The self-driving Emirai4 from Mitsubishi Electric has returned to the stage, however. There wasn't a whole lot of information when it debuted alongside the e-Evolution in Tokyo. It was another self-driving car concept, originally dubbed the xAUTO, and very mysterious. Sharing the futuristic look of the e-Evolution and having some interesting technological advancements for infotainment, some are thinking this may be just another concept.
The 300+ hours of cumulative testing for the Mitsubishi Emirai4 say otherwise. If anything, if the Emirai4 isn't mass-produced, then it will become the foundation for future Mitsubishi autonomous vehicles. The Emirai4 did in fact show up at CES 2018 in Las Vegas, and everyone got a glimpse at the next-gen technology shown off.
Alongside the autonomous features, a virtual assistant will be integrated into the vehicle to monitor the drivers driving behavior. Coupled with a driver-monitoring system, the vehicle is designed to take over driving if the driver doesn't seem up to the job, i.e. inebriated or drowsy. Although we don't encourage driving drunk or drowsy, it's a nice thought to know in the future, if some irresponsible drunkard is on the road, their car will take over and keep the roads safe.
Mitsubishi Electric is doing more than that though. With the Emirai4, biometric wearables are also being designed. Forget key fobs – Mitsubishi Electric may start making designer watches you can wear to enter your car. The company is also looking into integrating functionalities that will enable passengers to order and pay for food or services while on the road, connect with smart homes, and more. All of this is to make the transition from manned cars to self-driving cars a little easier.
"We're showing our customers how they can make a seamless transition to autonomous and the new world of mobility by incorporating a number of new technologies into their current roadmaps … We have a culture of innovation and operational excellence that extends far beyond automotive, so we're in a unique position to help automakers transition to lifestyle brands." – Mark Rakoski, Vice President of Engineering at Mitsubishi Electric Automotive America.
Mitsubishi sure is putting the heat on the autonomous car race. Two vehicles have already debuted, and many more are promised by the Nissan-Renault-Mitsubishi Alliance. What do you think? Are you ready to give up the wheel? Let us know on University Mitsubishi social media.
Photo Source/Copyright: melcoauto/Instagram