Mitsubishi Electric Develops Auto Cyber Security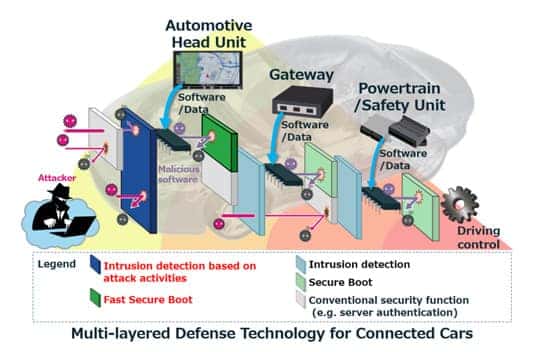 Mitsubishi Electric sure brought some interesting technology to the 2019 Consumer Electronics Show for their automotive counterpart, Mitsubishi Motors. With the automaker heading into autofocus car technology and artificial intelligence, a lot of the services that debuted at the 2019 CES were focused around facial recognition, virtual assistance, and driver security. Stepping up their game, Mitsubishi Electric is going a little further and has recently announced that the company developed a multi-layered defense technology that protects connected vehicles from cyber attacks. With automobiles that come with Wi-Fi hotspots, able to connect to smartphones via Bluetooth, and other wireless connectivity becoming a common feature, advancing the security is a smart move to make.
Connecting to a vehicle through a smartphone is just one of the many connections to the internet vehicles provide or have access to today. Even updating an infotainment system must have some form of an internet connection. Because of this, automobiles have become increasingly vulnerable to cyber attacks, even malicious remote control in extreme cases, over the past few decades. They say technology eventually undoes all the good it initially achieves, but that's why safety measures are put in place.
Mitsubishi Electric's new multi-layered defense technology helps to prevent cyber attacks by strengthening their head unit's defense capabilities. This is achieved through a variety of robust security features, including an intrusion detection system without high-load processing and a secure-boot technology that quickly verifies software integrity during the bootup process. It's basically an antivirus program for an automobile.
Take a look at some of the facts:
–        The "antivirus" program can detect cyber attacks by analyzing the control of the vehicle and the automotive head unit, ensuring the unit itself still the one in control, next to the driver. To keep everything running smoothly, unlike computer anti-virus programs that run in the background continuously, this technology only focuses on malicious activities, reducing computer processing loads.
–        Compared with conventional technology, this system boots up 90-percent faster than normal. With a developed Fast Secure Boot technology that allows for faster and more secure boots, the technology can verify the integrity of the vehicle's software embedded in the automotive head unit. No wonder it doesn't need to run continuously.
–        If wondering what's all the fuss about the automotive head unit, it's the vehicle's main link to the internet. Mitsubishi Electric's new multi-layered defense technology increases the security measures for the vehicle by strengthening the security functions the automotive head unit is responsible for.
If curious, the new system developed is much like the same developed for critical infrastructure, such as systems for electric power, natural gas, water, chemicals and petroleum. Because this new system has been developed for automobiles, and vehicle systems while requiring only limited machine resources, the implementations shouldn't be too difficult. There has yet to be discussion of adapting and installing the new technology, but we can expect a lot coming from Mitsubishi Motors in the coming years.
With all the work Mitsubishi Electric is putting into connecting cars to one another, as presented with their vehicle platooning autonomous feature and social interactive surface display, cars will be able to do more than play music from a smartphone. Soon, they will be able to share data between cars. Keeping cyber attackers from snatching that information from an unsecure connection is just the beginning.
Follow up on University Mitsubishi social media to learn more about technology coming from Mitsubishi Electric and Mitsubishi Motors.
Photo Source/Copyright: mitsubishielectric.com