International Robot Exhibition: Mitsubishi, Medical and UAVs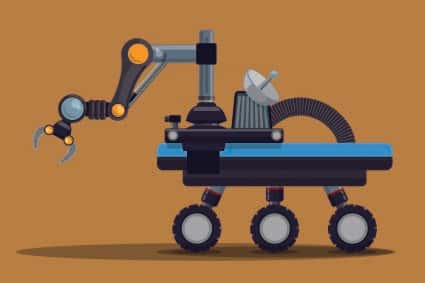 2015's 21st anniversary of Tokyo's International Robot Exhibition begins today and will continue through Dec. 5. Since last year's event, the field of robotics has expanded exponentially and the promise of an even brighter automated future remains strong. This year's theme, "Robot Technologies – Making a Future with Robots," will feature creations made by Mitsubishi, medical robotics, unmanned aerial vehicles and self-driving cars.
Medical Robotics
Few things demonstrate the importance of robotics advancements and future of robotic possibilities better than medical advances. Companies like Aethon, Vecna, InTouch Health and McKesson, will be presenting the latest medical robotics technologies. There is expected to be a strong emphasis on remote surgical robots, advanced prosthetics and hospital helper robots that can be used for dispensing medications, transporting samples and delivering supplies.
Unmanned Aerial Vehicles
Unmanned Aerial Vehicles (UAVs) are here to stay and the race is on to produce not only the most advanced vehicles, but also those that will have the most utility for everyday use. Besides large companies like Raytheon, Lockheed Martin, General Atomics and other major defense suppliers, the industry will also be well-represented by smaller innovative companies, including Titan Aerospace and Aero Vironment, that bring UAVs to consumers. Exhibition visitors will be treated to live demonstrations indoors and outdoors throughout the week.
Self-Driving Cars
As anyone in the robotics game will quickly tell you, the day of autonomous cars is here so elaborate displays are to be expected. Google is already operating its fleet on public streets in the U.S., and other companies are working fast to develop their own technologies and fleets. There will be several events and exhibitions by large automotive manufacturers like Mercedes, Ford, Toyota,  in addition to smaller companies that are moving fast to advance robotic vehicles.
Mitsubishi
Robotics giant Mitsubishi will be a focal point of the show. Mitsubishi Electronics is expected to showcase advances in assembly line robotics and other manufacturing technology. One of the most anticipated displays will be Mitsubishi Motors' concept car, the Emirai 3 xAuto self-driving car, which debuted at the Tokyo Motor Show that ended in November.
You can read more about the Mitsubishi concept car, Emirai 3, here. Check out University Mitsubishi's inventory here — we have everything from Lancers to Outlanders.
Photo Source: Shutterstock
Photo Copyright: johavel