Famous Pizza Parlor Uses Mitsubishi Mirage for its Delivery Vehicle Fleet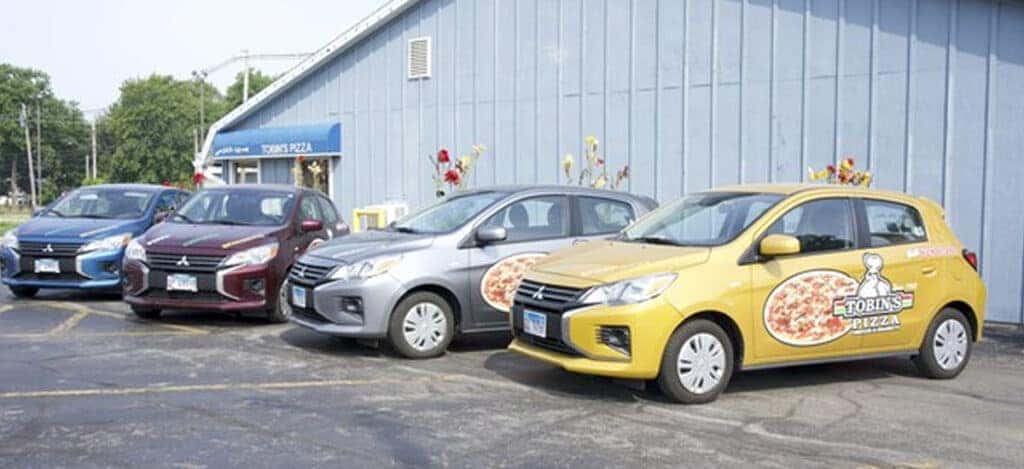 The Mitsubishi Mirage hatchback may be getting discontinued after the 2023 model year, but a new core model for Mitsubishi may become the next base for future models in its wake. Moreover, the Mirage is the last most affordable car with the most fuel efficiency for a gasoline model on the market. The Mitsubishi Mirage is also known to be incredibly reliable, having won the CPO Value in America™ award from Vincentric. Recently, we learned a popular pizza company in Illinois finds the Mirage so reliable that it exclusively owns a fleet of Mitsubishi Mirage models for its delivery drivers.
The popular pizza place is Tobin's Pizza, voted the best pizza in McLean County. When you own a pizza parlor that delivers more than 60,000 pies a year, having a reliable, economical, affordable vehicle is the right choice. Tobin's Pizza owner Moe Davis trusts Mitsubishi Motors with his delivery business, owning a fleet of over 200 Mirages. Davis replaces his fleet every year and has already been in partnership with the O'Brien Mitsubishi in Normal, Illinois for over ten years.
"I've bought thousands of vehicles in my life for my various businesses, and I've never had a more reliable car…Out of the over 200 Mirages I've bought, I've had only two issues – and that's with four million miles of use under the tires so far. I swap cars every year to ensure I can keep my drivers on the road, my customers happy, and my maintenance bills to nearly zero." – Davis of the Mitsubishi Mirage
According to the U.S. Environmental Protection Agency, the Mirage has been known as the most fuel-efficient non-hybrid gasoline-fueled vehicle sold in the U.S. for many years. Offering a unique combination of fuel efficiency, low purchase price, and easy driving, this reliable vehicle also comes with a 10-year/100,000-mile powertrain warranty to keep it running and in peak condition for a long time. For 2023, the Mitsubishi Mirage comes with a new design, including significant exterior styling updates and upgraded technology, such as Apple CarPlay® and Android Auto™ compatibility, and advanced safety features.
A compelling blend of updated styling, enhanced safety, versatility, and value, the Mitsubishi Mirage is a great choice for consumers, especially those looking to get a new car for a new driver in the family, such as teen drivers. The 2023 Mitsubishi Mirage is powered by a 1.2-liter DOHC engine, capable of generating 78 horsepower and 74 lb-ft of torque. Enhanced with Mitsubishi Motors MIVEC system, the engine has been optimized for better performance. Among the updated tech is the 7-inch smartphone-link display audio system, a lineup standard, along with steering wheel audio and phone controls and steering wheel voice recognition control. Advanced safety features include a Forward Collision Mitigation system with Pedestrian Detection as a standard, with Lane Departure Warning available on select trims.
That great warranty we mentioned is joined by a basic limited warranty for 5 years/60,000 miles, 7 years or 100,000 miles of anti-corrosion coverage, and roadside assistance. Like we said, it's a great deal, starting at $16,245 (plus destination fee).
Find the most affordable, most reliable, fuel-efficient vehicle sold in America today. Get your own new 2023 Mitsubishi Mirage at University Mitsubishi before it's gone for good.
Photo Source/Copyright: Mitsubishi Media