Disinfect Your Mitsubishi with the New EPA-Approved Diamond Premium Care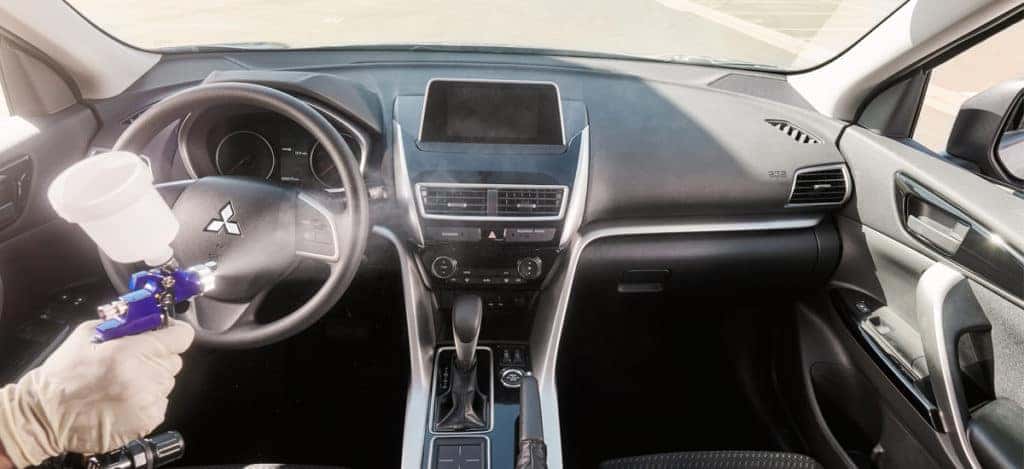 In today's post-pandemic world, things are starting to look up. The Coronavirus really did a number on the world, affecting many people in different ways. As people try to recover, so is the economy, namely the automotive industry. Think about it – every day, many of us rely on transportation to get necessities or even go to work for those of us still working in an office building. The vehicles we once trusted to keep us safe can't really fight against microscopic bacteria and viruses, and although automakers are working towards concepts and technology that could be installed on future models, we need a solution now. Thankfully, a spray-on product designed by Mitsubishi Motors and BioPledge® was just EPA-approved for killing SARS-CoV-2 virus on contact – safe for people and cars.
That's right. A product people can spray inside their vehicles? Keeping it clean can be a problem, so disinfection can seem a little impossible, but Mitsubishi Motors has done it with Texas-based vehicle disinfecting solutions provider, BioPledge®. Although not available for purchase, consumers can get the spray-on treatment when they bring their vehicle in for service at a Mitsubishi Motors dealership. At the moment, Mitsubishi Motors is the first and only OEM offering this service across the nation. They're calling it Diamond Premium Care™ disinfectant (also known as the CLOROX360 program at some dealerships).
"Diamond Premium Care is a rare tool in the fight against COVID-19. It offers peace of mind to the driver of any vehicle, but it's especially valuable to those with added exposure, whether that comes from regularly sharing their vehicle with others or from the direct risk of on-the-job exposure to COVID-19…MMNA and our dealer partners are proud to be able to offer this first-of-its-kind, EPA-approved service to everyone during these challenging times." – MMNA Vice President of Aftersales, Scott Smith
The Diamond Premium Care disinfectant is a non-abrasive, antimicrobial, no-contact disinfecting and deodorizing spray used to disinfect vehicle surfaces and air supply. A dye-free treatment, all car technicians need to do is spray the disinfectant directly onto vehicle surfaces being treated – we assume just the interior, but no one said you can't spray the door handles or fuel tank cap. When it comes to the air that comes into and circulates a vehicle, it all comes down to the HVAC system. To apply the disinfectant here, technicians spray it through the outdoor air intake vent to circulate through the HVAC system and cabin interior. As the disinfectant travels, it kills 99.9% of viruses and bacteria, as well as any remnants of the Coronavirus.
Worried about an overpowering smell of chemicals? Don't be. The spray disperses fairly quickly, and the entire treatment process takes only about 10 minutes. Plus, Diamond Premium Care disinfectant eliminates odors at the source, without the use of abrasive chemicals like bleach or scented masking agents that just mess with the sinuses. So if anything, a car should smell pretty nice after this treatment. 
Now, we know there will always be hates out there. Want proof of this EPA certificate? Go to epa.gov and look for pesticide registration. Search for EPA registration number 91691-1 or search by product under BioPledge, and there it is. Want to learn more about what Mitsubishi Motors is doing to help the world move forward? Follow along with us on University Mitsubishi social media.
Photo Source/Copyright: Mitsubishi Media