Closer Look: 2018 Mitsubishi Outlander GT 3.0 AWC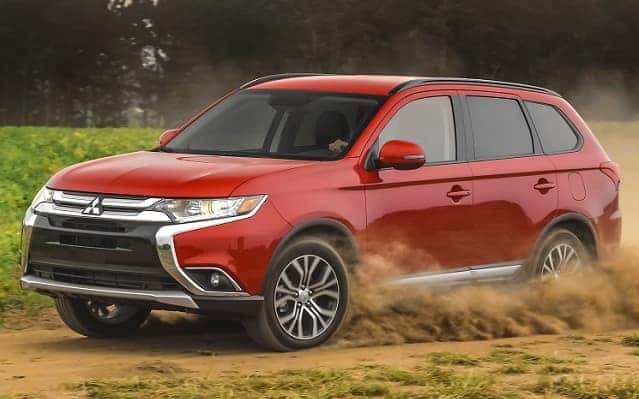 The marketplace for families that want a comfortable, yet powerful ride has many options, and among the numerous options is the 2018 Mitsubishi Outlander GT 3.0 AWC, and it that stands out for all the right reasons. Price, performance and comfort are at the top of a long list of features drivers and passengers enjoy and embrace. Here's a closer look at what makes the 2018 Mitsubishi Outlander GT AWC the best model in the current 2018 Mitsubishi Outlander lineup.
Under the Hood
The 2018 Mitsubishi Outlander GT 3.0 AWC is the highest trim available and it comes standard with a 244-horsepower 3.0-liter V-6 engine and a six-speed automatic transmission. The engine and transmission give the Outlander GT 3.0 AWC an excellent fuel economy of 20 mpg in the city and 27 mpg on the highway.
Now only is the Mitsubishi Outlander GT 4dr AWC capable of providing excellent fuel efficiency, the Mitsubishi brand brings along dependability and the Outlander is their speciality vehicle providing customers with precise styling, a comfortable cabin and an engine that works overtime.
Pricing & Features
The 2018 Mitsubishi Outlander GT 3.0 AWC has a starting MSRP of $32,245 (plus destination fee), which is a great price considering all of the top-of-the-line amenities and the industry-leading warranties that include a five-year or 60,000-mile limited basic warranty and a 10-year or 100,000-mile limited powertrain warranty.
The 2018 Mitsubishi Outlander GT 3.0 AWC comes standard with a nine-speaker Rockford Fosgate audio system, a powered sunroof, automatic LED headlights and LED fog lights. To keep the driver as comfortable as possible, the vehicle has a heated steering wheel, leather seating and heated front seats.
The Mitsubishi Outlander GT 3.0 AWC also has a multi-function remote proximity entry system and electronic messaging assistance with voice recognition, which is a great convenience feature for drivers who like to stay connected while on their journey. The 2018 Mitsubishi Outlander GT AWC provides additional features, including satellite radio, Apple Carplay and Android Auto, which are accessible via the vehicle's 6.1-inch touchscreen.
Additional Upgrades
The upgradable GT Touring package for the 2018 Mitsubishi Outlander GT AWC includes the latest preventative safety features like adaptive cruise control, multi-view camera system, forward collision warning and emergency braking and pedestrian detection with lane-departure warnings. According to the Insurance Institute for Highway Safety (I.I.H.S.), lane departure warning systems cut the rate of accidents in the U.S. by at least 11 percent from 2009 to 2015, and that number also includes a 21 percent reduction in injury-related accidents. Additionally, blind spot monitoring systems have reduced total crashes by 14 percent and injury-causing accidents by 23 percent.
Additional upgrades include rear-seat DVD player, additional storage solutions and remote engine start. With this added versatility, you can enjoy long trips while keeping the family entertained, safe and secure.
The Choice is Yours
While many options are available for similar midsize SUVs, the Mitsubishi Outlander GT AWC has everything most buyers are looking for today. Perhaps you'll get a better sense of what having a powerful ride with generous comfort for all seated, in a technology infused premium vehicle with lots features to enjoy when you see one with your own eyes.
Are you interested in learning more about a new Mitsubishi Outlander GT AWC? Come test drive a new 2018 Mitsubishi Outlander at University Mitsubishi. We have a large selection of Mitsubishi inventory, including all of the newest 2018 Mitsubishi models. University Mitsubishi is conveniently located on University Drive, just south of Griffin Road in Davie, Florida and we are open seven days a week. In addition to helping you find a new or used vehicle, we also have a great parts department and service department, so we can handle all of your automotive needs.