3 Mitsubishi Outlander Models, Including the PHEV and Sport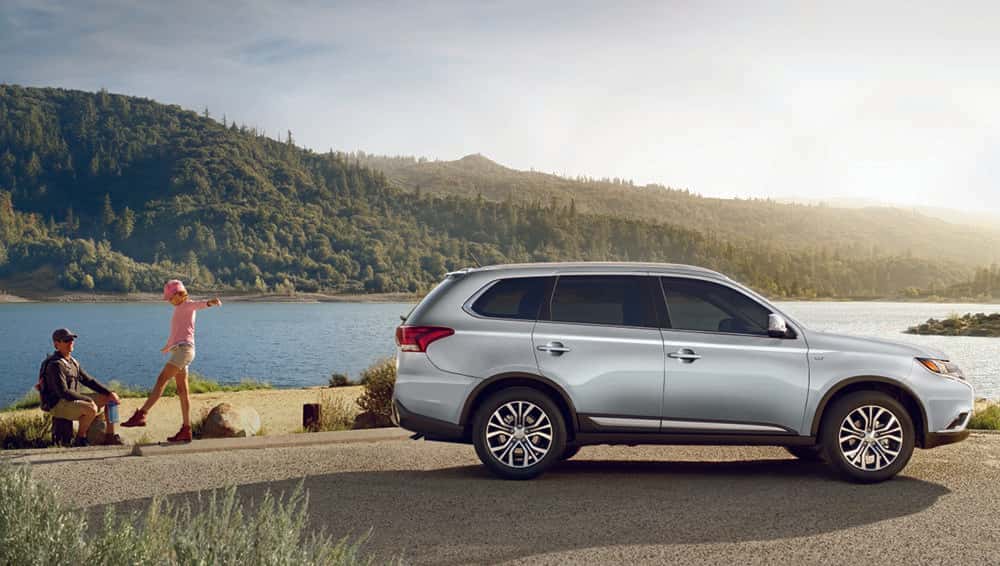 Seeing as how school starting is this week, which means soccer games, carpooling, and family get-togethers, we thought we'd take a minute to look at the  five-and seven-passenger Mitsubishi Outlander models.
2016 Mitsubishi Outlander
Available in three styles, let's start with the one that started it all – the original Mitsubishi Outlander. Available as a five or seven passenger crossover SUV, the Mitsubishi Outlander does it all. Most of the trims are powered by a 2.4L MIVEC SOHC 16-valve Inline 4-cylinder engine – jeez, what a mouthful. MIVEC is basically VVT developed by Mitsubishi, and if you don't know what VVT is, it's a process that increases a vehicle's performance and fuel economy. SOHC stands for "Single Overhead Camshaft," which isn't quite the norm these days since DOHCs tend to outperform SOHCs, hence the MIVEC integration.
The engine, which generates up to 166-horsepower, give the 2016 Mitsubishi Outlander a fuel economy of 25 MPG in the city and 31 MPG on the highway. In terms of safety, the Outlander has been an IIHS Top Safety Pick for the past four years. MSRP starts at $22,995.
2016 Mitsubishi Outlander Sport
"If it's not broken, don't fix it," but what about improving something that's already a good thing? Mitsubishi knows the Outlander is already a winner, but Mitsubishi created an smaller five passenger Outlander Sport model to spice things up. As mentioned above, DOHCs tend to outperform SOHCs, and that's why the Mitsubishi Outlander Sport series is powered by a 2.0L MIVEC DOHC 16-valve Inline 4-cylinder engine. That brings the horsepower to 145-hp with 145 lb-ft of torque. It has an EPA of 24/31 MPG city/highway. MSRP starts at $19,595.
2017 Mitsubishi Outlander PHEV
You may have not heard about the Outlander PHEV due to its exclusive release overseas, and we can't say we're not a little jealous. Good news! The Mitsubishi Outlander PHEV is coming to American shores this fall. For those unaware, the Outlander PHEV is a hybrid four-wheel drive that can travel over 500 miles on a full tank. Five-hundred miles. Where's the ring, because we're gonna love this beauty so much we just might marry it. The hybrid is powered by a 12-kWh battery, reaching an 80% charge in as little as a half hour, and able to travel 32 miles solely on electric power with minimal emissions. For those that don't go full-electric, a 2.0L 4-cylinder gas engine is also under the hood to pick up the pace.
Photo Source: Shutterstock; Copyright: Sychugina