2018 Mitsubishi Motors Limited Edition Models

Last year, just before Nissan bought a controlling share of Mitsubishi Motors, the automaker proved it still had some tricks left to pull. This isn't to say Mitsubishi Motors was going to perish – if anything, being a part of the Renault-Nissan Alliance saved Mitsubishi, and still let's it keep its independence as an automaker. Still, before the three automakers started sharing resources and platforms, Mitsubishi Motors had some surprises in addition to the 2018 Mitsubishi Eclipse Cross. We're talking Limited Edition vehicles.
2018 Mitsubishi Outlander Sport LE
The first Mitsubishi vehicle to get a limited edition (LE) last year was the 2017 Mitsubishi Outlander Sport. This year, for the 2018 model, it's pretty much the same and clearly wasn't all that limited. When it comes to horsepower, there also isn't much of a difference between the standard trims and limited edition model. The Mitsubishi Outlander Sport LE is powered by a 2.0-liter MIVEC DOHC I4 engine and its available with All-Wheel Control (AWC). The engine is paired to an INVEC CVT Sportronic transmission.
Before going further, let's cover those acronyms because they're an important part of Mitsubishi Motors' DNA. MIVEC is the name given to Mitsubishi's own variable valve timing (VVT) technology design. A little tinkering with the fuel-air intake/exhaust valves of an engine's cylinders can result in maximum performance and fuel economy if done right.
DOHC, or dual overhead camshaft, is an engine with two camshafts instead of one, and without making this confusing, all you need to know is two is better than one, leading to a less stressed, better performing engine. INVEC is the name given to Mitsubishi Motors' CVT technology. Known as a "continuous variable transmission" (CVT), INVEC can switch between gears on the fly without loss of speed or expended fuel. A Sportronic transmission also allows drivers to switch gears manually if they so desire; otherwise it defaults to automatic without driver input.
Aside from some flashy style, the majority of the changes and features that came along with the 2018 Outlander Sport LE involved aesthetics and technology. For the exterior changes, this included upgrades such as exclusive 18-inch black alloy wheels, a dark alloy fuel door, LED running lights, HID headlights, fog lights, and of course the "Limited Edition" badge. Inside, consumers will find few changes with a little more style -mainly in the form of unique aluminum pedals and red stitching. Once inside, drivers are greeted by a 6.5-inch touchscreen with smartphone link, Apple CarPlay, Google Android Auto, and Bluetooth technology. – always a welcome addition when it comes to modern technology in cars today.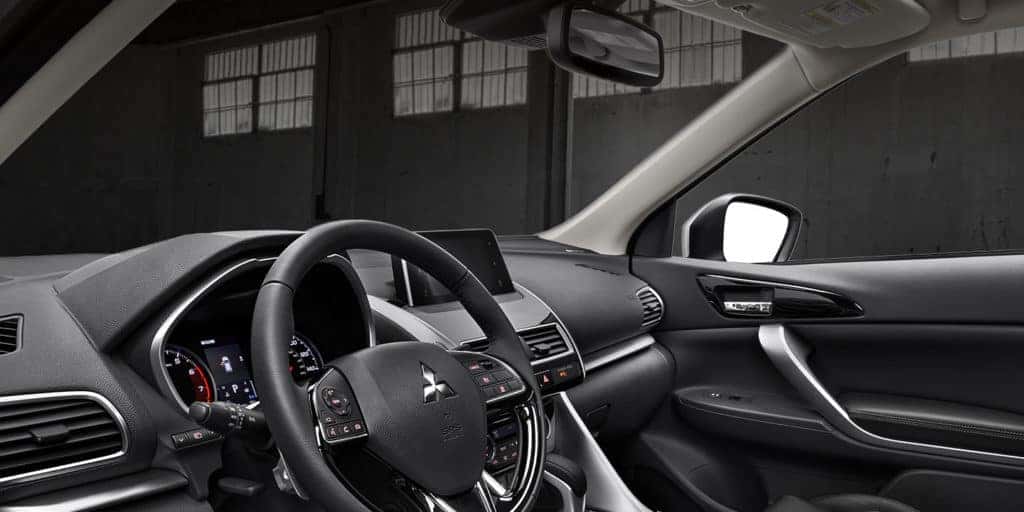 New 2018 Limited Editions
At this time, three limited edition trims are set for Mitsubishi Motors in 2018. They are the 2018 Mitsubishi Eclipse Cross Limited Edition, the 2018 Mitsubishi Outlander Sport Limited Edition, and the Mitsubishi Outlander Limited Edition. The majority of changes for each are much like the limited edition Mitsubishi Outlander Sport model introduced in 2017.
The upcoming 2018 Mitsubishi Outlander LE has some of its own changes. Along with exclusive 18-inch black alloy wheels and a 7-inch touchscreen with Apple CarPlay and Android Auto capabilities, there are some convenient additions for this model. A power glass sunroof has been added for enjoying the open air. In addition, new automatic advanced safety features like blind spot warning, lane change assist, and rear cross traffic alert all pop up for the 2018 Mitsubishi Outlander Limited Edition.
The 2018 Mitsubishi Eclipse Cross, pictured above, gets the flashiest look of all three 2018 limited editions. It's additions aren't very different from what we know so far, including exclusive 18-inch black alloy wheels, a unique black front grille and side view mirrors, a 7-inch smartphone link display with Apple CarPlay and Android Auto, Super All-Wheel control (S-AWC), and the usual "Limited Edition" badge. Take a look at that exterior photo. A blacked-out Mitsubishi Eclipse Cross actually looks pretty chilling, a perfect fit for its name.
Interested? Keep up-to-date without University Mitsubishi social media and learn when these limited editions are released.
Photo Source/Copyright: MitsubishiCars.com