2018 Mitsubishi Eclipse Cross Arriving at Dealerships Soon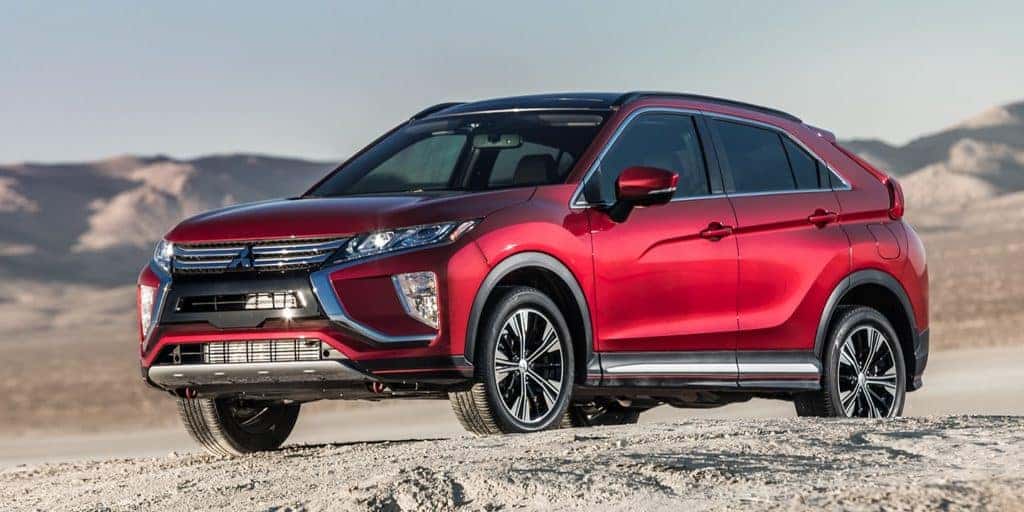 Well, it's just about here! Production on the 2018 Mitsubishi Eclipse Cross is wrapping up and models are already being sent to the U.S. In the next coming weeks, dealership showrooms will have a shiny, all-new crossover to display. This crossover from Mitsubishi is like none before it, setting a new standard for comfort and convenience. Plus, with only four trims to choose from and an affordable lineup, customers don't have to fret too much when deciding which Eclipse Cross to buy. Let's take a sneak peek at what's in store with this next-generation crossover.
Mitsubishi Eclipse Cross Debut
It all started with a teaser of a new crossover from Mitsubishi Motors, said to be the reboot of the original Mitsubishi Eclipse sports car. Named after a horse, the original Mitsubishi Eclipse was well-known for power, but production was ended on it in 2017. When Mitsubishi started to market the Eclipse Cross, they took the perfect chance to market and advertise it alongside the Great American Eclipse of 2017.
The 2018 Mitsubishi Eclipse Cross debuted at the 2017 Geneva Motor Show and made its first American debut later at the 2018 Los Angeles Auto Show. Said to be the last in-house vehicle by Mitsubishi Motors, the Eclipse Cross had a simple goal – rock the automarket. We quickly learned about the technology in the Eclipse Cross, and we have to say, it's pretty impressive for the struggling automaker. It didn't take long to hear about the impending arrival of the 2018 Mitsubishi Eclipse Cross, and now it's rolling onto dealership lots.
Overview of the 2018 Mitsubishi Eclipse Cross
Wouldn't you know, Mitsubishi Motors released all the specs for the Mitsubishi Eclipse Cross on their website already. With only four trims, all of which come standard* with Mitsubishi's Super All-Wheel Control driving system, consumers can rest assured knowing when they drive this crossover, they'll have the luxury of an all-wheel drivetrain that is able to handle various types of terrain. The Super All-Wheel Control even offers three selectable driving modes to enhance the crossover's performance – auto, snow and gravel.
The powertrain is the same throughout the lineup – a turbocharged 1.5-liter L4 engine with MIVEC and direct injection. Small turbocharged engines are the next best thing thanks to their formidable power while still offering great fuel economy, especially when it comes to a crossover. The turbocharged 1.5-liter can generate 152 horsepower and 184 lb-ft of torque, and offers a fuel economy of 26 mpg in the city and 29 mpg on the highway. Remember, "MIVEC" is Mitsubishi's brand of variable valve timing (VVT) technology, designed to enhance the performance of an engine by altering the frequency of the engine's cylinders valve lift events during the intake of air and fuel and the exhaust of the resulting fumes. All engines are also paired to an 8-speed continuously variable transmission with Sport mode – nice.
There's a ton of cool technology in the 2018 Mitsubishi Eclipse Cross! For the first-time ever, Mitsubishi is putting their very own infotainment system into a vehicle, Mitsubishi Connect. Initially, this system will offer Apple CarPlay and Android Auto capabilities via a 7-inch touchscreen display or 7-inch smartphone link display system (controlled via the touchpad mentioned in this article). Mitsubishi Connect will also be using the LexisNexis Telematics Exchange System to offer Mitsubishi automobile owners and drivers seamless usage-based insurance (UBI) solutions, along with safeguard and remote services (2-year trial subscription).
Later, we're not sure when, the Mitsubishi Connect system will make use of Mitsubishi Electric's impending artificial intelligence in the Mitsubishi Emirai4 and other concepts. We discussed the system in a little more detail when discussing Mitsubishi Connect and the eX concept, possibly slated for the Mitsubishi e-Evolution concept. We won't know for some time, but that's okay. With the Mitsubishi Eclipse Cross arriving soon, we won't have to wait to play with it much longer.
Oh, and the MSRP starts at $23,295† – now that's a deal for future technology.
Excited about the 2018 Mitsubishi Eclipse Cross? Let us know on University Mitsubishi social media.
*S-AWC is an option for the base trim; the standard drivetrain is front-wheel drive
† – Plus destination fee
Photo Source/Copyright: MitsubishiCars.com