2017 Mitsubishi Mirage G4 v. 2017 Toyota Yaris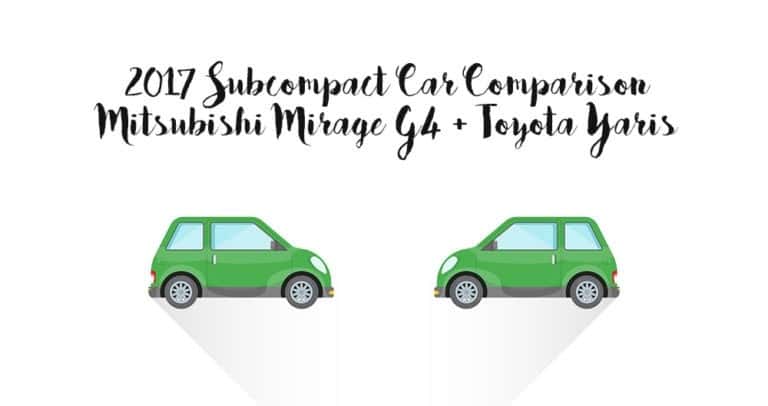 U.S. consumers used to be all about big cars, SUVs and trucks, but in recent years, Americans have started appreciating the efficiency and ease of owning a subcompact car. Without all of that extra weight, subcompact cars are more fuel efficient and their small size makes it really easy to transform a tight space into a parking space. Two popular subcompact cars that are already available for the 2017 model year are the Mitsubishi Mirage G4 and the Toyota Yaris. Here's how they compare.
Engine and Fuel Economy
The 2017 Mitsubishi Mirage G4 is an all-new subcompact car that debuted in the spring of 2016. Though it has some similarities to the Mitsubishi Mirage (a hatchback), it is a sedan and it has its own unique style. The Mirage G4 is equipped with a 1.2-liter 3-cylinder engine paired to a standard 5-speed manual transmission or the available automatic CVT transmission. Built for efficiency, the Mirage leads the gas-powered subcompact class with a fuel efficiency of 33 mpg in the city and 41 mpg on the highway.
Toyota introduced the current generation of the Toyota Yaris in 2015 and it is powered by a slightly larger 1.5-liter 4-cylinder engine. The standard transmission is a 5-speed manual transmission, but buyers have the option of a 4-speed automatic transmission as well. The Yaris averages 30 mpg in the city and 36 mpg on the highway.
Exterior and Interior
Both cars have seating for five passengers and are similarly sized, but they have different body styles. The 2017 Mitsubishi Mirage G4 is a four-door sedan, whereas the 2017 Toyota Yaris is available as a three-door or five-door hatchback.
While the Yaris and Mirage G4 have similar headroom dimensions (Mirage G4 31.1 inches front, 36.9 inches rear; Yaris 39.3 inches front, 37.6 inches rear), the Mirage G4 offers substantially more legroom in the rear (Mirage G4 41.7 inches front, 37.2 inches rear; Yaris 40.6 inches front, 33.3 inches rear). So, if you have tall friends, there might be a battle for shotgun if you drive a Yaris.
Warranty and Price
The Mirage G4 offers drivers savings at the pump and is also a very affordable new car. The all-new 2017 Mitsubishi Mirage G4 has a starting price of $13,995 and it is backed by an industry-leading warranty with a five-year or 60,000-mile basic warranty and a 10-year or 100,000-mile powertrain warranty.
The 2017 Toyota Yaris has a starting MSRP of $15,250 and it is backed by a 3-year or 36,000-mile basic warranty and a 5-year or 60,000-mile powertrain warranty.
Interested in a Mitsubishi Mirage G4?
You can shop University Mitsubishi's Mirage G4 inventory here.