What the Truck Mitsubishi?

Well well well, Mitsubishi Motors is really shaping up these days. Who knew the new alliance with Renault-Nissan could be so beneficial? With the six-year plan in the works, the Alliance 2022, we've seen plenty of good news for every brand, just check out those sales. Now, we're starting to see concepts and prototypes of new Mitsubishi vehicles, and we couldn't be more excited. We spy with our eyes the new Mitsubishi pickup truck.
New Concepts
Ah, when we heard the Mitsubishi Mirage was going to get a touch up, we really wondered what the automaker was going to do to the beloved hatchback. There was lots of talk, and a Mitsubishi Mirage concept based on the Renault Clio was revealed, but it turns out the new Mitsubishi Mirage will be built on the Nissan Juke platform. Makes more sense than building a hatchback onto the same wheels of a supermini car.
What really got consumers shaking (with rage?) was the new Mitsubishi Lancer crossover. The Mitsubishi Lancer and Lancer Evolution were known for being race cars. People still buy and modify them today to drag race. The Lancer EVO X just smashed it's old racing record, beating the racing time of a quarter mile for the 2018 Dodge Challenger SRT Demon by a whole second – damn! Just think of the possibilities of the new Mitsubishi Lancer crossover if it had EVO DNA. TopGear certainly showed off the Mitsubishi Lancer EVO and what it can do.
We also got a concept of the new Lancer crossover, or what it could look like. Looks pretty amazing, based off of the Mitsubishi e-Evolution concept that debuted at the 2017 Tokyo Motor Show. The digital rendering also has its own bit of flair, but this is just that – a concept rendered by an automotive designer/digital artist – they don't even work for Mitsubishi. Let's look at something more concrete.
Mitsubishi Triton Returns
Yeah, you read that right. The Mitsubishi Triton pickup truck will soon be returning to showrooms. We admit, we were nervous, it wasn't clear if Mitsubishi would bring its pickup truck back to the states, but have no fear. These spy shots show that Mitsubishi is working on a new truck, and this time, they plan to go global.
Not a lot of info has been found for the truck so far, but it's said to have a towing capacity of 7,716 pounds. With talk of a four-wheel drive system also being installed, like Mitsubishi Motors All-Wheel Control (AWC) or Super AWC, a strong engine will be necessary. These spy shots do give us a peek at the front fascia though. Look at it!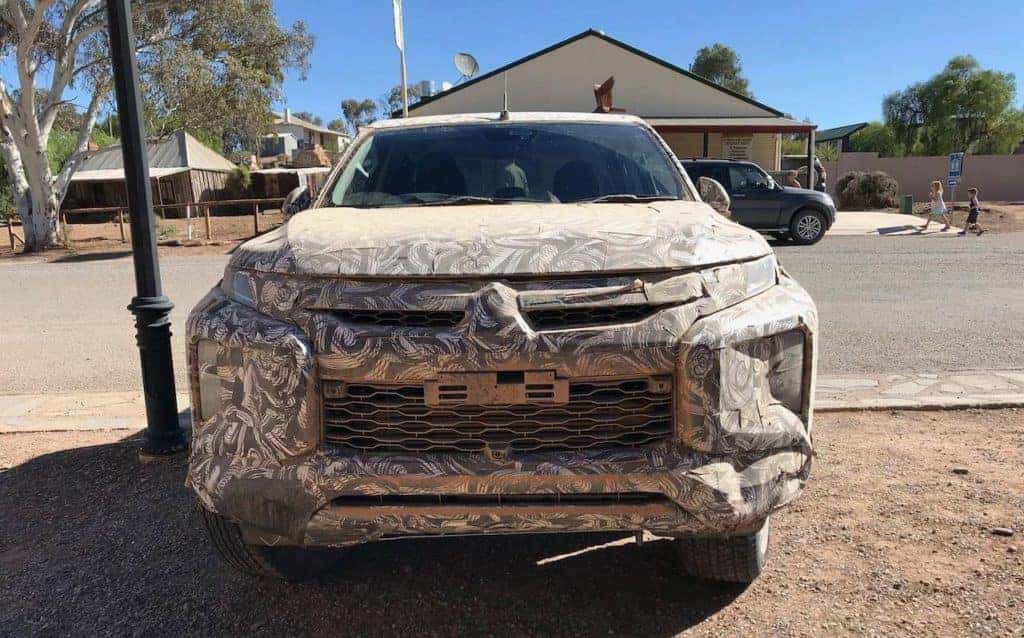 That's a refreshing take on the honeycomb-grille, accompanied by thin headlights and running daytime lights above the bumper. Interestingly enough, the new Triton, if that's what Mitsubishi will be calling it, looks a little rugged but not as bulky as its predecessor. Lean and mean is the correct rhyme for this truck description.
Whether the new Mitsubishi truck will be available in 2019 is unknown. Alliance 2022 ends in 2022, so if anything, we should see a whole lineup of new vehicles from Mitsubishi Motors by then. Keep up-to-date with the news on University Mitsubishi social media.
Photo Source/Copyright: MitsubishiCars.com