What is AWC on the 2017 Mitsubishi Outlander Sport?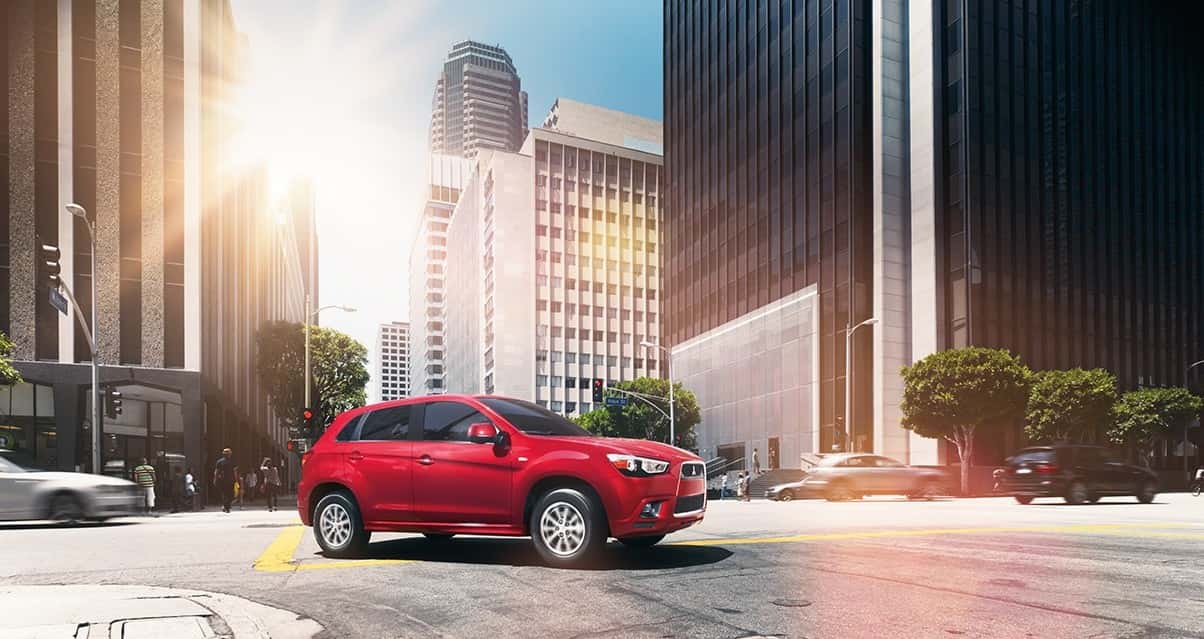 With Mitsubishi's All-Wheel Control (AWC) system, it's very hard to not think that means Mitsubishi vehicles like the Outlander Sport have all-wheel drive (AWD). According to Mitsubishi Motors, the two are not the same. On top of that, certain features and specs change with the AWC system.
All-Wheel Drive vs All-Wheel Control
The basic understanding of all-wheel drive (AWD) is that it is a drivetrain that transfers torque to all-four wheels part-time or full-time. An example of a part-time AWD system would be a vehicle that has a rear-wheel or front-wheel drivetrain, but transfers equal amounts of torque to all four wheels when seasonal conditions such as rain, snow, or mud are detected. Full-time AWD would be a vehicle that splits torque 50/50 between the two axles at all times.
Mitsubishi's all-wheel control (AWC) goes a step or two beyond AWD. The focus isn't on the torque between all four wheels but the control over all four wheels. Mitsubishi's AWC system integrates computer and mechanical technology for control and balance between wheels through Active Center Differential (ACD), Active Stability Control (ASC), and a new sport anti-lock Brake system.
ACD is a system that electronically controls a hydraulic multi-plate clutch, or a variation of the connection between the engine and the gearbox typically used in drag racecars. The ACD controls the hydraulic multi-plate clutch to optimize front/rear wheel torque split to produce the best balance between traction and steering response.
ASC, as the name states, is a computerized system that improves a vehicle's stability when detecting a reduced a loss of traction, or skidding, and improves vehicle traction by preventing the driving wheels from spinning. The anti-lock brake system helps to maintain control when applying brake pressure by preventing the wheel from locking up (stops spinning).
Changes in the Outlander Sport
Now that we know what AWC does for the Mitsubishi Outlander Sport, here's what changes when the Outlander is equipped with the system. The engine, a 148-hp 2.0-liter MIVEC DOHC I4 engine stays the same, along with the suspension, electric power steering, brakes, tires, and wheels. Its exterior and interior dimensions are the same, but its curb weight increases by 143 pounds. None of its exterior features change, but its interior features do, as does the transmission.
With AWC, the 2017 Mitsubishi Outlander Sport ES 2.0 is locked into CVT Sportronic transmission versus the standard 5-speed transmission on the regular ES 2.0 front-wheel drivetrain. Sportronic is automatic transmission with manual capabilities that allows the driver to manually change gears up or down as they wish. Given Mitsubishi's CVT or "continuously variable transmission," the vehicle seamlessly switches between gears at any speed.
The 2017 Mitsubishi Outlander Sport ES 2.0 AWC has a minuscule dip in fuel economy, from 27 combined mpg to 25 combined mpg. An ECO driver indicator light comes standard so the driver knows when they are driving most efficiently to conserve fuel. A driver mode selector also becomes a standard feature so that the driver may pick from four models – AWC ECO which changes the drivetrain between FWD and four-wheel drive (4WD) in accordance with driving conditions; Normal which is the normal full-time AWC drivetrain; Snow for optimum traction and handling control when driving over ice, snow, or other slippery surfaces; and Lock for locking in a four-wheel drivetrain with the full all-terrain performance of AWC.
Aside from two other minute changes*, everything else is the same. These are the capabilities of Mitsubishi's AWC and how they change and benefit the 2017 Mitsubishi Outlander Sport.
*The only other changes are a 15.8-gallon fuel tank, 4.5 quarts of oil, and a 59/41% weight distribution.
Photo Source: Mitsubishi Ad Planner