Ten Years of i-MiEV Developments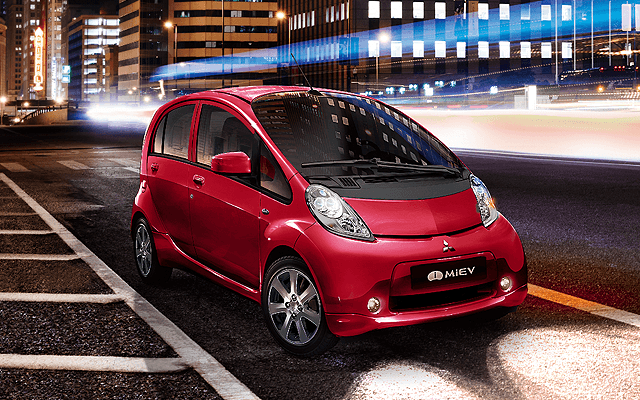 Mitsubishi i-MiEV was one of the first electric car series produced that had lithium-ion batteries. It's the first electric car with DC fast charging capability. Mitsubishi Motors celebrates its 10th anniversary of Mitsubishi i-MiEV which launched on June 5, 2009.
According to mitsubishi.com, the i-MiEV produces zero pollution, so it's as town-friendly as it is eco-friendly. The i-MiEV's 16-kilowatt battery and the compact, rear-mounted electric motor gave the car a range of 160 kilometers (NEDC Correlated)/105 kilometers (WLTP) and excellent performance. According to mitsubishi.com, "Range may vary according to driving style, road conditions and use of air-conditioning or heater, etc." The i-MiEV is noticeably quicker than the popular Kei car thanks in part to its 49 kW electric motor.
"Since its release, the i-MiEV has gained a reputation for eco-performance, quietness, driving performance and environmental economy. The i-MiEV has won a high profile not only for its environmental credentials but also through its visibility in government use in many countries, as well as in taxi and rent-a-car fleets, etc."
The i-MiEV's batteries (or its derivatives) and powertrain were also used in Minicab MiEV/Minicab MiEV Truck. The total sales of i-MiEV and Minicab MiEV amounted to 31,000. It's still growing, notably, since recently Mitsubishi secured an order for 1,200 Minicab MiEV for Japan Post.
Overall, the i-MiEV pioneering position dwindled as growing competition brought more capable and more significant models at a more attractive price, as the Japanese manufacturer didn't upgrade the battery capacity (there were only versions with Toshiba SCiBbatteries – 10.5 kWh and faster-charging capability). Since its release, the i-MiEV has gained its status for quietness, eco-performance, environmental economy, and driving performance. The i-MiEV has won big, not only in its environmental credentials but also through its visibility in government use in a lot of countries, as well as in rent-a-car fleets and a taxi.
Also, the i-MiEV has proven to be an essential vehicle during times of disaster when the gasoline shortages hamper with the use of cars with internal combustion engines. The i-MiEV powertrain was also used on another commercial vehicle which was called the Minicab MiEV, released in 2011. There will be over 1,000 units supplied for Japan Post this September by MMC (Mitsubishi Motors Corporation), and even though it's small, the Minicab MiEV has enough space to be used as a delivery company in urban environments.
The combined sales of the Minicab MiEV and i-MiEV have globally reached 31,000 units over the ten years since its launch (at the end of April 2019). Substantially, the i-MiEV also accelerated MMC's research and construction into EV powertrains, which led to the 2013 launch of the Outlander PHEV, which featured an innovative hybrid powertrain that combines both a gasoline engine and electric motors. Right now, the Outlander stands at 184.8 inches long.
The i-MiEV's compact rear-mounted electric motor and the 16-kilowatt battery gave the car a range of 160 kilometers (NEDC Correlated)/105 kilometers (WLTP). It provides outstanding performance. The compact dimensions in the car are perfect in the city environment, but clever packaging also means there is enough interior space for three or four passengers.
Upon the rising demand for EVs, MMC is working on the commercialization of V2G (Vehicle to Grid) and V2H to further develop. It promotes PHEV (Plug-in Hybrid Electric Vehicles) and EVs. The company believes this is one step towards pioneering a new age defined by an integrated relationship between the people and automobile, society and the environment.
MMC's EV history
The i-MiEV also pioneered Vehicle-to-Home (V2H) technology. MMC rushed to launch a device called the MiEV Power Box one year ahead of schedule after the Great East Japan Earthquake hit Japan in 2011. That enables the i-MiEV to supply power to domestic electric appliances in the event of a power outage, and it was also the trailblazer for the V2H charging.
MMC has been developing and researching electric vehicles since 1966. The i-MiEV, which is still selling today, is the product of more than 50 years of electronic vehicle development at MMC. It brought several alterations to the market, including the use of advanced lithium-ion battery packs and charging using CHAdeMO(4) and Type1 connections. For ten years, these modifications have helped increase both the number of charging facilities and the range of electric driving. The electric vehicles available have become more suitable for everyday use as a result.
About i-MiEV
The i-MiEV won the Year Japan's Most Advanced Technology Special Achievement Award from 2009-2010. The batteries and powertrain were controlled by an advanced control system which was far more advanced than any of the previous technology available. It was recognized later when the integrated vehicle control system was chosen by the Japan Automotive Hall of Fame as the winner of its 2009 Japan Automotive Hall of Fame Car Technology of the Year award.
You can search the inventory of Mitsubishi's at University Mitsubishi. Make sure to stop by for a test drive and see if this model and make is the car for you.
Photo Credit: Mitsubishi Motors.com