Mitsubishi Outlander PHEV vs. Jeep Cherokee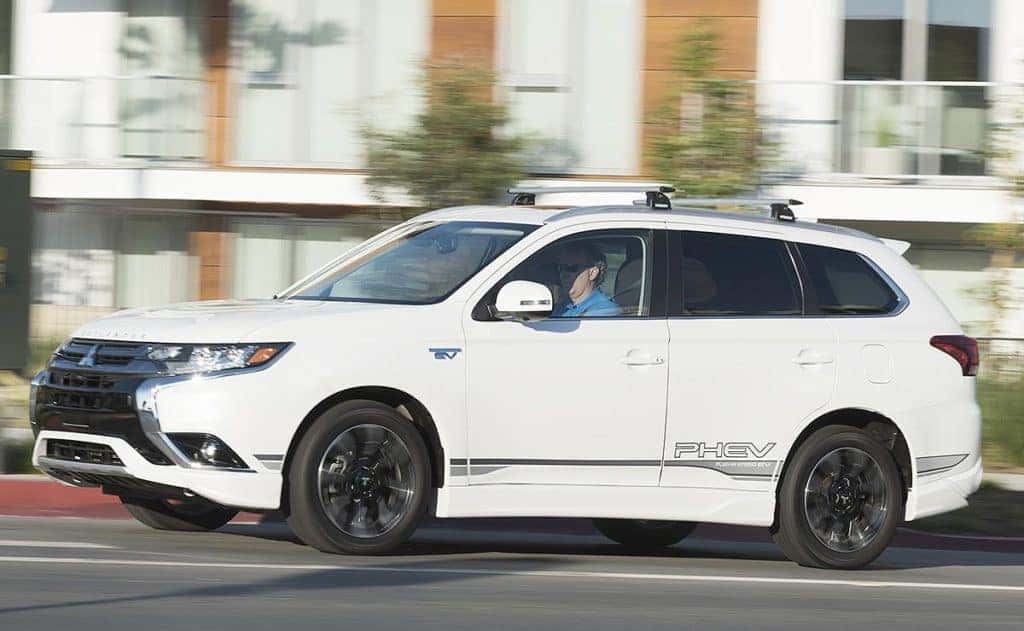 Shopping around for a vehicle can be a hassle in what's often a saturated market, and purchase decisions aren't always going to be apples-to-apples. Of course, the cost of the vehicle is what the decision usually comes down to, and in some cases going "green" (complete with its tax credits and benefits) can be part of the discussion. We've gone ahead and matched up two compact crossovers whose individual MSRPs are within the same ballpark – the 2018 Mitsubishi Outlander Plug-in Hybrid (PHEV) with a starting MSRP of $34,595 (plus destination fee) and the 2019 Jeep Cherokee Limited 4×4 with a starting MSRP of $33,995 (plus destination fee). It's an unusual face-off, but both crossovers bring different things to the table depending on what potential buyers are looking for.
Exterior
The Mitsubishi Outlander PHEV features an exterior that's common to most SUVs, with a smooth body and sleek lines guiding the flow of its shell, a blacked-out grille and shiny chrome accents, and PHEV badges that complete the look. As for the Jeep Cherokee's exterior, a more rugged design takes over with an aggressive look riddled with edgy LED lights in the front and rear, a touch of red through its baseline, and a raised license plate for a throwback look. The battle of exteriors is a draw as both models offer significantly different looks, completely dependent on the potential buyer's taste.
Interior
Since the PHEV trim of the Outlander is one of the higher-tier trims available, it significantly improves upon its baseline trim. An improved instrument cluster and gear-shift for battery-electric purposes make the cabin more exciting with pops of color, while leather seating, faux wood accents, and a power liftgate all come standard to deliver what's expected of an upscale crossover. Front seating is comfortable, while the backseat is roomy with enough space for three adults to sit comfortably. The Cherokee, on the other hand, does not provide the same level of headroom and legroom, and its backseat only has room for two adults and one child. Some premium touches of the Cherokee are the leather upholstery, bucket seating, and a leather-wrapped steering wheel. The Outlander PHEV wins this round with the same features and added comfort of its roominess.
Engine
Each crossover is powered by a distinctively different engine, and thus there's no winner to be had here. Consumers will be left to choose between the "green" engine of the Outlander, or the gasoline-powered engine of the Cherokee. The Outlander is propelled by a 2.0-liter four-cylinder engine capable of generating 117 horsepower and 137 lb-ft of torque, combined with twin electric motors in the front and rear and a 12 kWh battery pack that add 160 more horsepower and 246 lb-ft of torque. Additionally, the Outlander PHEV offers up to 33 miles of all-electric range, and up to a total of 340 miles combined.
An all-new and more-efficient engine debuted with this 2019 model year Cherokee. The 2.0-liter turbocharged engine is capable of generating 270 horsepower and 295 lb-ft of torque, mated to a nine-speed automatic transmission that's seamless and aids in cabin noise cancellation. Boasting a fuel economy up to 19 mpg in the city, and up to 27 mpg on the highway, the Cherokee is a modest fuel-efficient crossover. Both the Outlander PHEV and Jeep Cherokee models are linked by size and similar prices with their major difference being the engine that propels them. In the long run, it's the Outlander PHEV that saves owners money with reduced fuel costs and government tax credits after purchase.
Come by University Mitsubishi and experience the "green" prowess of the 2018 Outlander Phev for yourself. Call (954) 256-7484 to schedule a test drive today!
Photo Source/Copyright: AutomotiveNews.com