Mitsubishi Outlander PHEV Has a Great Hybrid System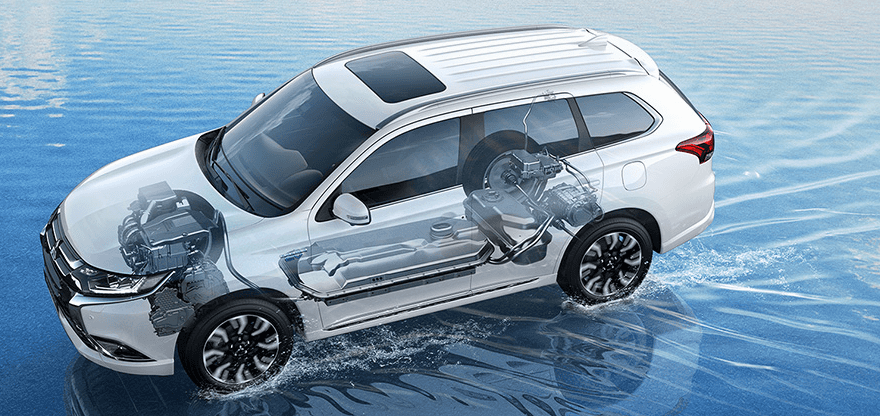 Hybrid cars and electric vehicles (EVs) are starting to take over. The auto market may be dominated by SUVs and crossovers (CUVs) at the moment, but those gas guzzlers have an expiration date. Many brands, such as Mitsubishi, have dipped their hand into the hybrid pool, and what they've brought back out have been large wins for the company. Take a look at how modern hybrids work.
Hybrids Today
Not too long ago, we gave our audience the low-down on hybrid terms and what it all means. All this stuff about batteries, power splits, wattage, and all the other stuff is a little confusing at first. If you need a refresher, click the link above. Otherwise, to put it simply, a hybrid is a vehicle that runs on both gas and electricity.
Hybrid vehicles use gasoline to not only fuel the gas engine but also to charge the battery of the electric motor. Many hybrid vehicles come with a generator that charges its own battery by collecting electricity generated from braking or the engine itself. It's a helpful system, but the battery is not big enough to power the car on pure electricity for very long, so gas is still necessary and there are still tailpipe emissions.
That's why brands like Mitsubishi Motors are coming out with plug-in hybrid vehicles (PHEVs). PHEVs have a big enough battery to power the car with only electricity, but the larger battery needs to be recharged via an outside source. The Outlander PHEV, notorious for U.S. delivery delays at the moment, is a perfect example. Drivers can use the gasoline-powered engine and the battery, or one or the other. With the Mitsubishi Outlander PHEV, drivers have four driving modes to choose from, and recharging can be done in as little as 20 minutes.
Driving Modes
Because the Outlander PHEV can be powered by either a 2.0-liter DOHC MIVEC engine or an electric motor powered by a rechargeable 12 kWh lithium-ion battery, drivers have the choice of the following driving modes:
Electric Driving – When driving on pure electricity, the Outlander PHEV puts out zero-emissions on a clean, quiet drive that is also powerful. Drivers can go roughly 30 miles on electricity alone, and may reach a maximum speed of 70 mph, the standard for most highway travel.
Series Hybrid – If drivers so choose, they may make use of two hybrid driving modes. The first is "Series Hybrid", where the battery is the main power supply with the engine assisting during sudden acceleration, or when additional torque is required.
Parallel Hybrid – This variation of hybrid mode driving is where the engine is the major player in powering the vehicle, but charges the battery as it does so. It's perfect for driving at high speeds or needing to pass other drivers.
EV Priority – Less of a driving mode and moreso driver control, the driver can stop the gasoline-engine from activating altogether. This is perfect for driving through quiet neighborhoods, when cranky passengers are sleeping (babies and children), or just using the PHEV as en EV. Of course, if the gas pedal is pushed down hard enough for acceleration, one of the above hybrid modes will engage.
Recharging
Recharging is simple with the Mitsubishi Outlander PHEV. It can be done in one of three ways.
Home Charging – Owners can charge the vehicle at home while asleep so it's good to go when you wake. Use the onboard charger and charging cable, plug it in, and the vehicle will get a 100% charge in five hours*.
Commercial Charging – If away from home and looking for some juice, owners can use a quick charger at commercial charging facilities and receive an 80% charge in about a half hour.
On-the-go Charging – If on-the-go, drivers can use a paddle connected to the steering wheel to select one of six regenerative braking settings. In conjunction with this feature, drivers may press a button on the console to charge the battery using the engine and then pressing another button to save that energy for a later time.
With all these choices and ease of use, PHEVs fit into everyday lives like never before. Now isn't that a good argument for going green?
*With a 230V/10A power supply. 6.5 hours with 230V/8A.
Photo Source/Copyright: MitsubishiCars.com