Mitsubishi Outlander Earns IIHS Top Safety Pick+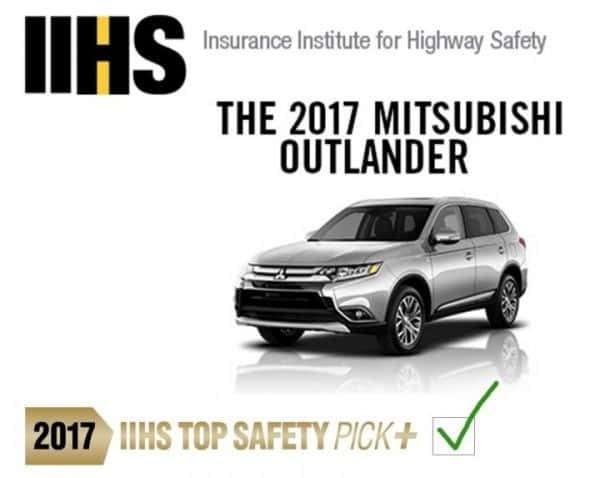 Safety is an ever-advancing feature in today's automobiles. To think, way back, there weren't doors, and turn signals were preceded by hand signals. Technology has come a long way since then, but with the evolution of technology also comes distraction. So that's where the auto industry is putting their focus on for safety at the moment, and many safety features like those found in the 2017 Mitsubishi Outlander are automatic, suited for those of us in an automatic, sometimes distracting world.
Earlier this month, Mitsubishi Motors North America, Inc. (MMNA) announced that the 2017 Outlander seven-passenger crossover received a TOP SAFETY PICK+ from the IIHS for the fourth year in a row*. IIHS is short for the Insurance Institute for Highway Safety, which is a trusted organization that rates vehicles on how well they stand up to crash simulations, much like the NHTSA. They rate vehicles based on head-on collision, side-impact, roof strength, head restraints, and crash avoidance and mitigation. To get a TOP SAFETY PICK+, a vehicle must earn high ratings in all tests.
"At Mitsubishi Motors we are committed to safety and providing the best value for our customers," said Don Swearingen, executive vice president and chief operating officer of MMNA. "Competitively priced, the 2017 Outlander remains a leader in reliability and has expanded upon last year's model enhancements with new advanced safety technologies."
The 2017 Mitsubishi Outlander has many standard and advanced features. Aside from the basics, such as advanced airbag systems, anti-lock braking and traction systems, Mitsubishi also has their own signature body construction design for enhancing passenger protection and energy-absorption crumple-zones, known as RISE (Reinforced Impact Safety Evolution).
Amongst their advanced systems are smart technologies such as adaptive cruise control (changes set speed based on other automobiles ahead), forward collision mitigation (attempts to slow down a car and prevent a head-on collision if there is no driver input), and lane departure warning (alerts the driver to sudden lane shifts or swerving, excluding merges performed with turn signals).
The MSRP for the 2017 Mitsubishi Outlander starts at $23,495.
*When equipped with the optional Touring Package.
Photo Source Copyright: IIHS.org and Mitsubishi Ad Planner