Mitsubishi Motors Teams up With The Asher House to Help Dogs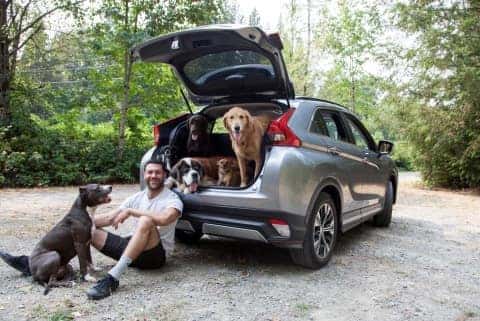 Mitsubishi Motors of North America recently announced its support of The Asher House, an organization founded by Lee Asher to help shelter dogs find loving homes all across America. To help aid with Asher's mission, Mitsubishi Motors donated an all-new 2018 Mitsubishi Eclipse Cross for the transportation of the rescue dogs.
Asher's passion for helping shelter dogs find loving homes inspired him to quit his job in 2017 and devote himself to full-time advocacy. Initially, Asher saved enough money to buy an RV and took off across the U.S. to host adoption events and to educate the public about the plight of shelter dogs. Asher works especially hard to dispel the myth that only aggressive dogs are available at shelters. By showing them that it's easy to bond with a lovable pet through fun and engaging content, Asher specifically exposes people to different breeds and emphasizes their availability at shelters. To date, Asher has found loving forever-homes for over 146 dogs.
How does Mitsubishi come in? The brand's current marketing campaign is called "Drive your Ambition" – Asher's passion to help shelter dogs and make it his life's devotion impressed the brand so much that they decided to pitch in. In fact, Mark Chaffin (chief operating officer of Mitsubishi North America), said the following about the brand's support for this particular mission:
"Our consumers have wide-ranging ambitions in life and Mitsubishi Motors is here to help drive those ambitions. Lee started with a passion when he created The Asher House and it has become a movement to help raise awareness for rescue animals and shelters across the country; Asher's bold decision to take action on his ambition is admirable and we're privileged to be able to help support his mission."
Besides providing the main form of transportation for this mission, Mitsubishi Motors will also provide monetary support to host local rescue events and social gatherings aimed to educate the public about shelter dogs. Asher and his six rescue dog companions are already well on their way to serve their mission in their new Eclipse Cross – with over three adoption events scheduled for the upcoming months.
The all-new Mitsubishi Eclipse Cross is a stylish compact crossover that inherited the automaker's classic Eclipse name. The old sports car was discontinued, while the crossover takes up the mantle to fulfill the car market's ongoing demand for SUVs and crossovers. With standard features such as all-wheel-drive, blind spot warning, rear cross traffic alert, automatic headlights, heated front seats, dual zone automatic climate control, wireless connectivity, and a six-speaker audio system fully equipped with Apple CarPlay and Google Android Auto compatibility, it's not hard to see how comfortable and safe Asher and his dogs will be while on their mission.
Come face-to-face with an all-new 2018 Mitsubishi Eclipse Cross from our inventory here at University Mitsubishi. Our helpful staff will be waiting to help you out with a test drive! You can also visit www.theasherhouse.com for more information about Asher's mission and how you can help.
Photo Source/Copyright: Businesswire.com