Mitsubishi Motors Sponsors Team Mitsubishi Ralliart for AXCR 2022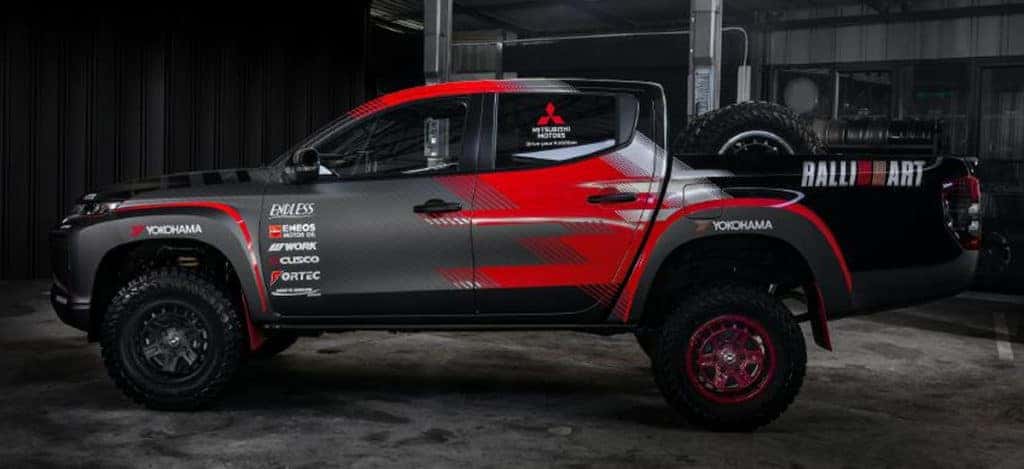 This summer, an overseas rally competition will put drivers, and their vehicles, through grueling off-road courses in the mountains and jungles of Southeast Asia. A cross country rally event certified by the Federation Internationale de l'Automobile (FIA), the Asia Cross Country Rally (AXCR) takes place in Thailand, held in the hot and humid climate sure to test the durability of an automobile, and the sanity of the drivers. Supporting Team Mitsubishi Ralliart this year, Mitsubishi Motors enters as technical support for the team. A private team owned by TANT SPORTS in Thailand, Hiroshi Masuoka – a two-time Dakar Rally champion driver in 2002 and 2003 – was appointed as team director. The model entered into the competition is Mitsubishi Motors' global strategic model, Triton 1-ton pickup truck.
"For many years, Mitsubishi Motors competed in the World Rally Championship and the Dakar Rally, winning championships in both of them and improving the driving performance of Mitsubishi cars that can be enjoyed with peace of mind in any weather or road conditions…Mitsubishi Motors' participation in the AXCR in the form of technical support will strengthen our product uniqueness, especially for ASEAN strategic models including 1-ton pickup truck and SUVs. Team Mitsubishi Ralliart will make preparations to meet the expectations of our fans, so please stay tuned." – Hiroshi Masuoka, team director of Team Mitsubishi Ralliart
This sponsorship of Team Mitsubishi Ralliart is a double-whammy for Mitsubishi Motors. Not only will the automaker be able to get some good publicity with this summer's event, running from August 6 to 12, 2022. First off, it's in the name, and Mitsubishi recently revived the group back in November 2021. Team Ralliart is the name behind the Mitsubishi Lancer Evolution, one of the most-modified vehicles still used in non-professionals rally racers by enthusiasts still hoping for the return of the sports car. Instead, Mitsubishi Motors revived Ralliart as an aftermarket parts supplier. Like some other automakers, this team is dedicated to upgrading the appearance and capabilities of models in the lineup.
During the 2022 Tokyo Auto Salon, Mitsubishi Motors teased a new Ralliart Concept vehicle. Called the Vision Ralliart Concept, the vehicle comes equipped with large brake rotors and six-piston brake calipers for more stopping power, 22-inch wheels with bigger tires, unique front and rear bumpers, wider fenders in the front and rear for more rugged looks, a new front grille, and a large rear diffuser. This is an example of the capabilities the team can add, also displayed in the Outlander Wild Adventure Style based off of the Outlander PHEV, equipped with all-terrain tires, bumper protectors, mud guards, a roof carrier, and a trailer hitch. Simple appearance changes were also shown on the Mitsubishi Outlander and Mitsubishi Eclipse Cross in Ralliart Style models, brimming with new red accents and parts, and new white and black stickers and badges.
Mitsubishi Motors will also be able to test the strengths of the Triton pickup truck, such as its body durability and chassis rigidity, as well as the control if offers the driver during off-road performance. We may not be seeing this truck stateside any time soon, but with the growing midsize pickup truck segment, bringing a truck to North America may be a bigger win than the next-generation 2022 Mitsubishi Outlander SUV. Anything's possible. You can still find a new Mitsubishi Outlander at University Mitsubishi any day.
Photo Source/Copyright: Mitsubishi Media