Mitsubishi Mi-Tech Hybrid To Debute at the 2019 Tokyo Motor Show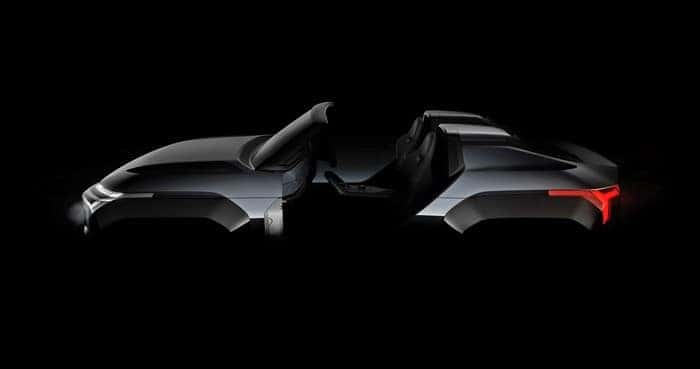 Mitsubishi has finally done it. A roofless hybrid SUV will be shown at the 2019 Tokyo Motor Show. There was an inkling that such an SUV was going to happen, but it seemed like just speculation. 
Mitsubishi introduced its Mi-Tech hybrid in a very detailed fashion. We will have to see if it will be more than just the shadow of a teaser. Nothing has been decided. 
So what does Mi-Tech stand for? It's a mash-up of a name. The "M" is for "Mitsubishi," "I" for "intelligent," and "Tech" is for technology (go figures).    
The concept behind Mi-Tech is a plug-in hybrid powertrain that has four electric motors creating an electrified four-wheel-drive system. If customers have been wanting a roofless, electrified Mitsubishi bug, then cue Hilary Duff because this is what dreams are made of. At least for the moment, that's what it seems like.  
There's no internal combustion engine. That's the main difference between this plug-in hybrid and the typical vehicles that come with a plug. The other power source is a gas turbine.
Mitsubishi never wants to lose the smooth characteristic of a purely electric car, which is why the Mi-Tech runs solely on automatic modes or hybrid modes. Here's to learning more about the wild powertrain when it debuts later in the month. So what does the "Mi-Pilot" system bring?
Mitsubishi has some detailed technology that displays relevant information across the windshield. The information presented comes from a series of sensors. It sounds like it could have an off-road-focused system since the system can also operate the steering wheel and brakes.    
Another concept on display will be the convertible SUV, the Mitsubishi Star; it will be one very tall wagon. The concept name is the Super Height K-Wagon. No word on the powertrain yet, but the company did share the promises of remarkable interior space for passengers.   
The formal debuts for both concepts will be on October 23, 2019, when the Tokyo Motor Show opens up to the press. It's exciting to see what precisely the electric-turbine-powered SUV will look like. Up to this point, there have only been cryptic teasers. 
MI-TECH CONCEPT:
We've already pointed out what MI-TECH stands for, but it's important also to point out that many near-future technologies are fitted to the concept car. MI-TECH embodies the values of MMC's Drive your Ambition. It's a brand where its message is under the concept of "An electric SUV that delivers unparalleled driving pleasure and confidence over all-terrain and the joys of open-air motoring," according to cnet.com.  
The electric SUV is condensed into this small electric SUV concept. Which is now downsized and is a lighter plug-in hybrid EV (PHEV) drivetrain. It also comes with a 4-motor electrical 4WD system and advanced driver assistance and active safety systems. 
You can search the inventory of Mitsubishi at University Mitsubishi. Make sure to stop by for a test drive and see if this model and make is the car for you. 
Photo Credit: leftlanenews.com