Debut of the Mitsubishi Re-Model A PHEV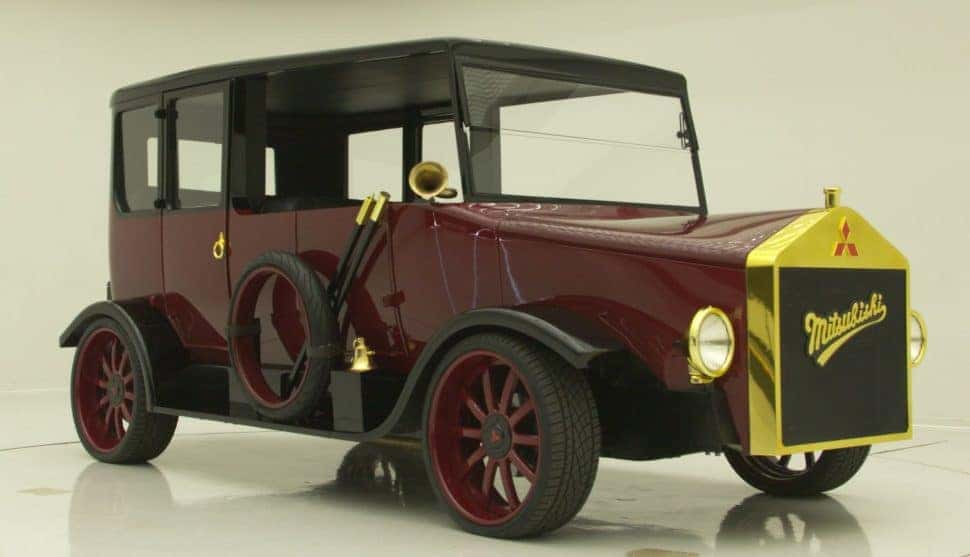 It's been 100 years since Mitsubishi, which was originally a shipbuilding company in Japan, designed the first automobile that spawned Mitsubishi Motors. Known as the Model A limousine, the Mitsubishi Model A was more like a carriage. Maybe back in the ol' days, those were considered limousines, given the privacy the passengers had. To celebrate their 100 years in the auto business, Mitsubishi went back to their roots to rebuild the vehicle that started it all and added in modern features that are available on the market today.
So we talked about how Mitsubishi Motors handed over the Mitsubishi Model A to West Coast Customs, the auto company behind MTV's Pimp My Ride. Consumers were able to get a first look at the Mitsubishi Re-Model A back in early November when it showed up on an episode of Inside West Coast Customs. This week, it made an appearance at the 2017 Los Angeles Auto Show, and the press had first dibs on the scoop.
The Mitsubishi Re-Model A was turned into a plug-in hybrid like the Mitsubishi Outlander PHEV to bring it into the modern age and follow Mitsubishi Motors new path for crossovers and alternative fuel vehicles. The new Re-Model A will benefit from a PHEV system, which replaces the vehicle's original 2.8-liter four-cylinder engine that was only capable of generating 35 horsepower. The specs are still fresh, but here's what we're looking at.
For the 2018 model year, the Mitsubishi Re-Model A runs on Mitsubishi's super all-wheel control drivetrain, that provides better driving and handling control in various road conditions. The original shape was stretched out in length and width to accommodate for the new drivetrain and the two motors that make up the PHEV system. To increase the modern features, smartphone integration has been hinted at, as well as advanced automatic safety features such as forward collision mitigation. The aesthetics are another story.
When we were told the Re-Model A would be based off of the Outlander, we had some ideas, but the final product isn't what we expected. It's not a limousine, it's not a SUV or crossover. If anything, this looks like a long Jeep Wrangler with the front windows deleted and half-doors. The front of the vehicle has the old-school look of the original Model A, and the large headlights make us think of Benny the Cab from the film Who Framed Roger Rabbit. It's definitely different.
A blend between the past, present, and future of Mitsubishi Motors, the new Mitsubishi Re-Model A will become a finished product soon enough. Its release is uncertain, but the Mitsubishi Outlander PHEV will finally come to the market later this year.
Photo Source/Copyright: Hemmings.com