Can We Turn the Outlander PHEV into a Sleigh?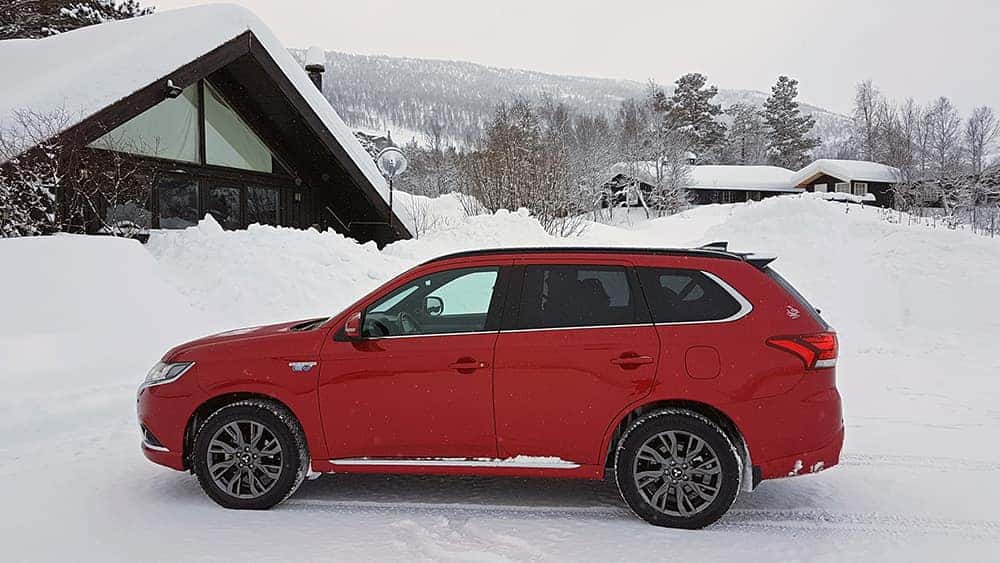 Ah, the holidays. What a nice time to celebrate time with family and friends. Some of us have to travel a bit, maybe even take a road trip. Others have large family get-togethers, sometimes with as much as three or four generations. How does one fit all the gifts and make the trip? How about getting a plug-in hybrid to cover the distance that also has plenty of cargo space for large and small items? And since it's the holidays, how about we turn the Mitsubishi Outlander PHEV into a sleigh?
Go the Distance
First off is the ability to go from point A to point B without spending more money than we did on gifts. The 2018 Mitsubishi Outlander PHEV only comes in two trims, both powered by a 2.0-liter MIVEC DOHC four-cylinder engine and two electric motors powered by a 12.0 kWh lithium-ion battery. The gasoline engine can generate 117 horsepower and 137 lb-ft of torque; the two electric motors, one for the front axle and one for the rear, both generate the same amount of horsepower (80 hp or 60 kW), but vary on torque (101 and 143 lb-ft of torque, 137 and 195 Nm).
Since both powertrains are the same, consumers don't need to look too much into which trim they're getting if the drive and fuel efficiency are the main priorities. Both trims come with Mitsubishi Motors Super-All Wheel Control, the brand's own advanced full-time four-wheel drive system for driving in various conditions. Both can travel up to 22 miles on the battery alone, give or take with regenerative braking, and have a combined fuel economy of 74 MPGe. With a full tank and fully charged battery, the vehicle can travel 310 miles in total.
Let's Make This a Sleigh
When building our own 2018 Mitsubishi Outlander PHEV, next on the list is body color. What kind of sleigh would this be if we didn't go for the "Rally Red Metallic" paint job? Because there are only two trims making up the lineup, consumers won't miss out on many differences. The Outlander PHEV GT comes with LED headlights, a power glass sunroof with a sunshade and tilt feature, a multi-view camera, and nine-speaker Rockford Fosgate sound system. If looking for advanced safety for the long trip, the GT trim also comes with Adaptive Cruise Control, Forward Collision Mitigation, Lane Departure Warning, and automatic high beams, in addition to the standard Blind Spot Warning with Rear Cross Traffic Alert and Lane Change Assist and other standard safety features.
We can add on some accessories and packages to customize the Outlander PHEV, but let's look at the next important part of a sleigh – cargo capacity. Able to seat five, if all seats are in-use, then behind the second-row seats, consumers have 30.4 cubic-feet of space. If not using all five seats, the second-row is made up of a 60/40 split-folding bench. If only in need of the driver and front passenger seat, there is a total of 78.0 cubic-feet available for cargo, gifts, and what-not.
Now what about this sleigh travelling at night? Santa needs to see clearly, and unless we can exchange the LED headlights for bright red bulbs to get Rudolph onboard, then the packages and upgrades will definitely be appealing. Consumers can opt in for LED fog lights with the LED upgrade package ($350), protect their vehicle from mud with a pair of mud guards in the rear ($155), add a rear bumper step protector, scuff plates, and tailgate protector with the protection package ($495), or just increase their cargo capabilities with roof rack crossbars to accommodate roof carriers and roof rails ($315). All we need is a skirt of sorts to make it look like the Outlander PHEV is flying instead of driving – get creative!
This plug-in hybrid SUV may take a couple of more decorations and fluffy white materials to give it that "Santa's Sleigh" look, but able to travel far distances and carry a lot of presents in one night? That sure sounds like Santa's Sleigh to us. Find your own Mitsubishi Outlander PHEV for the holidays at University Mitsubishi.
Photo Source/Copyright: Exhausted.ca and Mitsubishi Motors