Beach Proofing the Car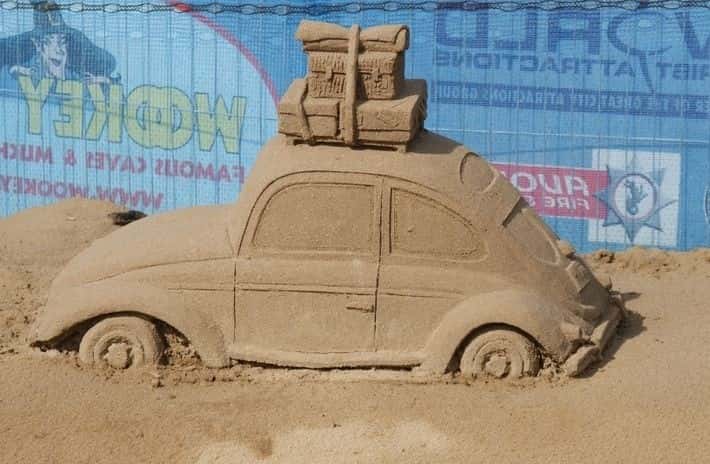 Summer is coming up guys, and you know what that means! Time to catch some rays, lose the tan lines, and become an honorary beach bum. Ah, that's the life. However, your automobile may not be a fan, unless it's a Jeep of course. So what about sedans and SUVs? How do we protect our friends on wheels from the beach? We got the tips, you just need the will.
Maintenance
Surprised? Shouldn't be; regular maintenance of a car is the one sure fire way to make sure it can tackle tough conditions. Can't risk uneven terrain with a low tire, don't drive too far with an oil leak, and in the summer make sure the a/c works! In South Florida, most cars are constantly exposed to the sun, and the best way to keep them in good shape is with a wash and wax, bi-weekly or at least monthly.
Sun damage is the main culprit for this. Ever see the roof of a car peeling? That's sun damage, and a simple coating of wax can prevent that. If just coming from the beach, make sure to rinse the car down as much as possible. Every nook and cranny where salty air and/or water could have snuck in should be rinsed off. Otherwise, it'll sit and corrode in no time.
All-Around Protection
It's rare these days, but some people like to throw a tarp or car cover over their vehicle when going to a location with unsavory conditions for an automobile. These can be helpful to keep the car protected from the sun and sand, but it's also trouble. Frequent use of these can actually catch the sand they're trying to keep off the car, and soon enough they're contaminated. By then, they're just a quick tug away from scratching the paint job.
Then there's the interior. Putting the windows down a bit sounds like a good idea to keep the car from overheating, but what about the ocean air? If you want that interior to still be comfy and fresh, roll the windows up and close the sunroof to keep the interior protected from exposure. To keep the sand out, rinse off with the showers just outside the beach and dry off with a towel. If there are no showers, dip in the ocean water and dry off from the knees up; use some water bottles for your feet and toes since they'll most likely be caked with wet sand by now.
Shields Up!
There's one other thing you can do to keep your vehicle in good condition when frequently going to the beach. Get some paint protection, a special coating, or good ol' turtle wax. We mentioned waxing earlier when washing the car, but that's typical maintenance. To keep the car looking good as well in good condition, get some clear film paint protection or wax/sealant can be found in the consumer market today. Some are so easy to use you just gotta spray it on, and presto!
Now you can rest easy about taking your car to the beach. It's protected from the sun and salt, and with a little sunscreen you can be too. Got any other tips? Let us know.
Photo Source/Copyright: Pinterest; blog.carid.com