2018 Mitsubishi Outlander Earns IIHS Top Safety Pick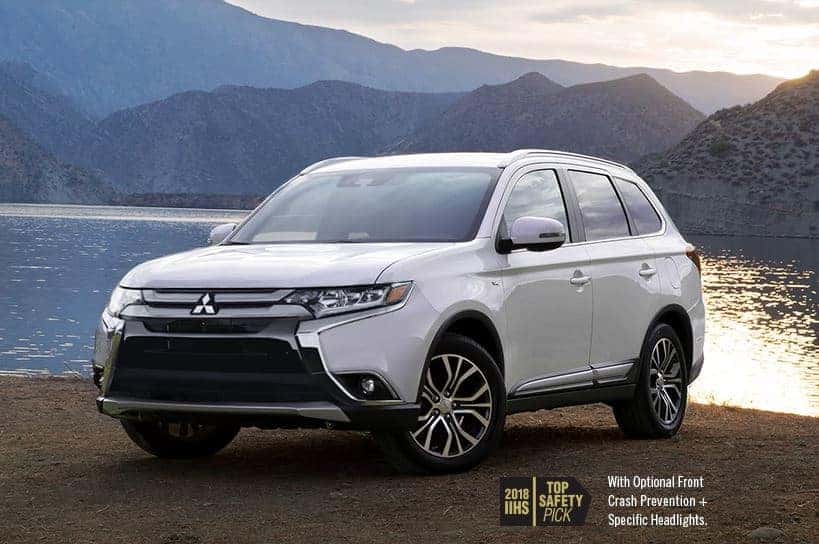 Need a new reason to get a 2018 Mitsubishi Outlander? The 2018 Mitsubishi Outlander was named a 2018 Top Safety Pick by the IIHS.
What is the IIHS?
IIHS stands for the Insurance Institute for Highway Safety, and it is an independent nonprofit organization dedicated to vehicle safety. Every year the IIHS evaluates vehicles to determine their crashworthiness and to determine crash worthiness, the IIHS puts each vehicle through five different crash tests and rates the performance of each one.
For a vehicle to be named a Top Safety Pick by the IIHS, a vehicle must earn a "good" rating in the driver-side small overlap front, moderate overlap front, side, roof strength and head restraint tests. It also must earn an advanced or superior rating for front crash prevention and an acceptable or good headlight rating.
Mitsubishi Outlander Safety
The 2018 Mitsubishi Outlander earned a "good" rating in all give categories, a superior rating for front crash prevention and a "A" for its headlight rating. Additionally, the Mitsubishi Outlander also earned an "A" in the ease of use for child seat anchors (LATCH).
In addition to being deemed a crashworthy vehicle, the Outlander also has seven standard airbags and there are a number of preventative safety features that help the vehicle avoid a crash altogether. These safety features include Adaptive Cruise Control, Forward Collision Mitigation and Lane Departure Warning.
Adaptive Cruise Control
Adaptive Cruise Control automatically adjusts the vehicle's cruise control speed based on the speed of the vehicle in front. This feature is great when on long road trips because sometimes drivers don't always notice when the distance between their vehicle and the vehicle in front has decreased and the following distance has actually become unsafe. Forward Collision Mitigation
Forward Collision Mitigation actually has the power to use the vehicle's brakes to stop the vehicle if the vehicle's cameras and sensors detect that a collision could occur. Forward Collision Warning is a great safety technology for all types of driving, but it is particularly helpful in neighborhoods or when driving in cities.
Lane Departure Warning
Lane Departure Warning provides the driver with alerts if the vehicle's safety system detects that the vehicle is unexpectedly changing lanes. Lane departure warning is helpful when driving on highways or on multi-lane roads.
Come test out a Mitsubishi Outlander and see what it feels like to drive one. University Mitsubishi is open seven days a week and we have a huge selection of used and new Mitsubishi models, including the 2018 Mitsubishi Outlander.