2017 MITSUBISHI MIRAGE OVERVIEW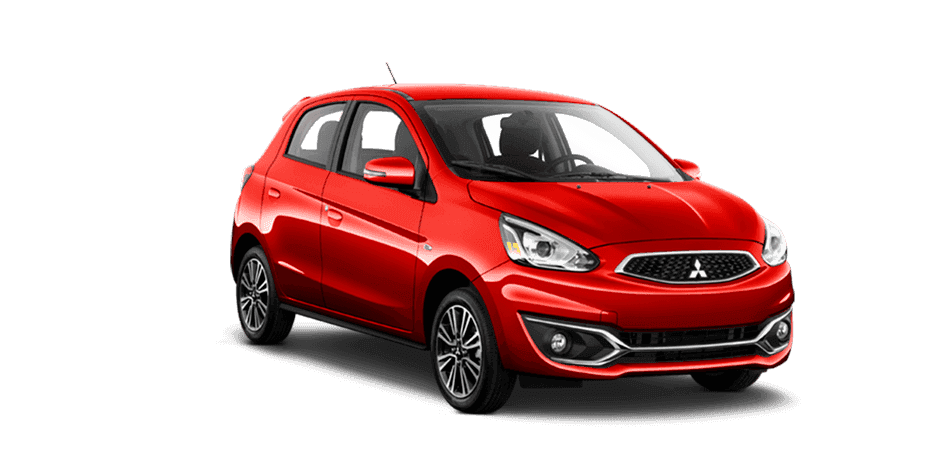 Over the last few years, Mitsubishi has been working to improve their vehicle lineup and has put an ear to the thoughts of their customers on what they wish to see. When it come to the 2017 model-year, Mitsubishi Motors debuted the changes with the 2017 Mitsubishi Mirage. It comes in only three trims, but that's a good thing. With new and improved features, what drivers may find in one may also appear in the other, making the choice of which model to buy even easier.
ENGINE
As noted, Mitsubishi shares many features across all trims, and the 2017 Mitsubishi Mirage is no different. Under the hood of all three trims is a 78-horsepower 1.2-liter MIVEC DOHC I3 engine. "MIVEC" is the name given to Mitsubishi's VVT design; "VVT" stands for "variable valve timing", the process of opening the intake and exhaust valves to allow air in and out of the the combustion chamber of an engine. An engine with VVT performs better and may have an improved fuel economy. "DOHC" stands for "Dual-Overhead Camshaft" and is a type of camshaft that splits the work of operating intake and exhaust valves between two camshafts.
The Mirage ES and SE come standard with a 5-speed manual transmission, but can be upgraded to an automatic CVT transmission, found standard in the GT. "CVT" stands for "continuous variable transmission" where gears switch seamlessly without a loss of power, and this can lead to improved fuel economy. All three trims have a fuel economy of 37/43 mpg city/highway.
EXTERIOR
Standard on the Mitsubishi Mirage are halogen headlights except for the Mirage GT, equipped with Bi-Xenon HID headlights. Rear combination LED tail lights are found on all three trims. Fog lights are an accessory add-on for the base trim, the ES, but come standard on the SE and GT. For a little fashion, a rear spoiler can be found on all trims, and the vehicle may ride on 14- or 15-inch steel or alloy wheels. To determine which Mirage is which, the easiest way is to look for a SE or GT badge, found on its respective trim.
INTERIOR
A feature now found in Mitsubishi vehicles, like the Mirage, is an ECO status indicator light that illuminates when the driver is driving at a speed most beneficial for fuel efficiency. Heated front seats are available on the Mirage GT, but rear heater ducts are available on all three trims, and automatic A/C climate control is standard on the Mirage SE and GT trims. Leather trim on the steering wheel and gear shift is also standard on the SE and GT trims. A rear split-folding seat is standard across the lineup.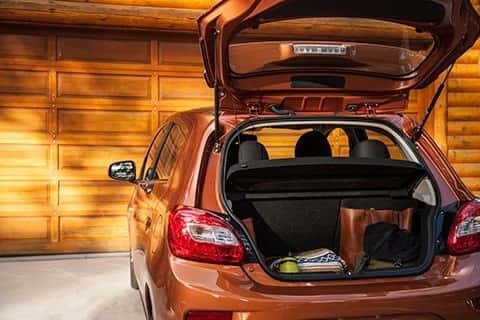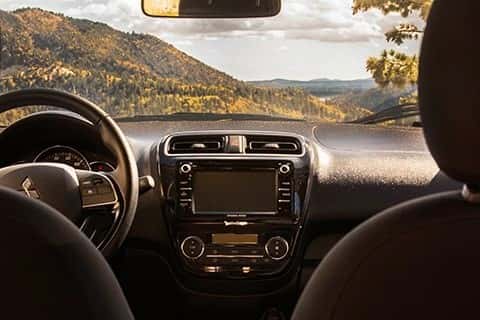 TECHNOLOGY
For entertainment and media, a 6.5-inch display with Apple Carplay and Android Auto comes standard in the Mirage SE and GT trims and a 4-speaker audio system with a USB port comes standard on all three trims. Many convenient features can be found on the Mirage SE and GT trims, such as steering wheel mounted audio controls, Bluetooth connectivity for a hands-free phone system, and FAST-key passive entry with push button start (keyless entry with panic feature standard on ES trim).
SAFETY AND SECURITY
When it comes to safety, many if not all features are standard on all trims. These consist of ABS braking, an advanced dual-stage airbag system (complete with seven airbags), stability systems, LATCH-ready child-seat restraint systems, an anti-theft engine immobilizer, and more. The main difference is a rearview camera found on the Mirage SE and GT trims.
PRICE AND WARRANTY
The 2017 Mitsubishi Mirage has a starting MSRP of $12,995 with manual transmission, $14,195 with CVT.
All trims are protected by a basic 5-year/60,000-mile warranty, a powertrain limited 10-year/100,000-mile warranty, anti-corrosion coverage for 7-years or 100,000 miles, and roadside assistance for 5 years, unlimited miles.