2017 MITSUBISHI LANCER
The 2017 model-year is upon us, and a couple of auto manufacturers have already jumped the starting gun. That's alright though, because many of us are already excited to see what's in store, with the spies taking and releasing pictures of vehicles covered in wraps. Earlier this month, Mitsubishi decided to release pictures and specs about its new 2017 Mitsubishi Lancer with plenty of great standard features.
Mitsubishi has had an industry-leading warranty for some time now, and their vehicles have always been more on the affordable side. Nevertheless, their vehicles have also always been wrapped up with modern day tech and a look of sheer elegance. The 2017 Mitsubishi Lancer is only catapulting off of this to bring something even better for the 2017 model-year.
It's hard to say if this is an improved Lancer or if Mitsubishi scrapped the old blueprints and went crazy. It's not a completely new design, so drivers who loved the Lancer have no reason to fear. If anything, the 2017 model is spreading the love by making a lot of great tech and convenience features standard on every single trim. So without further ado…
The 2017 Mitsubishi Lancer!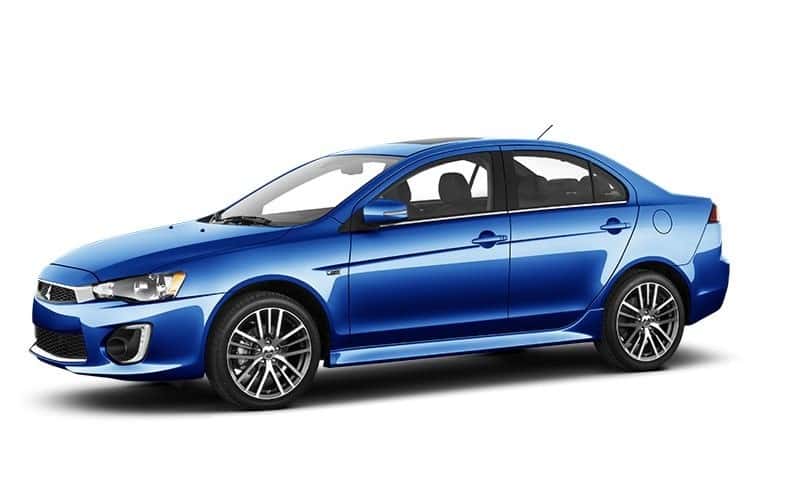 TRIMS AND ENGINES
The four trims of the 2016 Lancer are coming back in the 2017 model, available as the Lancer ES 2.0, Lancer ES 2.4 AWC, SE 2.4 AWC, and SEL 2.4 AWC; base model to high end model, left-to-right.
Engine Types
The standard engine on the base model, Lancer ES 2.0 is the standard 2.0L MIVEC DOHC 16-valve I-4 engine the Lancer is known for. "MIVEC" is just the name given to Mitsubishi's own "VVT", a process integrated into engines today to improve a vehicle's performance as well as optimize fuel economy. "DOHC" stands for "Double Overhead Camshaft", typically more powerful than an SOHC. Put it all together, and the 2017 Mitsubishi Lancer ES 2.0 has a horsepower of 148-horsepower and 145 lb-ft of torque. This sets the average fuel economy at 24/30 MPG city/highway.
A step up from the base engine, Mitsubishi added another horse to the race by making a 2.4-liter version of the base engine a standard for the other trims. This engine generates up to 168-horsepower and has an EPA fuel economy rating of 23 MPG in the city, 30 MPG on the highway.
Transmission and Drivability
There are two types of transmissions available on the 2017 Mitsubishi Lancer. The standard is a 5-speed manual transmission that comes with the Lancer ES 2.0. However, drivers can upgrade to an automatic Continuously Variable Transmission (CVT) for a small fee ($1,000). It is the standard transmission for the other trims, which is enough reason to explain why an engine with higher horsepower has a near unchanged fuel economy. If drivers upgrade the 2017 Lancer ES 2.0 with the CVT transmission fuel efficiency increases to 27/34 MPG city/highway.
The Lancer ES 2.0 comes with two-wheel-drive, primarily front-wheel-drive (FWD), meaning the power is directed to the vehicle's front wheels. In contrast, the other 2017 Lancer trims have all-wheel-drive (AWD), meaning the engine power is distributed to all four wheels.
STYLE
To make all of the trims desirable, Mitsubishi is adding new features to all of the models, from the base trim to the most high-end trim. There's also a couple of upgrades in store.

Exterior
As mentioned, the new 2017 Lancer is getting a couple of upgrades. The base trim will now be available with 16-inch two-tone alloy rims as the standard, whereas the Lancer SE and SEL trims will come with 18-inch two-tone alloy rims.
As mentioned, many new features are being made a standard across the entire 2017 Mitsubishi Lancer lineup. All trims are equipped with LED running lights, fog lights, and a high mount rear stop light. They will also have front windshield variable intermittent wipers, a rear window defroster, and heated exterior mirrors. To give drivers a little personalization, the Lancer will be available in six different exterior colors, and the ES 2.0 and SEL 2.4 can have a sunroof installed.
Interior
Able to seat up to five passengers, the new 2017 Lancer is certainly spacious. The seating is fabric, except for the Lancer SEL 2.4, which has leather. Although not a large problem down here in South Florida, drivers may be happy to know that on the cold days and nights, they can make use of the heated seats in the Lancer SE and SEL; for those hot summer days, automatic climate control comes in every 2017 Lancer trim.

TECHNOLOGY
Modern day technology has been showing up in automobiles more and more often, and it would be a foolish decision not to add them into a new 2017 model. All of the 2017 Lancer trims have a 6.1-inch touchscreen, along with other improvements such as an HD radio audio display, also standard.
Interior Features
Nothing sells a car these days like great entertainment options, and the FUSE hands-free system with Bluetooth technology is definitely a selling point of the 2017 Mitsubishi Lancer. A 4-speaker audio system comes standard on the ES 2.0 and ES 2.4 trims; a 6-speaker audio system is the standard for the SE 2.4 and SEL 2.4; upgrading to a Rockford Fosgate 710-watt system is an option though. For those long drives with friends, everyone can charge the mobile device using one of the two 12-volt power outlets. To keep the driver's eyes on the road and hands on the wheel, the steering wheel has mounted audio controls, cruise control, and Bluetooth.
SAFETY, WARRANTY, AND PRICING
Safety
Mitsubishi has been known to up the ante of safety ever since they came out with their own Reinforced Impact Safety Evolution (RISE) body construction, designed to absorb the energy of impact in a collision. Coupled with their advanced seven-airbag system (driver's knee included), the 2017 Mitsubishi Lancer will continue to be a cornucopia of safety.
Standard safety features that have become the norm are also included, such as an anti-lock braking system (ABS), active stability control and traction control, and brake assist. Making use of the technology and touchscreen, a rearview camera has also been installed to provide drivers with a wide-angle view of objects behind the car.
Warranty and Pricing
Mitsubishi is heralded for its incredible warranties, going above and beyond the standard of many other auto manufacturers. The 2017 Mitsubishi Lancer is backed by a transferable 5-year/60,000-mile limited basic warranty; a 10-year/100,000-mile powertrain limited warranty; a 7-year/100,000-mile anti-corrosion/perforation limited warranty; and an unlimited mile roadside assistance plan.
Pricing starts at $17,795 for the 2017 Mitsubishi Lancer ES 2.0 with standard features. The highest-end trim, the Lancer SEL 2.4 starts at an MSRP of $22,095.