2017 MITSUBISHI I-MIEV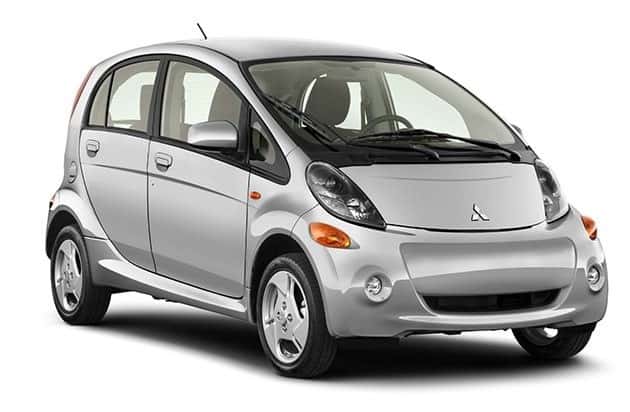 A 100% electric car. It sounds like a fairy tale, but it's a very true reality. The Mitsubishi i-Miev isn't the first all-electric vehicle, they've been around since 2008, but it is the world's first modern highway-capable electric car. Now that's something to say, and there's a lot more the iMiev has to boast about. It only comes in one trim, but that just makes it easier to choose.
ENGINE SPECS
You won't get as much horsepower as you would out of a gas engine, but you also won't pay for the gas either. Under the hood of the i-Miev ES is 16 kWh lithium-ion battery that generates up to 66 horsepower and 145 lb-ft of torque. The transmission is set at a single speed and has a fixed reduction gear, which actually gives electric cars like the iMiev an advantage.
Depending on the setup of the gearshift, speed can be reduced whilst increasing torque or vice-versa. The Mitsubishi iMiev does the latter, allowing the car to reach a top speed of 80 mph. The projected range of the vehicle on a fully charged battery is an average 62 miles, with a fuel economy of 121/101 city/highway MPGe (miles per gallon of gasoline equivalent). That means the iMiev burns about half as much energy on electric power than a car running on gasoline – great for the daily commute.
Confused that the vehicle can travel farther in the city than on highway? In addition, to the battery, the iMiev has regenerative braking, which means a percentage of kinetic and potential energy is returned to the battery while braking happens. This has become very useful for electric car drivers because it increases the battery's charge when braking, therefore when driving in the city and needing to stop more frequently, the car can travel farther in the city than it possibly could on the highway.
The vehicle comes with a switchable charger, able to charge at 120V/12A or 120V/8A for a charging time of 14 hours or 22 hours, respectively. With an EVSE 240V/15A charger, the i-Miev ES can be charged overnight. There is also a diverter flap in the ventilation system, and if using this socket, the battery may be charged up to 80% in as little as 20 minutes for a quick juice.
INTERIOR
The 2017 Mitsubishi i-Miev comfortably seats four passengers with plenty of headroom and legroom in the front and rear seats. The rear seats are designed with a 50/50 split fold-down, so if drivers need extra cargo space during their travels or trips to the grocery store, it's available. The front seats are also heated, great for cool nights. Entertainment features include a 100-watt, 6-speaker system that is MP3 compatible.
EXTERIOR
The i-Miev features a tight design (it's width less than the wingspan of an average male) making it the perfect vehicle for all of those narrow parking spots in downtown Miami. The outer mirrors are heated to keep from fogging and for increased visibility. The well-equipped side mirrors in combination with LED combination taillights and halogen projection headlights, make the i-Miev a great car when driving at night or in rainy weather. The i-Miev rides on 15-inch aluminum alloy rims with all-season tires.
SAFETY
The 2017 i-Miev ES comes with plenty of safety and security features. It has an advanced air bag system for the front, side, and even the roof of the car. It also comes with active stability and traction control to keep the driver in control of the car during stormy weather. For family drivers, a LATCH system has been integrated to tether child seats to the vehicle's seats just in case. Moreover, systems like tire pressure and low battery warning are visible on the dashboard, and a vehicle immobilizer system has been integrated to prevent car theft, even via hot wiring.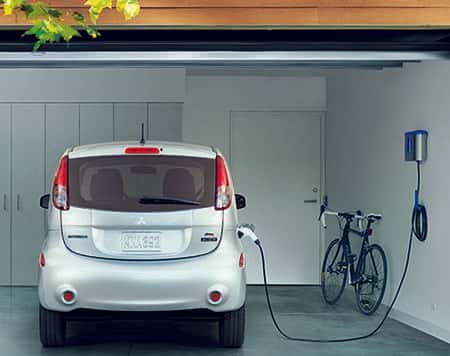 PRICE AND WARRANTY
Known as the most affordable electric car on the market, the 2017 Mitsubishi i-Miev ES starts at an MSRP of $22,995. It has the basic 3-year/36,000 mile warranty, as well as an anti-corrosion warranty for 7 years/100,000 miles, and a battery warranty for 8 years/100,000 miles.
WHERE CAN YOU GET A 2017 MITSUBISHI I-MIEV?
At University Mitsubishi, we're always getting new cars in stock, and the i-Miev is on our list. You can check our online inventory to see what we have now, give us a call, or stop by today to find out when you can test drive the Mitsubishi iMiev