2017 FORD SUPER DUTY
The Ford Super Duty is said to be one of the best selling vehicles in America today. Ford has a long line of vehicles tied to its name, and the Super Duty has one of, if not the, largest lineups, with a total of fifteen different trims to choose from.
As the name states, this truck is built for heavy duty jobs that its predecessor, the F-150, could only begin to tackle. Available in three models, the F-250, F-350 and F-450, all with their own selection of varying trims, the Super Duty truck is bound to have a trim that can meet any towing and professional needs.
Need to carry 7,000 pounds of equipment? Check. Hauling over 20,000 pounds? You got it. Want a choice between gas or diesel? Come on, this is Ford we're talking about. Of course there's an option.
Because of the many trims, let's land somewhere sweet and take a look at the F-250 Lariat. The name alone sounds a little like royalty.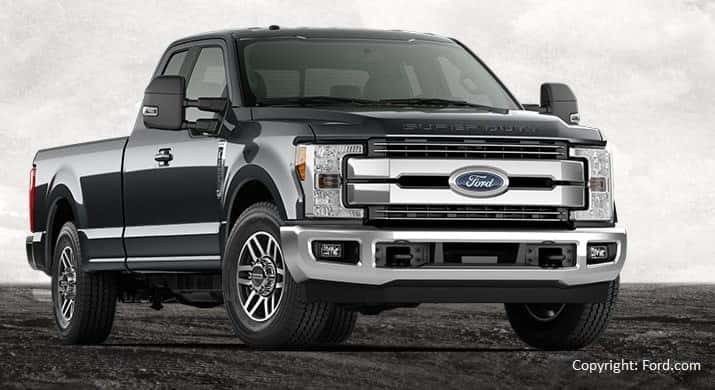 POWER
Engine Types
There are two available engines on all Super Duty trims. The choices are between a gas-powered 6.2-liter 2-valve V8 and a 6.7L Power Stroke V8 Turbodiesel. The 6.2L engine has SOHC configuration, or a single overhead camshaft, and puts out a horsepower of 385-horsepower and 430 lb-ft of torque. Fuel economy is hard to find, but the closest EPA is 11.5 MPG.
The 6.7L Power Stroke V8 Turbo diesel engine purrs a little louder, built with an overhead valve engine (OHV). That's just a fancy word for the configuration of the valves and cylinder, nothing too revolutionary. It puts out 440 horsepower with 925 lb-ft of torque. Again, fuel economy is difficult to confirm, but we found an average of 14.4 MPG. As always, diesel engines get a bit more mileage than their conventional gasoline counterparts.
Transmission and Drivability
There are two transmission options available on the various Ford F-250 models. The first, the TorqShift 6-speed SelectShift automatic is only available with the diesel engine. A SelectShift transmission allows the driver to choose between conventional automatic-shifting drive mode and semi-automatic shifting sport mode. Sport mode then breaks down further into automatic Sport shifting and manual shifting.
If going with the 6.2L gas engine, then the truck is equipped with the TorqShift G 6-speed SelectShift automatic. At first glance, it's the same transmission, but it is actually better, faster, and overall of better quality. Look for the "G" when given a choice with TorqShift transmissions.
STYLE
Rough Exterior
Various cab sizes are available on all Super Duty trims. On the F-250 Lariat however, there are only two choices: a Crew Cab and a Super Cab. There is no regular cab option. Then, both cab types are broken down into "Short Wheel Base" (SWB) and "Long Wheel Base" (LWB). The total length of the F-250 Lariat in a Crew Cab SWB is 250 inches, and 266.2 inches on LWB. For the Super Cab, the overall length is 238.2 inches on SWB and 254.4 inches on LWB.
The F-250 Lariat lights up the road with quad-dual beam halogen headlamps, but has the option of LED lights. Made for heavy duty jobs, many of the exterior features have been souped up for the job, such as heated exterior mirrors with LED spot lights, a power tailgate lock with quick release, a BoxLink for storing many on-the-go accessories, black tow hooks, and a rear sliding window of the cab, along with many optional features to further upgrade the truck for various jobs.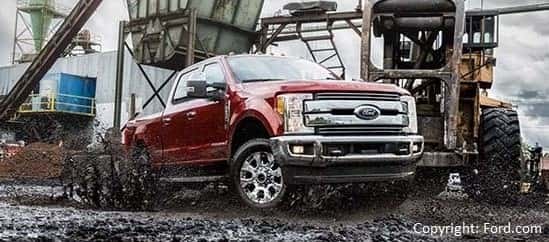 A Look Inside
A F-250 Lariat can seat between 3-6 passengers depending on the cab size, with a crew cab fitting 3+. Head room, legroom, and shoulder room space is relatively the same in all cabs, aside from 10 inches of additional groom in the rear of the crew cab. In terms of cargo, behind the first row, there is 31.6 inches of space in the super cab and 52.1 inches in the crew cab. The Cargo Box dimensions are also the same between the two cab sizes, but differ between wheel base, with LWB 17" longer than SWB.
The interior of trucks has come a long way, with dual-zone auto temperature control coming in as a standard, an 8-inch instrument panel productivity screen, a rearview camera (mounted on tailgate, with the option to mount on the center brake light to keep an eye on cargo), and several optional safety features. The seats are leather trimmed, with 10-way power adjustments for the driver and passengers in the front. Entertainment is provided through a 10-speaker with subwoofer audio system, controlled by SYNC 3 technology and steering wheel-mounted.
HEAVY DUTY POWER
Handling
Built Ford Tough for tough jobs, the truck comes with many standard features. AdvanceTrac with Roll Stability Control is an important feature for maintaining the stability of a vehicle with a trailer in tow, along with trailer sway control. A tire pressure monitoring system (spare excluded) is great for keeping an eye on the condition of your tires during your travels, and an integrated trailer brake controller helps with seamless braking, regardless of the tow load. All of this rides on 18-inch bright machined cast aluminum wheels, with the option of 20-inch rims. A spare tire is included.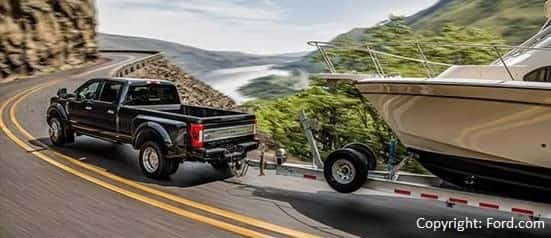 SAFETY, WARRANTY, AND PRICING
Trucks don't have your standard airbag system seen in economy cars, mainly due to the lack of passengers and length of crumple space between the bumper and the rear of the cab. In the F-250 Super Duty Lariat, there are airbags in the front (with passenger side deactivation in the regular cab and super cab) and side airbags powered by the SafetyCanopy System. Child seat tethers are standard in the regular cab, and an SOS post-crash alert system has been integrated for emergencies. Remote keyless entry and perimeter anti-theft alarms have been installed, along with SecuriLock anti-theft ignition and MyKey technology.
Ford Super Duty Trucks now come with a New Vehicle Limited Warranty that has the following types of coverage: a 3-year/36,000-mile bumper-to-bumper warranty, a 5-year/60,000-mile powertrain warranty, a 5-year/60,000-mile safety restraint system warranty, a 5-year/unlimited corrosion (perforation only) warranty, and 5-year/100,000 powerstroke diesel engine. All-in-all, if anything were to break down within the first three years, the driver is covered.*
Pricing starts at $$45,105 for the 2017 Ford Super Duty Lariat with standard features.
*See Warranty Guide for Restrictions and Detailed Coverage