2016 TOYOTA CAMRY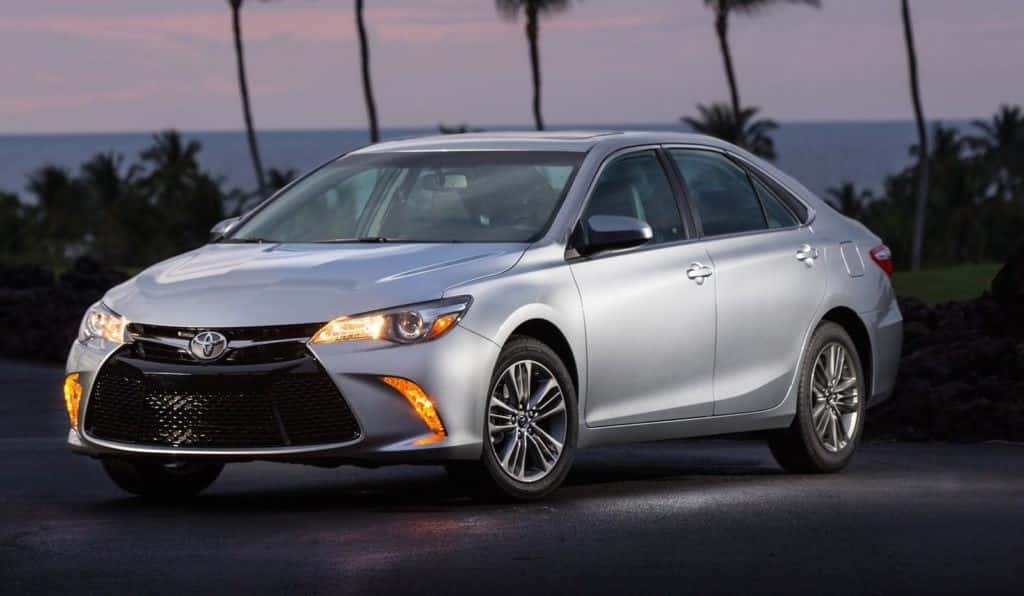 Since 1982, the Camry has been one of Toyota's international best sellers. The Camry is easily recognized by its narrow body, which has become an industry standard in the mid-size sedan category. As a vehicle that offers a lot of convenience features and that maintains a high re-sell value, the Toyota Camry is a vehicle we are always excited to see on our lot.
ENGINE SPECS
The 2016 Toyota Camry is equipped with a 2.5-liter, 4-cylinder engine that is paired with a 6-speed automatic transmission overdrive Transmission with intelligence (ECT-i). Built with a front wheel drivetrain, the mid-size sedan has a great turning radius making it easy for city drivers to navigate in tight streets.
Like a few other Toyota models, the 2016 Camry is an environmentally-friendly vehicle. In addition to a great fuel economy that averages 25 MPG in the city and 35 MPG on the highway, the Camry is also classified as a Ultra Low Emission Vehicle II (ULEV-II).
INTERIOR FEATURES
The Camry's interior offers drivers and passengers comfort and convenience making the vehicle a great car for the daily commute or long road trips. The vehicle comes standard with soft fabric seats and buyers have the option of three interior colors that include a light beige, gray and black. Offering drivers both convenience and extra safety, the 2016 Toyota Camry LE is equipped with an excellent rearview camera that provides drivers with a clear view of everything behind the vehicle.
There's a 6.1-inch touch screen that has a USB port that offers drivers easy access to the car's entertainment features and a clear view of the rear view camera. Additional features include an FM/AM radio with a 10-speaker audio system, Bluetooth with voice recognition, SiriusXM satellite radio and smartphone app integration. As an added bonus, the 2016 Camry also comes with friendly and convenient climate control buttons.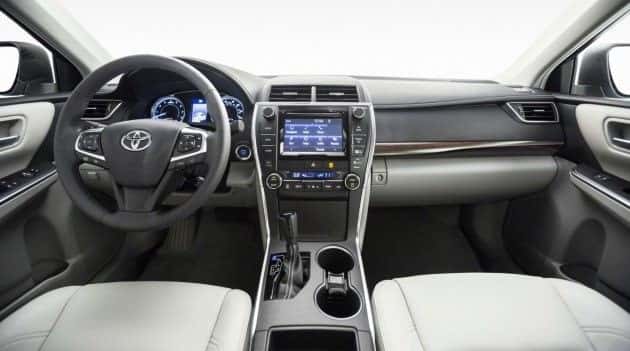 EXTERIOR FEATURES
The 2016 Toyota Camry has an modern body designed to be aerodynamic, safe and sturdy. The car has projector-beam halogen headlights with an auto-off feature. New car buyers can choose from eight various exterior colors. The Camry rides on 16-inch steel wheels, however, buyers can opt for 16-inch multi-spoke alloy rims.
The vehicle's exterior features a few convenience features that do not come standard on other midsize sedans in the same class. These features include heated side exterior mirrors and intermittent wipers keep that keep rain and dirt from gathering on the specially-designed acoustic noise-reducing front windshield.
STANDARD SAFETY FEATURES
The Toyota Camry has a stability control with a cutoff switch and traction control that enhance safety. The driver and passengers have advanced airbags mounted on their seats that quickly inflate in case of an accident. The driver has a knee airbag and side-impact door beams, as well as three-point seatbelts with adjustable shoulder anchors. Additional security features include automated lights and a direct monitoring of tire pressure, along with a high-tech security alarm.
WARRANTY AND PRICE
The 2016 Toyota Camry LE has a starting MSRP of $23,070 and the Camry's other trims gradually increase in price.
There is a top-notch warranty issued for each new Toyota Camry including the limited basic warranty covers the vehicle for the first 36 months or 36,000 miles the car is driven. Additionally, there is a 60 month or unlimited mile corrosion warranty that accompanies the 60,000-mile or 60-month powertrain warranty.
An additional benefit to new car buyers is that with the purchase of a new Corolla vehicle, ToyotaCare maintenance plan is included. This plan includes 24 months or 25,000 miles of scheduled maintenance and 24 months of free roadside assistance — and there is no limit on the miles for the free roadside assistance.
LOOKING FOR A TOYOTA CAMRY?
While we are a Mitsubishi dealership, we do receive trade-ins and Toyota is a popular manufacturer that we frequently have in stock at our lot. Feel free to check out our used inventory online or come by and visit us in Davie, located between Fort Lauderdale and Miami.