2016 NISSAN SENTRA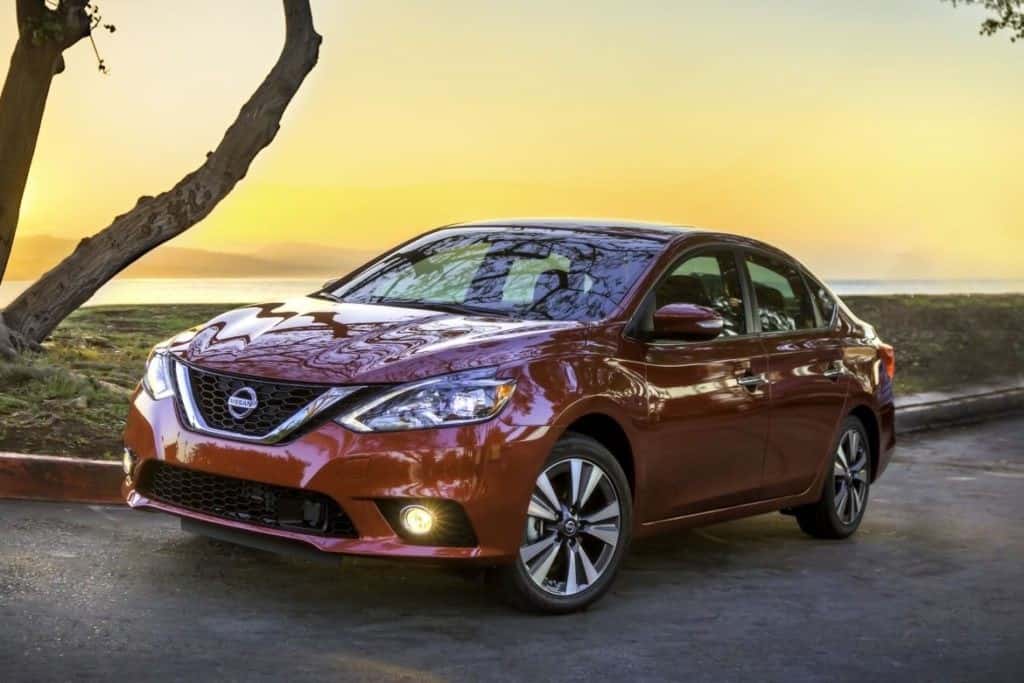 At last, Nissan brings you a model that straddles the boundaries between sporty and luxurious with the 2016 Sentra S. It's chunky, cheeky, and it knows how to move. The 130 ponies and 1.8-liter engine makes for a fun drive, but it's the car's new eye-catching frame that makes the Sentra a top-pick in 2016.
For years, Mazda, Ford, and Hyundai have been overtaking the Senta in terms of "racy" good looks, but this year, Nissan has stepped up to the plate. The Sentra's update is as suave under the hood as it is in the cabin. Six-speed manual transmission and a re-tuned suspension give you a comfortable ride.
EXTERIOR
The 2016 Nissan Sentra has an updated grille, hood, and front fascia. LED low-beam headlights with boomerang taillights give the vehicle's nose a more chiseled appearance and the car's tail more a hint of sleekness. There is a revised 17-inch wheel design on the SR and SL models, and a 16-inch aluminum alloy design on the SV. Nissan has also included a sporty chrome exhaust tip and door handles that are balanced by the window's accents. The sedan's exterior mirrors are heated, and a new Blue Pearl exterior paint color has been added to the palette.
CABIN
The interior has been redesigned, drawing inspiration from the cabin of the 370Z. A high-resolution LCD display has been added to a fully reworked instrument panel. Dual-zone climate control is optional. The driver's seat has lumbar support which, alongside the generous armrest, gives you a comfortable, ergonomic driving experience.The car's rear seats can be laid flat to increase trunk space when needed.
The NissanConnect system comes with mobile apps that fulfills music, social media, and navigation needs, along with an array of Travel Link services. Siri will take you wherever you want to go, connecting to your iPhone so that you can safely keep up to date with your calls and text messages through a steering wheel button. The Bose Premium Audio system accompanied by two subwoofers was specifically designed for the acoustics and interior for the Senta. There is also an iPod/USB port that gives drivers or the front seat passenger various options for music selections.
Dual-zone temperature control makes it possible and convenient for driver and passengers to pick the temperature best for them. The front seats have an optional heating feature, and the rearview mirror has an auto-dimming feature to help reduce glare.
PRICING
The 2016 Sentra comes with a heavier price than in the past, but the extra expense translates into far more luxury than Sentra drivers are used to. There are active safety features, Rear Cross Traffic Alerts, and emergency braking: all qualities well worth the additional coin. Given its high-tech driving aid technology, the 2016 Sentra remains as pocket-friendly as ever, even with inflation added to the mix. The six-speed manual and continuously variable transmissions come with their own respective price packages. The base model S is a mere $250 higher than the 2015 model at $17,615.
ENGINE SPECS
Electronic power steering and retuned transmission shift the Sentra into automatic territory, with a more natural, stable feel on the road than it's had in previous years. Variable automatic transmission is standard on all S models, with six-speed manual transmission offered as an option on the base Sentra. Nissan has tightened up the springs and dampers. Port fuel injection remains same as the previous Sentra.
The updated cruise control system helps drivers to maintain a fixed distance from the car in front and the controls can easily be adjusted for comfort. It responds intelligently to traffic speeds, making for an easy ride during rush hour.2016 Nissan Sentra interior available in South Florida
Anti-lock brakes and dynamic control keep your handling at its finest even during harsh stops. Xtronic CVT Transmission maintains a steady rpm during passing and at highway speeds. Stability control comes with all models, with the base S offering extra chassis bracing to stiffen up the body. A torsion-beam rear axle has been added for additional handling and performance.
The car handles well on "s" bends, largely due to its weighted steering and speed sensitivity. The SL and SR have rear disc brakes that can handle difficult mountain roads. All models come in Sport, Eco, and Normal modes, although they function best on the highway. The Sentra S's 128 pound-feet torque maxes out at 3,600 rpm, which gives drivers plenty of power during acceleration.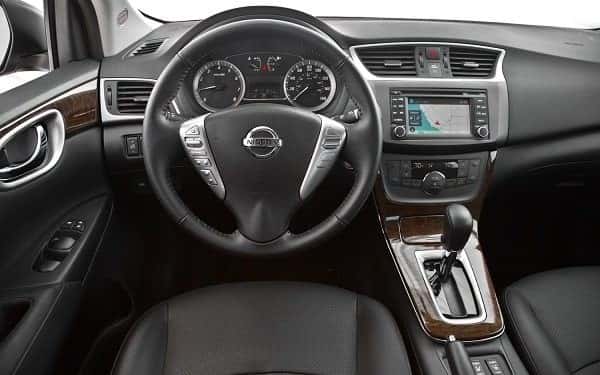 WHERE CAN YOU GET A NISSAN SENTRA IN SOUTH FLORIDA?
While we are a Mitsubishi dealership, University Mitsubishi also has a great selection of used cars — including Nissan Sentra. We have a great selection of inventory that ranges in model, price and year, so we have something for everyone. We are conveniently located in between Fort Laudedale and Miami so we are a great place to get your car serviced as well.