2014 MITSUBISHI OUTLANDER NEAR MIAMI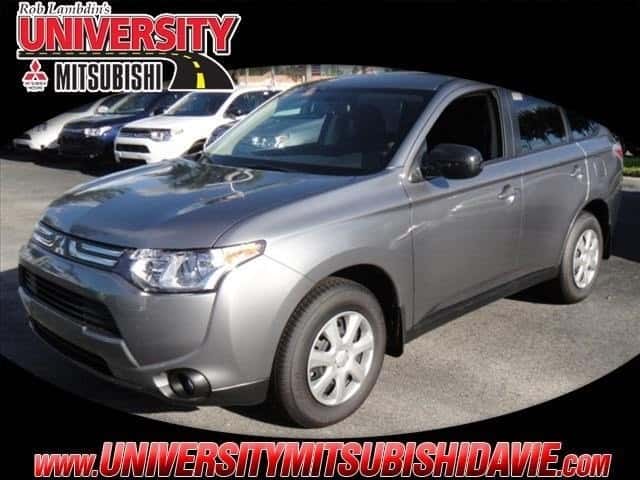 University Mitsubishi presents the 2014 Mitsubishi Outlander near Miami. This car houses under its hood a 166 horsepower, 2.4 liter four-cylinder engine which is more refined and stronger. This engine is paired to a continuous variable transmission. The upper model however comes with a much stronger 3.0 liter V6 engine which can generate up to 224 horsepower. The front-wheel drive is standard in the Outlander models thought the upper models also comes with AWD option.
The 2014 Mitsubishi Outlander near Miami comes in an amazing bold design that is quite appealing. This tall wagon comes with blunt, shark-nose front end, and wedge-like silhouette which are quite an appealing shape. Its aerodynamic feature enables the car to ease its way through air and save on fuel. The interior of the car also comes with very exquisite craft with very comfortable seats which are wide and easily adjustable. The legroom and headroom are also adequately spaced making the car even more comfortable. The car also has a decent cargo space and this feature allow for the easy transportation of cargo.
The 2014 Mitsubishi Outlander near Miami also has marveling features which will blow your mind away. The features include powered windows, mirrors and locks, heated mirrors, steering-wheel audio controls, rear seat heated ducts, auto climate control, multi information display, remote keyless entry, cruise control, power accessories and a six-speaker 140-watts sound system. The upper models also come with heated front seats, push start button and a touch screen audio system among many others making the interior of this car very appealing.
The 2014 Mitsubishi Outlander near Miami also comes with a wide set up of safety measures to ensure maximum safety of occupants. These features include a standard complement of seven airbags, four-wheel anti-lock brake discs and the usual suite of electronic safety systems which includes lane departure and forward collision warning systems, adaptive cruise controls, hill-start assist and traction and stability controls including many others.
If you would wish to get yourself one of these beauties, please visit us at 5395 S. University Drive Davie, FL 33328 or contact us at 974-745-9375. We serve the neighboring region consisting of Doral, Plantation and Fort Lauderdale among many others.