2016 MITSUBISHI LANCER EVO

The 2016 Mitsubishi Lancer Evolution GSR, while considered the entry-level to the Lancer Evolution line, is a notable upgrade from the basic Mistubishi Lancer group. A powerful and sleek 5-passenger vehicle with standard Super-All Wheel Drive Control, the Lancer Evo is a midsize sport sedan that is available in three trim configurations, GSR, MR an FE.
With power and the responsive handling of a sports car, this longtime favorite of the road rally is offered in six colors. The Mitsubishi Lancer Evo GSR comes with a host of standard features available only at the top end of most model ranges. The starting MSRP of the well-equipped Evolution GSR is $34,395.
POWERTRAIN
The quick and nimble Mitsubishi Lancer Evo GSR comes standard with a 2.0-liter 4-cylinder DOHC turbocharged engine that generates a substantial 291-horsepower. The EPA rating for this model is 17 MPG city and 23 MPG highway.
A manual 5-speed transmission is standard, and is a clear sign that the Lancer Evo GSR is targeted toward performance-driven consumers rather than automatic-shifting, fuel economists who are only interested in basic transportation. Quickness, hands-on capability and sport appeal are the principal attractions of this excellent sport sedan.
SUPER ALL-WHEEL CONTROL
The Mitsubishi Lancer Evo GSR is designed to ensure complete control and sure-footedness under a wide variety of driving conditions. Mitsubishi's Super All-Wheel Control (S-AWC) combined with another feature, Active Yaw Control (AYC) that directs torque to the wheels with the best grip on the road, maintain a solid footing even on sharp turns. Active Center Differential allows the driver to select the most appropriate of three driving modes: tarmac, gravel and snow. This feature imparts excellent cornering and performance in any situation.
EXTERIOR
This sophisticated and aerodynamic sedan is designed for performance, not gaudiness. From it's sleek profile to the 18″ x 8.5″ Enkei alloy wheels that come standard with Yokohama high-performance tires, the Mitsubishi Lancer Evo GSR is a powerful sedan that spurns the unnecessary adornments of others in its class. The front fenders and hood with incorporated air vents are made of high-grade aluminum to lower the vehicles body weight and center of gravity to provide better weight distribution. This configuration results in better handling and balance for better maneuverability, while the additional vents help to cool the engine when working hard.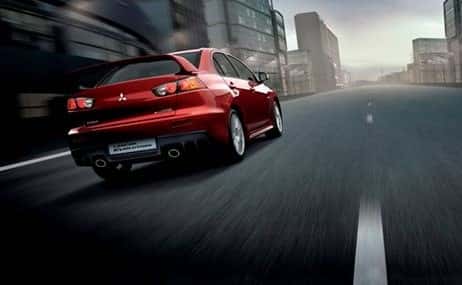 INTERIOR
High quality, durable black fabric seating surfaces are standard with the nicely equipped base Mitsubishi Lancer Evo GSR. Leather seats are available, along with several other upgrades when the Premium Package is chosen. Automatic climate control is standard allowing the driver to simply set the desired cabin temperature and the system will adjust the heated or cooled air flow and fan speed appropriately. Leather-wrapped steering wheel and gear shifter impart an additional level of luxury to make driving even more luxurious.
The spacious 60/40 rear seat provides plenty of room for passenger comfort for the long trips. Or the seat may be folded flat to create ample storage or hauling space as needed.
ENTERTAINMENT
The 6.1 inch touchscreen display is the control center for entertainment and communication. The system includes Sirius Satellite Radio, HD radio and CD payer all channeled through a premium speaker system. The fuse hands-free link system with Bluetooth connectivity allows the driver to place and receive calls through voice recognition.
PREMIUM PACKAGE AND OPTIONS FOR THE GRS
For an additional $3,800, the Mitsubishi Lancer Evo GRS can be upgraded with a wide group of accessories, some of which are standard at higher trim levels. These include leather seating surfaces, upgraded sound system, sunroof, hidden headlights, fast-key entry system and more.
Other optional packages include the Engine Appearance Package with elements that dress up the engine when you are inclined to show off; an Interior Package that includes aluminum gearshift knob and brake grip; a Mud and Snow Package which provides mud flaps and all-weather floor mats; Exterior Package with front and side air dams and rear spoiler extension, Also LED illumination is another option for the Mitsubishi Lancer GRS.
MAINTAINING THE HERITAGE
Mitsubishi is proud of the road rally reputation and success of the Mitsubishi Lancer Evo series. Each year, the designers develop further refinements that make the Evolution an even more road-worthy installment, ready for the rally. As well, the Evo has become more comfortable, attractive and versatile for the non-rally consumers. 2016 should be a great year for the Evo.