2016 MITSUBISHI I-MIEV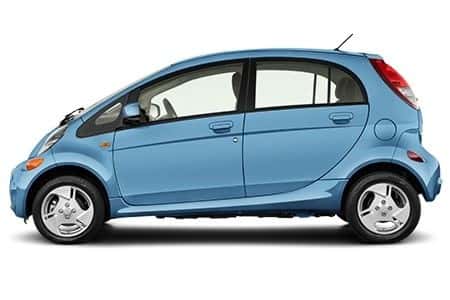 The Mitsubishi i-Miev was the first fully-electric car ever to be sold when it was introduced in Japan in 2008. It came to the United States. in 2012, and it is currently the smallest and most affordable electric car in the U.S.
BASICS
The Mitsubishi i-Miev ES is a 100% electric car, so it requires no gas and has zero tailpipe emissions. Its equipped with an 1-Speed Direct Drive transmission and an AC synchronous permanent magnetic motor that generates about 66-horsepower. At a base MSRP of $22,995, the Mistubishi i-Miev ES is one of the most affordable fully-electric cars on the market.
Built for the city
The official EPA estimated range of the Mitsubishi i-Miev is 62 miles. And unlike other cars, the i-Miev is actually more fuel-efficient in city driving. The best way to maximize the Mitsubishi i-Miev's range is by keeping low-speeds with frequent stops and gets an average of 112 miles per gallon in these conditions. The car's battery life is more-quickly depleted when traveling at a consistent speed. Additionally, the i-Miev's ease of parking and great turning ratio makes it a great urban vehicle.
CHARGING PORT
According to Mitsubishi, the car's standard charge time is 14 hours on a 12-amp 120-volt circuit, and 7 hours when drivers use a 15-amp charging station. The i-MiEV has a public quick-charge port that connects to CHAdeMO Level 3 public chargers — with this hookup the car can get an 80% charge in about 30 minutes.
INTERIOR AND EXTERIOR
The i-Miev is a 4-passenger subcompact car. The two front seats are heated and a 100-watt AM/FM/CD /MP3-compatible audio system. There is approximately 13.2 cubic-feet of space behind the back seats. This space is suited for a set of golf clubs or a standard size suitcase. If the rear Mitsubishi i-Miev available at University Mitsubishi seats are folded down cargo space increases to 50.4 cubic-feet.
The Mitsubishi i-Miev offers a quiet cabin for the driver and the passengers. Hard accelerations will produce an electric motor kick, but for the most part the cabin is quiet enough for casual conversation. Wind and tire noise increase as speed increases on the highway.
The 2-door i-Miev has halogen headlights and fog lights and LED taillights. Its exterior mirrors are heated and the small car rides on 15-inch aluminum alloy wheels. The i-Miev comes in four-different colors.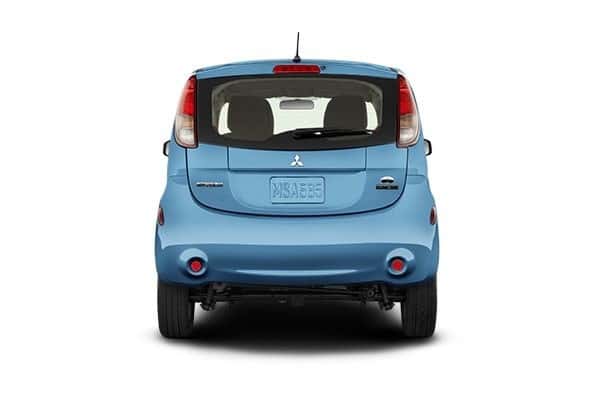 OPTIONAL ACCESSORIES
The iMiev is a great car for buyers who want to decide what various features they do or don't want. One of the optional packages that can be purchased with the Mitsubishi i-Miev is the Navigation Package. This package includes an HD touchscreen which includes voice command and navigation with points-of interest and 3D mapping. Users can get real-time traffic information with this navigation package. Hands-free Bluetooth,a USB port and rear-view camera are also included. This package has an MSRP value of $2,000.
There are several individual accessories that can be added on, if desired. Examples of these are wheel locks for an additional $55; body side moldings will cost buyers around $140, and side wind deflectors cost around $95. Buyers can choose to have a USB adaptor installed for about $135 and rear park assist sensors are available for an extra $255.
SAFETY
The Insurance Institute for Highway Safety has not officially rated the Mitsubishi i-Miev, but the National Highway Traffic Safety Administration has given it a rating. The i-Miev earned four out of five stars for overall-safety. Four stars were awarded for frontal crash safety as well as rollover safety and it received three stars for side impact safety.
The i-Miev's standard safety features include antilock brakes, and the car's stability and traction control helps drivers remain in-control at all times. There is also a low-battery warning indicator and tire pressure monitoring system.
WARRANTY
The Mitsubishi i-Miev is backed by a 3-year or 36,000-mile limited warranty, a 5-year or 60,000-mile warranty, and the i-Miev's battery has an 8-year or 100,000-mile warranty.
COME CHECK OUT THE I-MIEV TODAY.
University Mitsubishi is located in South Florida in the city of Davie. We have convenient hours and a great service center. We have a good selection of Mitsubishi models and trims.