2016 MERCEDES C300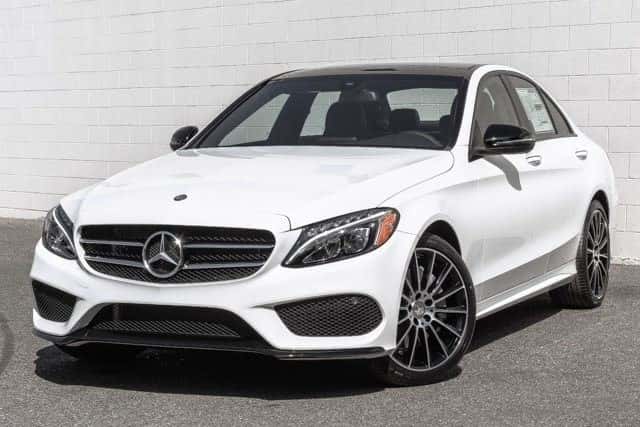 When it comes to style, prestige, and performance; Mercedes-Benz has always been a top competitor in the luxury car market. The German auto manufacturer has a wide range of vehicles such as cars, trucks, sport utilities, and buses, but the company's most popular vehicles is their sedans. Among all of their sedans, the Mercedes-Benz C300 is one of the most popular in the U.S.
The 2016 C-Class 300 has many features, a powerful engine, and elegant stylish appearance. The car is is one of the best performance sedans available and it has a starting MSRP of $38,950.
ENGINE SPECS
The C300 is equipped with a 2.0-liter turbo Direct Injection 4-cylinder engine that is coupled with a 7-speed automatic transmission. The engine generates 241 horsepower and the car can accelerate from 0-60 mph in 6.2 seconds. From the car's efficient engine, aerodynamic design and eco start/stop technology, the sedan is more fuel efficient than most other sedans in its class. It has an average fuel economy of 25 MPG in the city and 34 MPG on the highway.
EXTERIOR APPEARANCE
The C300 definitely has a classic and chic profile that is associated with Mercedes-Benz. The car has a somewhat longer wheelbase than most vehicles in its class, which gives drivers better comfort, performance and handling.The beautifully styled LED Running lamps and rear taillamps are just as much an eye-pleaser as they are a great safety feature.The car rides on 17-inch rims that have a split 5-spoke design and sleek two-toned finish. To top it all off, the big and bold Mercedes emblem prominently sits in the middle of the shiny chrome front grille.
INTERIOR APPEARANCE
As a luxury car, the vehicle is equipped with many high-end features that help drivers feel comfortable during a quick ride or long distance road trip. The C300 is considered a larger sedan so it has ample room for five passengers and the car's dual-zone automatic climate control system allows the front and back seat passengers to set their own temperatures.
The sedan has the feel of an airplane cockpit because all of the car's controls are at arm's length on the car's large 8.4-inch touchscreen. Entertainment features include Bluetooth audio streaming, HD radio, a Burmester premium surround sound system and 6 months of complimentary usage of SiriusXM satellite radio. The car also doubles as a WiFi hotspot, so everyone can always be connected.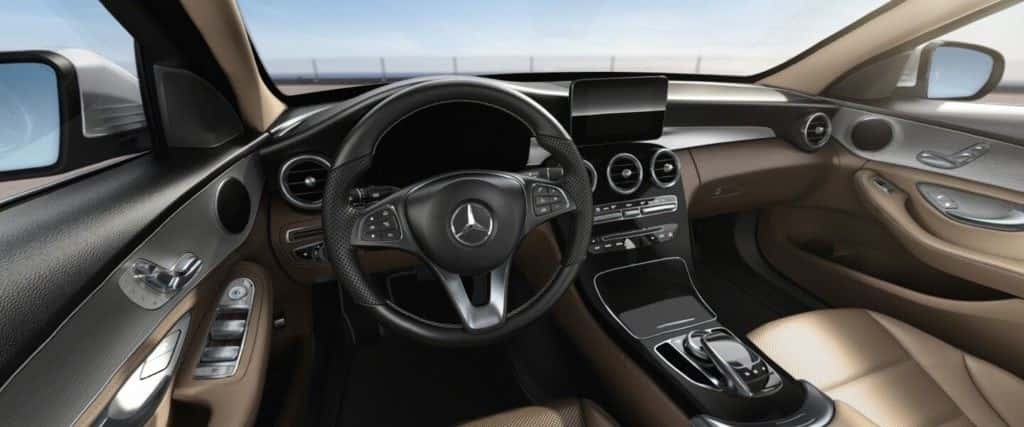 SAFETY
Mercedes-Benz takes safety seriously and they have included a number of preventative and internal safety features in all of their cars. In case of an accident, the car's aluminum and high-strength steel frame helps to protect passengers. The vehicle's Electronic Stability Program (ESP) helps keep the car going in a steady and intended direction of travel, even around corners. If a driver is out of control, the ESP can brake the wheels and reduce engine output to bring the vehicle under control.
In addition to all of the standard safety features, buyers also have a few extra features that are preventative safety measures. One of these features, Active Blind Spot Assist, uses radar technology that senses when a vehicle enters the blind-spot area on either side the car and alerts drivers by illuminating an icon in the appropriate side mirror, instrument cluster and makes a warning sound. Also available is BAS PLUS with cross-traffic assist. This technology uses radar sensors to scan the road ahead at driving speeds up to approximately 45 mph. Cross-Traffic Assist uses radar plus advanced cameras to help detect a potential collision with vehicles approaching from either side of an intersection ahead, or with pedestrians in the car's path.