Why Consumers Love the Mitsubishi Mirage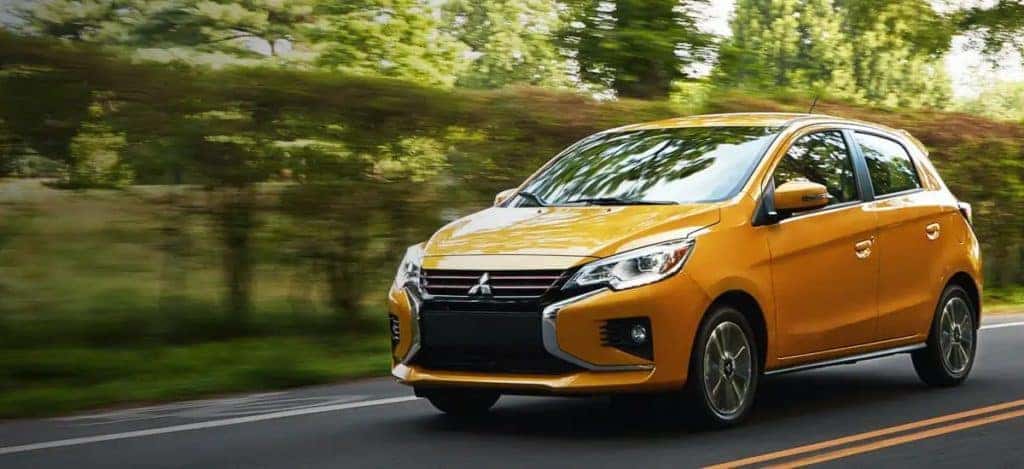 The Mitsubishi Mirage has been regarded as a reliable hatchback in the auto industry. With the Mitsubishi Motors lineup gearing up to expand, the Mirage has remain almost untouched. When you have a vehicle that's known for its fuel efficiency, adding unnecessary bells and whistles that will bog it down will just ruin its good name. A great choice for young drivers, the Mirage won't be winning any drag races, and with the small price tag, even the high-end SE trim with more advanced safety features can be affordable.
That's one good way to describe the 2023 Mitsubishi Mirage. The starting MSRP may not have yet been announced, but for 2022, the Mirage started at $14,645 (plus destination fee), with the high-end SE trim barely scratching $20k ($17,895 plus destination fee, usually a little over $1000). It's a bargain for a vehicle, and with the standard features offered in terms of tech and performance, it's a hard number to argue with. Then there are those long warranties Mitsubishi Motors is known for, making sure every vehicle is good for at least ten years, namely the powertrain. Even if this vehicle breaks down after five years, as long as 100,000 miles haven't been surpassed, consumers can get it fixed for free. That's because all Mitsubishi vehicles are covered by a powertrain limited warranty for 10 years/100,000 miles, basic limited warranty for 5 years/60,000 miles, 7 years or 100,000 miles of anti-corrosion coverage, and get roadside assistance.
Like we said, the Mitsubishi Mirage isn't made for drag racing. No kid is going to risk his pride trying to win a race with a 78 horsepower engine. Able to generate 74 lb-ft of torque, there also won't be much off-road driving or towing. Basically, this vehicle is made for new drivers still learning the ways of the road. A 1.2L MIVEC DOHC engine is under the hood, optimized with Mitsubishi Motors' brand of variable valve timing technology (VVT). Not only does this improve the performance of the engine, but also the fuel efficiency. Paired with a continuously variable transmission (CVT), and the Mirage has a fuel economy of 36 mpg in the city and 43 mpg on the highway. Even though the Mirage won't be flying down the highway, it comes with excellent stopping power, with a firm brake pedal that responds to minimal input from the driver, giving them more control over the vehicle.
Comfort is key in the Mitsubishi Mirage. Known for offering great headroom, legroom, and shoulder room, even the standard fabric upholstery feels premium. If going all the way up to the SE trim, leather upholstery and heated front seats pop up – again, for less than $20k. Not a price tag you'll find on competitors offering the same thing. With 17.1 cubic-feet of cargo capacity, multiple cup holders, and several cubby holes, drivers have plenty of options for sorting accessories that be out of sight when on the road.
Besides, with the standard 7-inch smartphone-link display four-speaker audio system, hooking up Apple CarPlay and Google Android Auto is a breeze, and keeps phones locked when in motion. Other features included are AM/FM Radio, Bluetooth wireless technology and steering wheel audio and phone controls, and steering wheel voice recognition control. Furthermore, again on the SE trim, safety gets a little more advanced, adding forward collision mitigation system with pedestrian control, and a lane departure warning system.
Sounding like a great gift for a young driver? Check out the 2023 Mitsubishi Mirage at University Mitsubishi.
Photo Source/Copyright: Mitsubishi Motors