The Mitsubishi Outlander SEL – Best Bang for Your Buck!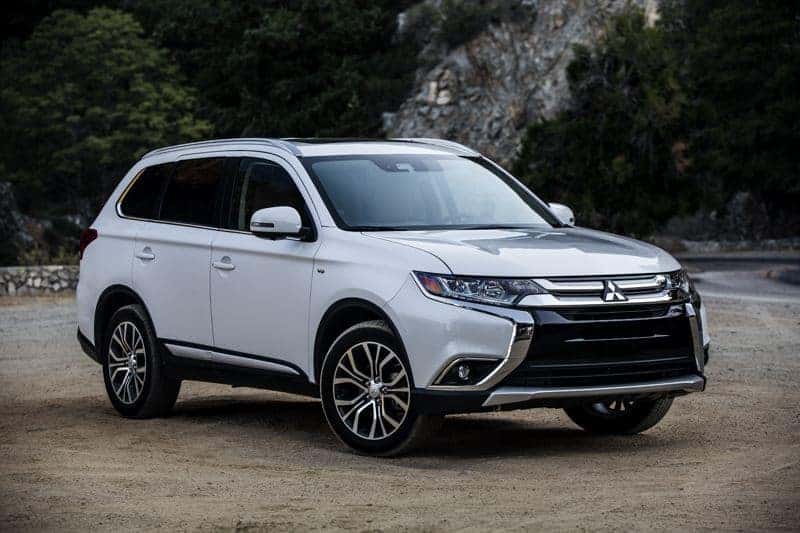 Let's face it, when consumers are shopping for a car that suits their needs there's one very important thing that often shows up as a limitation – the price tag. Three-row crossovers tend to be an attractive choice for families, but the price point can sometimes be cause for alarm. This is not the case for the Mitsubishi Outlander SEL, a crossover that seats up to seven and comes fully loaded at a price of just $31,000 (plus destination fee). With a price point like this consumers can avoid having to settle for a base version of another crossover without any bells and whistles, or being limited to used vehicles.
The Mitsubishi Outlander SEL is somewhere between a compact and midsize crossover, making it the perfect vehicle for families that may occasionally need a third row or the extra storage space. The first two rows provide ample space for adults, while the third row is more geared towards children due to its leg room. Consumers will also be happy to find that heated seats and power controls come standard, along with upgraded soft-touch armrests that add to the comfort of the vehicle.
Technology, Sound System & More
The premium 710-watt audio system sound quality is only made better thanks to the acoustic improvements made in the design of the Outlander SEL, allowing it to generate less wind and road noise. The design is broad, granting the driver full visibility, and a multi-view camera helps with parking and backing up without a fuss. In fact, the safety tech is one of the best things about the Mitsubishi Outlander SEL, and within this price range that makes it stand out among its competitors. Features like forward-collision mitigation, lane departure warning and adaptive cruise control all come standard.
Classic Crossover Style
The Mitsubishi Outlander SEL also delivers in terms of looks, with a revamped front-end that aims to make a bolder statement than before. Upgraded LED lighting, wider chrome grills, and lower grills that match the crossover's body are some of the recent design changes Mitsubishi has implemented to modernize the look of the Outlander. Silver roof rails for added cargo storage, 18-inch wheels, and tinted rear privacy windows complete the crossover look that consumers have come to expect.
Warranty
With a ten year/100,000-mile powertrain warranty and a five year/60,000-mile new car warranty, it's likely that the Mitsubishi Outlander SEL, with its other luxurious features, is unmatched in terms of offering more bang for your buck. A crossover like this is the most cost-effective way for consumers to make their move and upgrade to the crossover lifestyle. As always, when buying a car, gas mileage is of importance to consumers – and the Outlander SEL does not disappoint with a fuel economy of 25 mpg in the city and 30 mpg on the highway.
Ready for your test drive? Whenever you're ready to reap the benefits of the most cost-effective crossover in the market University Mitsubishi is here for you. Come take a look at our large new and used inventory. University Mitsubishi is open seven days a week for your convenience.
Photo Source/Copyright: Mitsubishi