Mitsubishi's Virtual App MirageG4NightDrive.com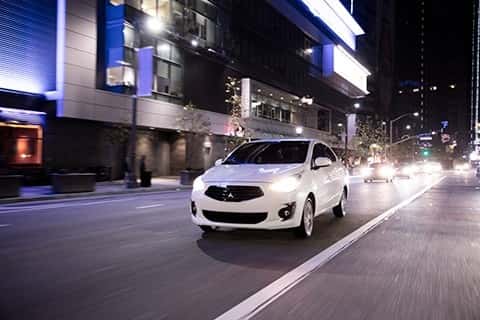 Most people today have a smartphone, regardless of when they were born. To capitalize on the frequent use of smartphones and multimedia marketing, auto manufacturer Mitsubishi launched an online interactive app prospective buyers can use to test out the 2017 Mirage G4.
Since the target market for the Mirage G4 is the younger crowd and young people spend a lot of time on the Internet, Mitsubishi launched a marketing campaign to make use of this primary demographic characteristic. This summer, Mitsubishi launched MirageG4NightDrive.com, a dual-screen, interactive experience that lets drivers take the 2017 Mitsubishi Mirage G4 for a virtual test drive.
Now, at first, this seems a little ridiculous. A program can only exist within the parameters of its code; when on the road, there are countless variables to consider, all of which cannot be programmed into an online application.
However, last year, a study by Eduardo González Mendívil, Pablo Guillermo Ramirez Flores, and several other authors was conducted on the application of virtual reality and its impact on students' training to operate the Mitsubishi Movemaster robotic arm. Of course, this involved the famous Oculus Rift and a virtual environment, but the effects may be able to transfer to small-time virtual experiences one day.
The primary objective of MirageG4NightDrive.com is to familiarize drivers with features found in the Mirage G4, such as its rearview camera, turning radius, Hill Start Assist, and MPG. Part of the campaign also highlights entertainment features like Android Auto and Apple CarPlay. The Mitsubishi Mirage hatchback and Mirage G4 sedan are the first vehicles in their price class to offer multimedia smartphone support. The price, plus the safety the smartphone integration offers, surely puts the Mirage G4 in a positive light for new, young drivers.
As previously mentioned, a real test drive and a virtual test drive are not the same, but therein lies the secondary objective of this marketing campaign. Francine Harsini, senior director of marketing at Mitsubishi Motors North America had this to say, "This is a new marketing launch for us…[it] enables people to get familiar with the brand … [and] the car … [and ultimately] into the dealership [to experience a real test drive]."
The Mirage G4 is unmatched in the industry, holding the title for best-in-class legroom, an EPA-rated fuel economy of up to 42 highway MPG, and is backed by Mitsubishi's 10-year, 100,000-mile powertrain limited warranty. Starting MSRP is under $14,000.
Photo Source/Copyright: Mitsubishi Ad Planner