Mitsubishi Motors Teases Next-Gen Outlander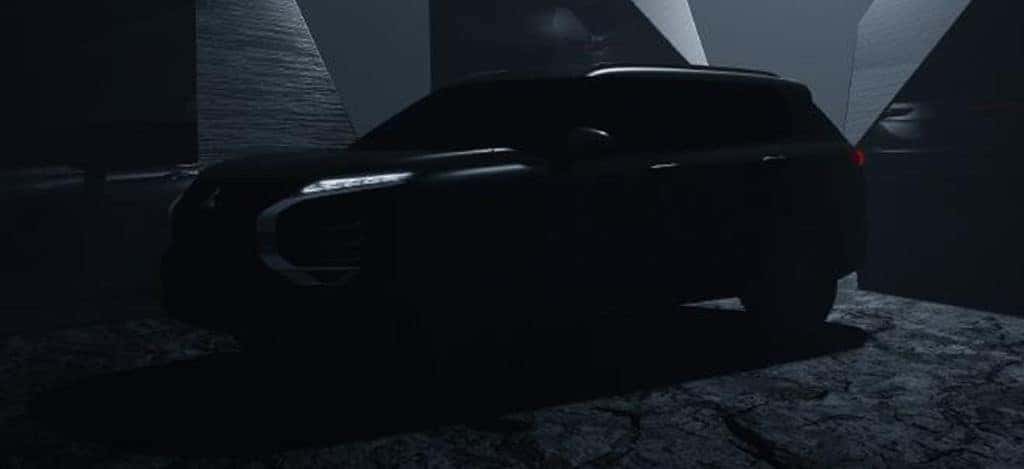 Who knew Mitsubishi Motors was working on a new generation of the Outlander SUV? This flagship of the automaker has been a staple in the lineup, giving rise to the Outlander Sport and Outlander PHEV, a plug-in hybrid electric vehicle (PHEV), but all SUVs. We're hoping this wasn't what Mitsubishi had in mind when it came to producing a new vehicle for the C-D car segment. Able to be anything from a subcompact car to a large car, it's still supposed to be a new vehicle. So, pushing those fears aside, Mitsubishi Motors teased a look at the new Outlander, draped in shadows and all.
Props to Mitsubishi for picking a dark paint job for this teaser. Even a brightness filter on illustrator turns up very little detail other than what we can already see. At most, we got a better look at what look like vents between the headlamps and daytime running lights, but that's about it. This next-gen SUV is hiding behind smoke and mirrors as far as it goes, but we won't have to wait too long. The vehicle will debut first in the U.S., Canada, and Puerto Rico in February 2021 – shocker, we expected it to hit oversea markets first like usual.
"The OUTLANDER is an iconic SUV for the company, so when we developed the next generation model, we took inspirations from our rich SUV heritage to realize a bold and confident styling with a solid stance that excites our customers…The all-new OUTLANDER is the first model epitomizing the new generation of Mitsubishi design and the frontrunner of our design strategy." – Seiji Watanabe, Division General Manager of Design (Head of Design), MMC
They're calling it ifuudoudou, pronounced as "I-Fu-Do-Do". A direct translation isn't as flashy – "stately". But luckily anyone with a thesaurus can find out that this also means, elegant, gracious, and magnificent (all synonyms). Some would even go so far as to call it "majestic" like a random deer in the woods. A new generation needs a new look, and this all-new Outlander is defined by strength and quality spread all throughout. Built with a new generation Dynamic Shield design concept, consumers can expect more protection from incidents and a look at the new style that may become the new look for upcoming Mitsubishi Motors vehicles.
Whatever happened to the Engelberg Tourer? Back in 2019, Mitsubishi was taking up the Engelberg like it was going to replace the Outlander PHEV and will be the new center piece of the automaker. Maybe it fell to the wayside during the pandemic, or maybe Mitsubishi is working on that as a crossover for the new mystery vehicle. We don't know much else about the new generation Mitsubishi Outlander SUV. When officially launched in February 2021, the automaker will be conducting a livestream. We can rest assured that more information will be made available then.
Over time, Mitsubishi Motors has upgraded its vehicles, sometimes bringing them to luxury status. With this new generation of their iconic SUV, we look forward to what upgrades and features will be available. Stay in touch with University Mitsubishi on social media for news about the livestream next year.
Photo Source/Copyright: Mitsubishi Media