Here's a Thanksgiving Recipe That Travels Well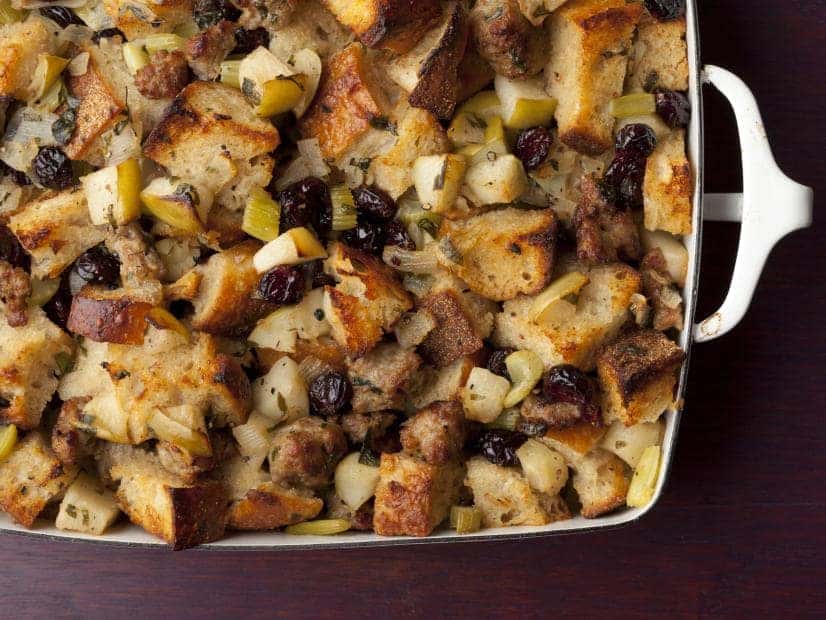 With the big day right around the corner, you're sure to be looking for a Thanksgiving recipe that'll help you wow your friends and family. Whether you call it dressing or stuffing, we've got just the recipe for you, and a few other helpful tips that are sure to make your holiday a successful one!
Sausage and Herb Stuffing
In under 80 minutes (prep time and cooking time) you'll have a dish that'll wow the crowd, here's what you'll need:
16 cups 1-inch bread cubes (white or sourdough)
1 stick of unsalted butter
2 medium-diced yellow onions
1 cup medium-diced celery
2 unpeeled Granny Smith apples (cored and large-diced)
2 tablespoons chopped parsley
1 tablespoon kosher salt
1 teaspoon freshly ground black pepper
¾ pound of sweet or spicy Italian sausage
1 cup chicken stock
1 cup dried cranberries
Cooking Instructions
Preheat the oven to 300 degrees F.
Use a sheet pan to layer the bread cubes and bake them for seven minutes. Once the bread cubes have been removed, transfer them to a very large bowl. You are now free to raise the oven temperature to 350 degrees F.
Meanwhile, fire up a large saute pan and melt the butter. Once the butter has heated up add the onions, celery, apples, parsley, salt and pepper and saute over medium heat for ten minutes, or until the vegetables are translucent. Add this fruit and vegetable medley to the bread cubes.
Using the same saute pan, cook the sausage over medium heat for ten minutes or until browned. Break up the sausage with a fork while sauteing it, adding it to the bread cubes and fruit and vegetable medley once it's cooked through.
Add the cranberries and chicken stock to the mixture, mix it well, and pour the contents into a 9 by 12-inch buttered baking dish. Bake until it's browned on top and hot in the middle, usually about 30 minutes.
Transporting Your Food
They don't make car seats for food, although it feels like they should! Sometimes you need one volunteer to hold a hot dish as you head out on one of the busiest days of the year, risking burns and spills, or if you're driving on your own the results can be even worse as your dishes just lie around unsecured. It's all about placement when it comes to food transportation and there's no better place than the floor of the backseat. If you're set to travel a long distance your best bet is to make your dish ahead of time and freeze it. Also, if you're transporting anything with a lid (you should be!), make sure to use masking tape to seal the edges to so your pots and baking dishes don't come undone halfway through your drive.
Now let's talk real transportation methods, we mentioned earlier that the best place to transport food is the backseat floor, but we hope you don't think you can place your casserole on the floor and forget about it. We can't stress this enough: Use a box or a plastic container padded with towels to make sure your dish doesn't rock around. Make sure to plan ahead and leave at a reasonable hour so you don't spend more time on the road than you should and avoid stress. Our suggestion? Leave early in the morning and try to avoid driving between the hours of 12 p.m. – 4 p.m. on the day of.
Want to travel in style this holiday season? Pass by University Mitsubishi and check out our latest Outlander inventory. The Outlander delivers what consumers are looking for right now: safety, reliability, and the latest driver-assistance and infotainment technology.
Know of any other recipes that travel well? Let us know on University Mitsubishi social media.
Photo Source/Copyright: Foodnetwork.com