2020 Mitsubishi Outlander PHEV Review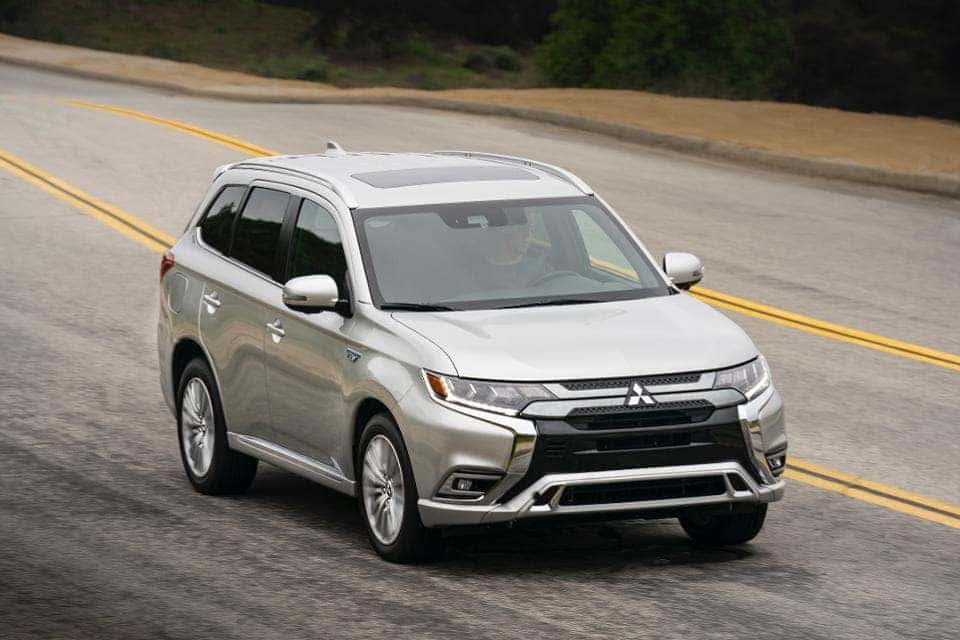 The 2020 Mitsubishi Outlander PHEV is an absolute must-have for shoppers who prefer electric vehicles, it includes DC fast charging, can drive 22 miles on electric power alone and has a plethora of advanced features, an all-new interior package, and has optimal capabilities for different types of terrain.
New Treats For 2020
Driver's will be delighted to know that the 2020 PHEV comes with a variety of new and advanced standard features. The base SEL trim comes with forward collision mitigation with pedestrian detection, lane departure warning, and automatic high beams. It also features a second rear USB charging port and an 8-inch Smartphone-link Display Auto system that includes enhanced imagery and has Apple CarPlay and Android Auto.
Luxury Features
When it comes to luxury and comfort, Mitsubishi doesn't hold back. Upgrade to the PHEV GT and you'll get standard 18-inch alloy wheels; automatic headlights; fog lights; heated side mirrors; automatic wipers; power liftgate; keyless entry; and push-button start. Other entertainment and tech features have three USB ports, and an eight-inch touchscreen display compatible with Bluetooth, Apple CarPlay, and Android Auto, while driver assistance programs have forward collision alert with pedestrian detection; automatic emergency braking; lane departure warning; blind-spot monitoring; rear cross-traffic alert; and automatic high beams.
Gems To Find In The Interior
Once inside the new GT, drivers and passengers will be welcomed by a high-end interior with a diamond-stitched design being the first thing to catch the eye. The leather-trimmed seats are easy to glide into and fits like a glove, it will be easy to get comfortable as most of the furnishings encompassing the interior are soft to the touch. The 2020 PHEV also has an EV mode button and a distinctive shifter in the center console. Driver's need not to worry about their Outlander running out of electric power as there are five levels of regenerative braking that he or she can select by utilizing the steering-wheel paddle-shifters that are well within reach.
The Empowered Powertrain
What gives the Outlander PHEV its power is a 2.0-liter four-cylinder that boosts 117 horsepower, it's also paired up with two 60-kilowatt electric motors at each axle. These fixtures give power to all of the four wheels, giving the SUV a total system output of 190 horsepower. The front-anchored generator reforms mechanical power to electricity with the drive battery charged consistently all-while a Power Drive Unit aids in converting the electric power and sends it to the front motor.
Additionally, the all-wheel-drive is further enhanced by Mitsubishi's S-AWC system, which sends prime torque split to every wheel as you are driving, it is also adaptable in a variety of different environments.
PHEV Range
The 2020 PHEV has enough battery-power for an EPA rating of 22 miles, presuming that you are on a level surface. It has an EPA-determined 74 MPGe and 25 mpg for gas-only operations.
It's possible to charge the plug-in hybrid in one of three ways. The first is by using the 120-volt Level 1 backup cord, this will charge the SUV between 8 to 13 hours. The second is by using the standard 240-volt Level 2 EV charging equipment, which will significantly cut your charging time to 3.5 hours. However, the third is much more ideal for the sake of time during your daily commute, which is the 400-volt Level CHAdeMO charging equipment that replenishes the battery to 80 percent in just 25 minutes.
As previously mentioned, regenerative braking will aid in recharging your vehicle at slower speeds. There is no real need to panic because it won't be the same as if your car was on E with a regular-gasoline engine.
University Mitsubishi
University Mitsubishi dealership currently has a 2018 Mitsubishi Outlander PHEV as a 4WD in its possession for just around $32,000, (plus destination fee). We also have a plethora of other Outlander models in our stock that are gasoline-powered but it still has all of the necessary SUV luxuries that a family needs. View our new car inventory and feel free to speak with an online representative for further assistance.
Photo Source/Copyright: Forbes